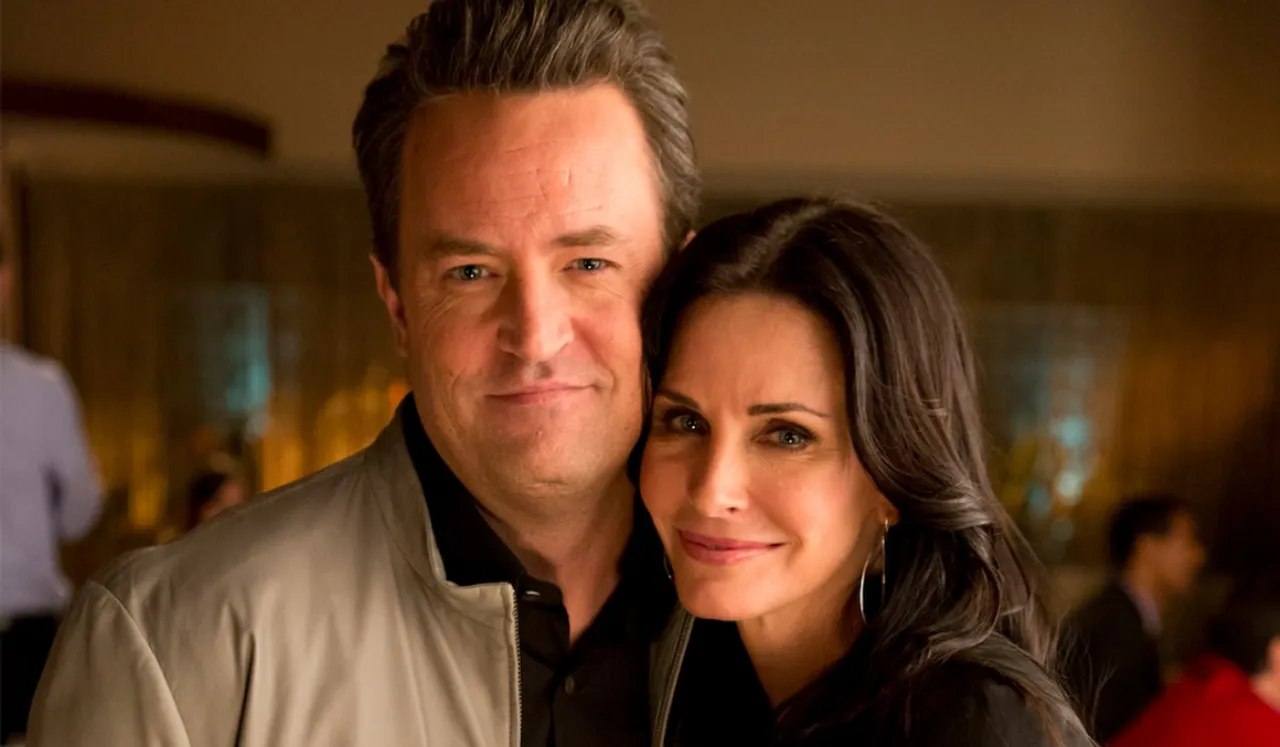 Courteney Cox, famous for her close connection on and off-screen with the late Matthew Perry, has spoken out after his unexpected passing two weeks later. In a heartfelt message, she remembers the wonderful bond she had with the actor, both as a co-worker and a dear friend. Cox writes a touching tribute, honouring Perry's memory by sharing a heartfelt Friends's memory.
Courteney Cox used her social media platform to honour Matthew Perry, expressing gratitude for the moments shared and her daily longing for his presence.
She delved into the depths of her relationship with Perry, sharing a clip from a pivotal Friends episode—the Season 4 finale—where David Schwimmer's character hilariously discovers Chandler and Monica in bed together. Cox reminisced, highlighting the intimate bond she shared with Perry while filming. She mentioned the audience's unexpected response to Chandler and Monica's fling in London, which evolved into a love story due to their reaction.
Describing a cherished moment, she revealed how Perry would often improvise funny lines, like the one whispered to her before filming this scene, showcasing his humour and kindness.
Check out the post here.
The star cast of the TV show "Friends" and some of Matthew Perry's family members were seen at the Forest Lawn Church of the Hills in Los Angeles on November 3. It is believed to have been a memorial service for the late actor.
Jennifer Aniston, Lisa Kudrow, Courteney Cox, and David Schwimmer, all wearing black attire, arrived together as a group. Matt LeBlanc was later seen with his fellow cast members. Perry's father, John Bennett Perry, and stepfather, Keith Morrison, were also seen at the location.
Friends Cast Pay Tribute
As fans on the internet collectively grieve the loss of Perry, they are also reminiscing about their cherished memories of the actor and revisiting their favourite moments from Friends. At the same time, the show's creators and co-stars are also expressing their profound sadness and nostalgia.
The Friends cast has issued a collective statement following the passing of Matthew Perry at the age of 54. In their statement,  Aniston, Cox, Kudrow, Schwimmer, and LeBlanc paid their respects to their late co-star, and this statement was shared with ABC News.
The statement read, "We are all so utterly devastated by the loss of Matthew. We were more than just castmates. We are a family. There is so much to say, but right now we're going to take a moment to grieve and process this unfathomable loss."
The statement continued, "In time we will say more, as and when we are able. For now, our thoughts and our love are with Matty's family, his friends, and everyone who loved him around the world."
Friends Creators Mourn Matthew Perry
Following the tragic passing of Matthew Perry at the age of 54, the co-creators and executive producers of Friends, Marta Kauffman and David Crane, along with the series' executive producer and director, Kevin Bright, have released a heartfelt statement. Perry reportedly died from apparent drowning on Saturday, October 28.
In their statement, as reported by Deadline, Kauffman, Crane, and Bright expressed their shock over the loss of their dear friend Perry. They emphasise how impossible it still seems to be. They go on to describe Perry as a brilliant talent, highlighting that from the very moment they heard him bring the character of Chandler Bing to life, there was no one else who could fit the role.
We will always cherish the joy, the light, the blinding intelligence he brought to every moment – not just to his work, but in life as well. He was always the funniest person in the room. More than that, he was the sweetest, with a giving and selfless heart. 
The statement concludes with their heartfelt condolences to his family and friends, expressing that their hearts are truly broken in this moment of loss.
Family's Statement
Perry's family has also released an official statement through People magazine. In their statement, "We are heartbroken by the tragic loss of our beloved son and brother. Matthew brought so much joy to the world, both as an actor and a friend." They go on to convey their gratitude for the overwhelming outpouring of love from all those who meant so much to him.
---
Suggested Reading: 10 Chandler Moments From Friends That Show His Feminist Side