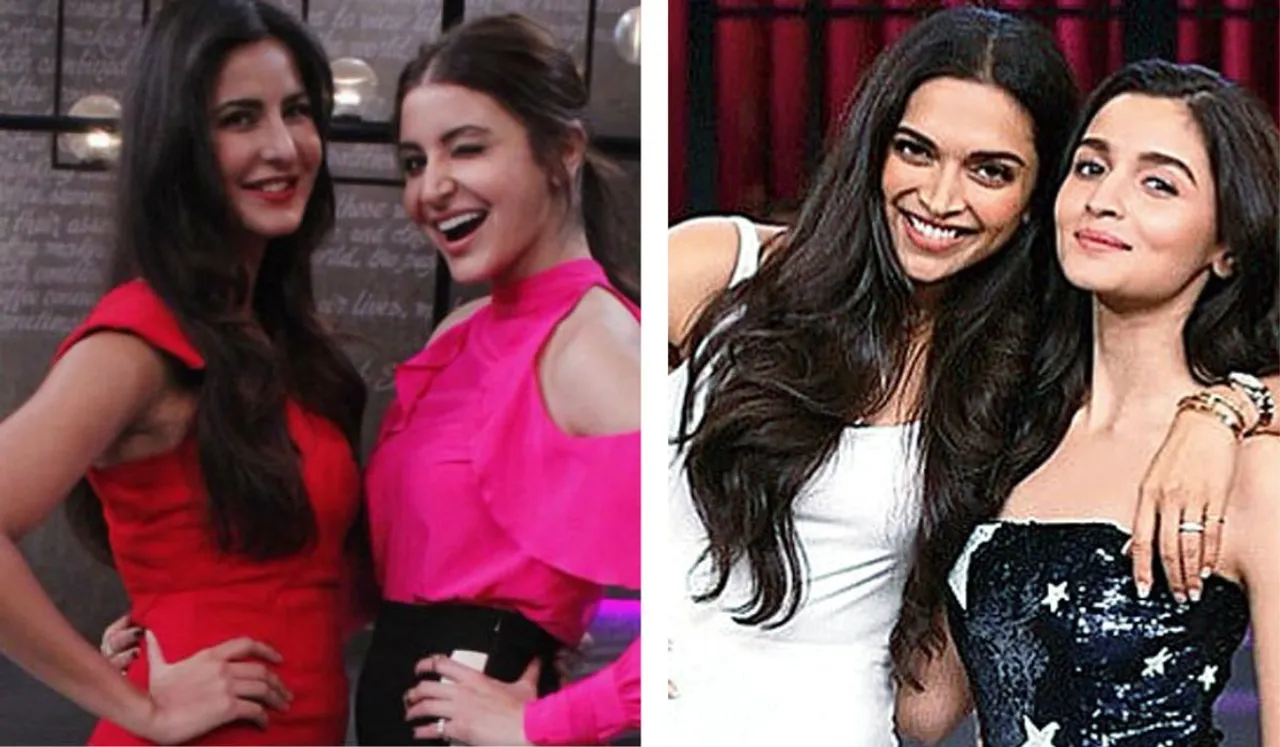 New episodes of Koffee With Karan have already begun to stream on Disney Plus Hotstar, bringing the gossip and fun back to the couch. So far, the episodes have been fascinating and full of inside gossip. Stars Alia Bhatt and Ranveer Singh appeared in the first episode of season seven of the show, and Janhvi Kapoor and Sara Ali Khan appeared in the second episode.
Many expect women to compete with each other and when it comes to female actors, it is assumed that they must have a rivalry going on. However, many Bollywood actors have proved otherwise by working together in films and cheering for one another on public platforms. The talk show Koffee With Karan is such platform where many female Bollywood actors were seen together as friends.
On the couch, they demonstrated their lovely relationship and respect for one another. Like in the most recent episode, viewers were charmed by Janhvi Kapoor and Sara Ali Khan's rapport. Here are other well-known female actor duos who appeared on the show and dished out inside jokes, candid moments.
Female Actors Duos On Koffee With Karan Episodes:
Janhvi Kapoor And Sara Ali Khan
On the second episode of the seventh season of the Karan Johar chat show Koffee With Karan, Bollywood stars Janhvi Kapoor and Sara Ali Khan made a joint appearance. The two young actors get along well and are frequently spotted working out, partying, and travelling together. The trailer raised a lot of expectations among viewers for the show.
The two talked about their upbringing and their relationships with their respective families. The two also discussed their dating experiences, including past relationships and potential new partners. When asked who the actors wish to date, Khan first resists naming the person, but eventually gives in and says it's Vijay Deverakonda.
Picture credit: The Indian Express.
Priyanka Chopra And Kareena Kapoor Khan
In 2019, Season 6 of Koffee With Karan included the two leading actors. Despite appearing beside one another in the 2004 film Aitraaz, Chopra and Khan were never close. However, in season six, both actors teamed up on the show, and viewers adored their friendship. The two talked about their individual marriage proposals as well as how they first got along. Their opinions on their acting careers to date were also included in the episode.
Deepika Padukone And Alia Bhatt
The pair appeared in Episode 1 of Season 6 (2019). By confessing how they once sneaked into a men's restroom, Alia Bhatt and Deepika Padukone startled host Karan Johar. Deepika Padukone worked extremely hard to avoid queries about her wedding, while Bhatt disclosed the odd nicknames she and Ranveer Singh have for one another. The two also talked about putting aside the discomfort of having a shared past with Ranbir Kapoor and remaining friends in spite of it.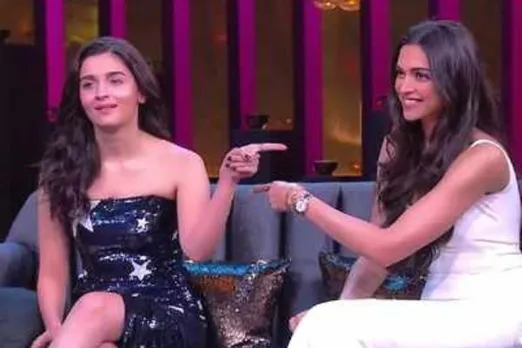 Alia Bhatt and Deepika Padukone
---
Suggested Reading: Koffee with Karan Is "Cringe Binge", So Why Do We Still Pretend To Take It Seriously?
---
Anushka Sharma And Katrina Kaif
The actors appeared on the show in Season 5 (2016), and both of them let loose their comedic sides. Both Kaif and Sharma disclosed that they are anti-social, which explains why they get along so well. When asked about number games in Bollywood, Kaif replied that she wholeheartedly supported it as long as she was ranked No. 1. Additionally, she talked about the "I Hate Katrina Kaif" Club. However, at the end of the rapid-fire round, both actors faced defeat for their diplomatic answers.
Alia Bhatt And Parineeti Chopra
In Season 4 (2014), Alia Bhatt was the 'veteran' on this couch in attitude and language, and she didn't mind flexing in front of newcomer Chopra when the actors first appeared together on the show. While Parineeti Chopra admitted she had a crush on Saif Ali Khan, the husband of Kareena Kapoor, and adores Deepika Padukone, Alia Bhatt made it clear to Karan Johar and the world that she wants to date and marry Ranbir Kapoor.