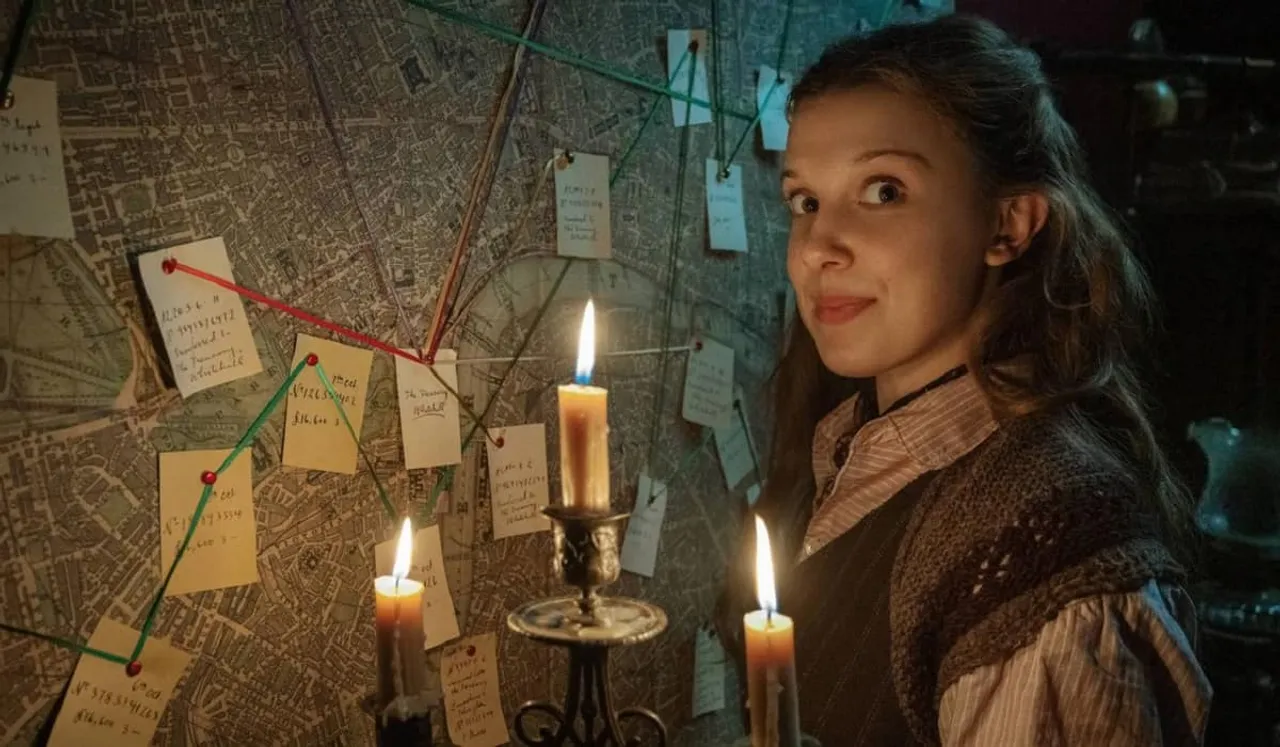 Netflix's detective adventure Enola Holmes 2 is anchored in historical events, with a real moment of women's and labour rights history at its core. And that is one of the reasons why it's a significant watch.
The new Enola Holmes movie, based on the Nancy Springer series, sees its adolescent heroine going for a full-fledged career in detection like her more famous sibling, Sherlock. Millie Bobby Brown returns as the relentlessly plucky Enola, whose nascent detective agency is struggling to attract prospective clients. Everyone who walks through the door takes one look at the young teenage girl on the other side of the desk and asks if her famous older brother might be available instead.
Nevertheless, Enola manages feats of brilliance aided by her curiosity, courage and Holmesian dictum "stay unemotional." When a young "matchstick girl" arrives in search of her missing sister Sarah Chapman, Enola is happy to take on the case despite the lack of financial compensation.
The script (written by Jack Thorne) also takes the wise choice of centring a real-life labour movement led by Sarah Chapman in 1888. And as the plot progresses Sarah Chapman's fictional counterpart even gets some of the finale's finer hero moments. It is a bold narrative move to allow Enola to share the spotlight with real-world heroes in her own mystery outing.
Note: This review does not contain any spoilers of the film.
Enola Holmes 2 Review
Enola Holmes 2's ensuing story features concurrent mysteries, themes of feminism, a love story, and multiple additions from the Holmes canon. Concluding at a bit more than two hours, the plot threads leave the sequel feeling a bit overstuffed at times.
However, the strong moments come when it focuses on the adventures of Brown's titular heroine. Brown retains Enola's infectious charisma, frequently addressing the camera with witty fourth-wall-breaking comments on her predicament. She's especially fun when she teams with her mother – bomb-throwing suffragette Eudoria Holmes (Helena Bonham Carter) and Edith (Susan Wokoma) – who deserves far more screentime than they ultimately get.
The Sarah Chapman vanishing mystery also entangles Sherlock, who is chasing a financial scam that suggests the work of a mathematical brain. Here, Henry Cavill's Sherlock gives the famous detective another dimension: In addition to being a celebrated genius, he's also a brother trying to reconnect with his little sister. Sherlock and Enola have a delightful relationship, one where the two gumshoes are trying to connect with each other and express, in their limited ways, that they care for each other. At its best, while the first Enola Holmes was a lovely take on an unconventional mother-daughter relationship, the sequel sheds a fresh take on the Holmes family with a strong social consciousness.
Enola's love interest, Lord Tewkesbury (Louis Partridge), also returns. The film uses Tewkesbury as a vehicle for typical gender-swapping roles, with Tewkesbury teaching Enola to dance at a ball, and Enola returning the favour by teaching Tewkesbury to fight. The young chap later goes on to strike attention at Parliament and also ties the portrayal of good government and social progress.
In fairness, Enola Holmes 2 can be educational. The film threads a key plot point that revolves around a real-life 19th-century health crisis, weaving in the earliest days of the labour movement and working-class conflict. A lot of this sequel focuses on Enola realising her privilege as an upper-class woman and using it to help further women's rights and address class inequality. It all adds a refreshing complexity and cheekiness that makes this protagonist feel unique, who is only trying to come out of her famed literary brother's shadow.
Watch the film's trailer ">here.
---
Suggested Reading: Why Enola Holmes is the Feminist Film Much Needed in Our Times