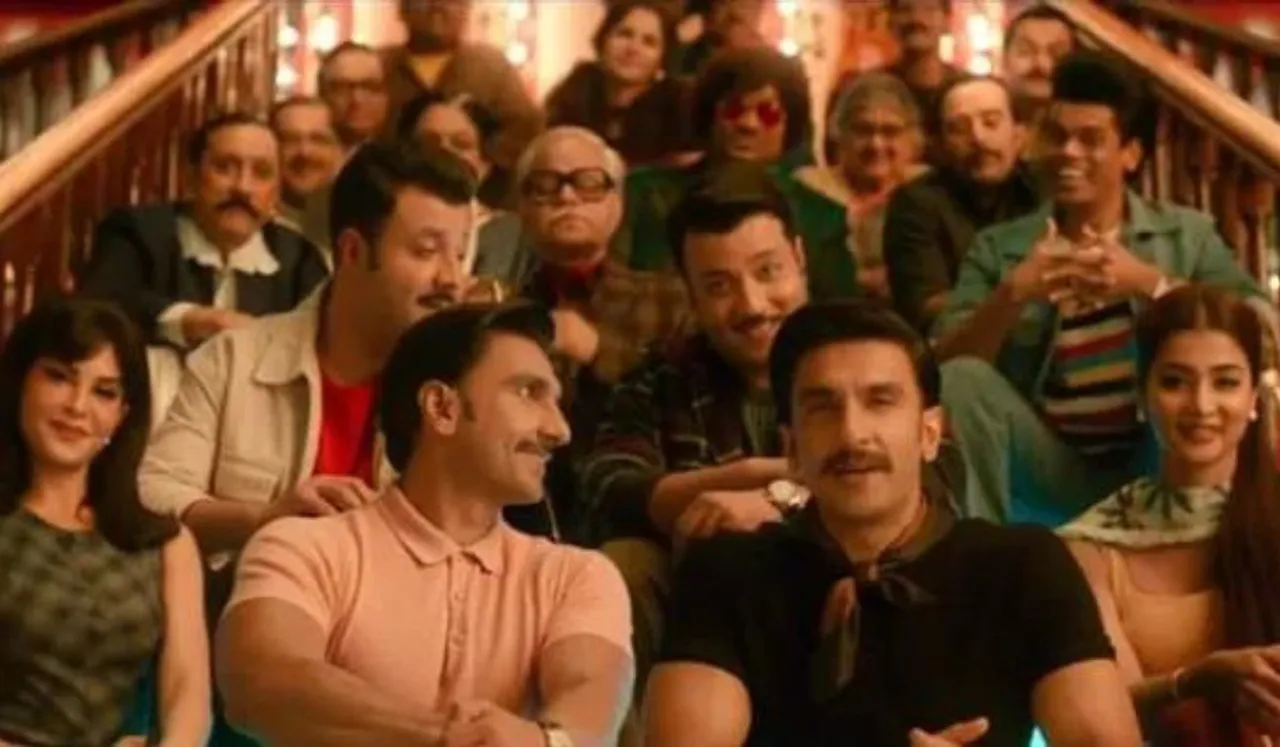 The makers of Rohit Shetty's forthcoming movie Cirkus unveiled a teaser-cum-trailer announcement on Monday. Ranveer Singh plays a dual role in the movie for the first time in his acting career, which is an adaptation of A Comedy of Errors by William Shakespeare.
Ranveer and the rest of the cast are seen in the teaser, which outlines the film's USP and the benefits of having it take place in the "simple" 1960s.
Cirkus Teaser:
The whole cast is seen conversing with the audience while sitting outside a circus in the teaser, which does not feature any footage from the movie. When there was no breaking news and children asked their grandparents for answers rather than Googling them, the 1960s were the "good old days," as Sanjay Mishra and Johnny Lever welcome the audience too. We then catch a glimpse of two Ranveer Singhs as they describe Cirkus as a tale of the times "when parents' love was more important than social media likes." Watch the teaser ">here.
---
Suggested Reading: Salaam Venky, Cirkus And Other Films Releasing This December In Theaters
---
There are some rib-tickling and inside jokes that come after, including Mukesh Tiwari repeating one of his well-known lines from Golmaal (another movie directed by Rohit Shetty): "Jaldi bata subah Panvel nikalna hai, Tell us quickly, we have to leave for Panvel in the morning. "
Sharing the video, Singh said, "Welcome to our world. Trailer coming out on 2nd December."  Jacqueline Fernandez, Pooja Hegde, and Varun Sharma, who plays a dual role with Ranveer, are also featured in Cirkus. Additionally featured in the cast are Tiku Talsania, Vrajesh Hirjee, Ashwini Kalsekar, Murali Sharma, Vijay Patkar, Sulbha Arya, and Brajendra Kala. On December 24, Christmas Eve, the movie is scheduled to open in theatres.
Ranveer Singh revealed the film's completion earlier this month and said, "Shooting khatam, Promotion ki planning shuru! Mass-ter filmmaker ke Mass-ter plans!!! Buahahahaha! #CirkusThisChristmas."  This is not the first Hindi movie to draw inspiration from A Comedy of Errors. The play has previously been adapted for Indian settings in the films Angoor, starring Sanjeev Kumar, and Do Dooni Chaar, starring Kishore Kumar.