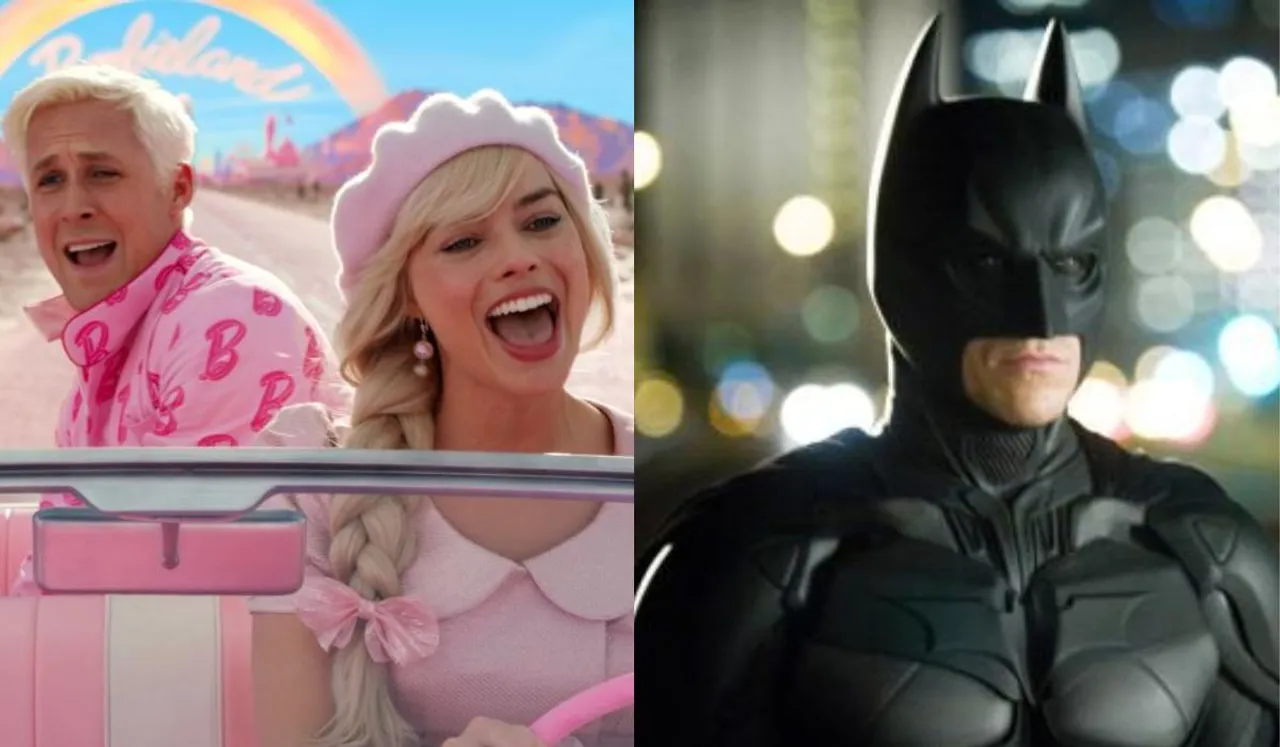 Greta Gerwig's Barbie is painting the box office all pink. After leaving Christopher Nolan's Oppenheimer behind in the Barbenheimer rivalry through its weekend box office opening, Gerwig's Barbie has also surpassed Nolan's Batman The Dark Knight. 
After Barbie broke records for the biggest weekend box office opener by a female director, it has also surpassed The Dark Knight to score the biggest Monday box office collection by Warner Bros. 
Barbie Beats Batman!
Barbie through its satirical witty humour is winning moviegoers' and turning their hearts pink, breaking every box office record. 
As per the reports, in North America, the 2008 Christopher Nolan's film The Dark Knight collected $24.6 million in its Monday Box Office collection, which has now been surpassed by Barbie collecting $26 million and becoming Warner Bros biggest Monday opening, breaking Batman's longstanding record for 15 years!
Barbenheimer was the biggest clash of the films after the Pandemic, and Barbie surprised everyone winning every heart. 
While Oppenheimer won $12.6 million on Monday taking home $95 million as its domestic collection since its release which is doing as good as it was expected to be, Barbie has surprised everyone by collecting $188 million in North America.
Barbie raked an overall collection of $362 million over the weekend while Nolan's magnum opus managed to make $82 million. 
With an incredible opening, Barbie is the biggest box office release of the year and has already surpassed the collection of $400 million and is now expected to be entering the $1 billion movie club, while The Dark Knight has globally collected $1 billion worldwide during its theatrical run. Will Barbie Land take over the Gotham hero Batman? 
What's the Secret Behind Barbie's Overwhelming Secret?
Not just Barbie's amazing marketing gimmicks and promotional efforts for the fancy world of Barbie, but the phenomenon created by the internet Barbenheimer added a lot to the success of both the films as moviegoers took the spirits and rallied for both the clashing big releases anticipating the fight. 
While Barbie is beating all the records it is yet not over for her to be taking over all box office records and creating some new ones. 
Helmed by Greta Gerwig, Barbie stars Ryan Gosling and Margot Robbie in lead roles who are being appreciated for their performance by the audience already, Oppenheimer is directed by filmmaker Christopher Nolan starring actors Cillian Murphy, Robert Downey Junior, Emily Blunt, and Florence Pugh among others.
While Oppenheimer was a cinematically moving experience, Barbie touched hearts through sentimental self-realisations and punches of humour. 
---
Suggested Reading: 'Barbie' Records Biggest Weekend Opening For A Female Director