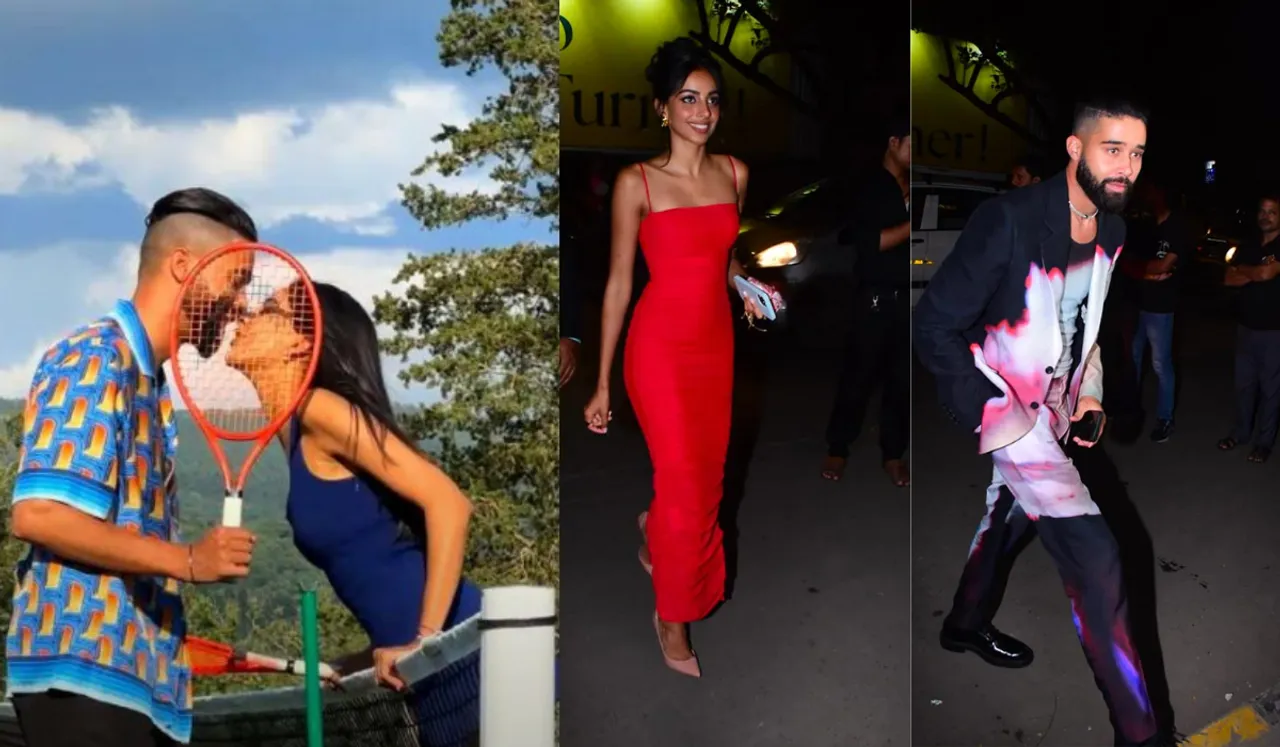 Banita Sandhu and AP Dhillon, who recently collaborated on a music video, turned heads as they were spotted together at the premiere of AP Dhillon's upcoming docuseries, "AP Dhillon: First of a Kind," on a Wednesday night in Mumbai. Arriving at the event in the same car, the duo struck poses for the paparazzi and then swiftly made their way inside.
Banita Sandhu, known for her role in the intimate and romantic With You music video, a compilation of footage they filmed during a shared holiday, has sparked widespread speculation about the nature of their relationship. Their on-screen chemistry was so captivating that many enthusiasts were pondering whether their connection extends beyond the video.
AP Dhillon, Banita Sandhu Attend Docuseries Premiere Together 
Stepping onto the premiere's red carpet, Sandhu chose an elegant red dress and adorned a chic bun hairstyle, exuding a stylish charm. Meanwhile, AP Dhillon showcased his fashion flair in a white and red suit designed by Alexander McQueen. Notable personalities spotted at the event included Ranveer Singh and Salman Khan. 
Sandhu's presence at the screening further fanned the flames of these rumours. A fan conveyed their hope, commenting on a video featuring Sandhu and Dhillon, "I'm really hoping they're dating."
Stirring up a storm on Desi Twitter (or X), Banita Sandhu and AP Dhillon's special bond has ignited a wave of longing among young admirers. In a playful display of this yearning, enthusiastic individuals have initiated a meme craze known as People of My Age vs. Me 'or 'Me And Who.'
More about AP Dhillon's docuseries
Renowned hitmaker AP Dhillon has etched his name in the music industry with chart-toppers like Excuses, Summer High, Dil Nu, All Night, Hills, Desires, Wo Noor, Majhail and Brown Munde, to name a few. The singer's latest tracks, True Stories and With You, have also been making waves in trending circles.
Set to debut on August 18 at midnight on Amazon Prime Video, the docuseries promises an immersive exploration into AP Dhillon's captivating journey, chronicling his ascent to self-made stardom and international music icon status.
Who Is Banita Sandhu?
Sandhu stepped onto the acting scene alongside Varun Dhawan in Shoojit Sircar's film October, marking her debut. She also took on a minor role in his project, Sardar Udham. Residing in the UK, she has been honing her acting skills since the tender age of 11. Her forthcoming endeavour, Mother Teresa & Me, directed by Kamal Musale, features her portrayal of a character grappling with inner conflicts.
Recently, speculations emerged around AP Dhillon's connection with Khushi Kapoor, daughter of the late Sridevi and Boney Kapoor, sparking a buzz of curiosity and inquiries. 
---
Suggested Reading: Who Is Yashica Dutt? Author Alleges Made in Heaven 2 Plagiarised Her Life