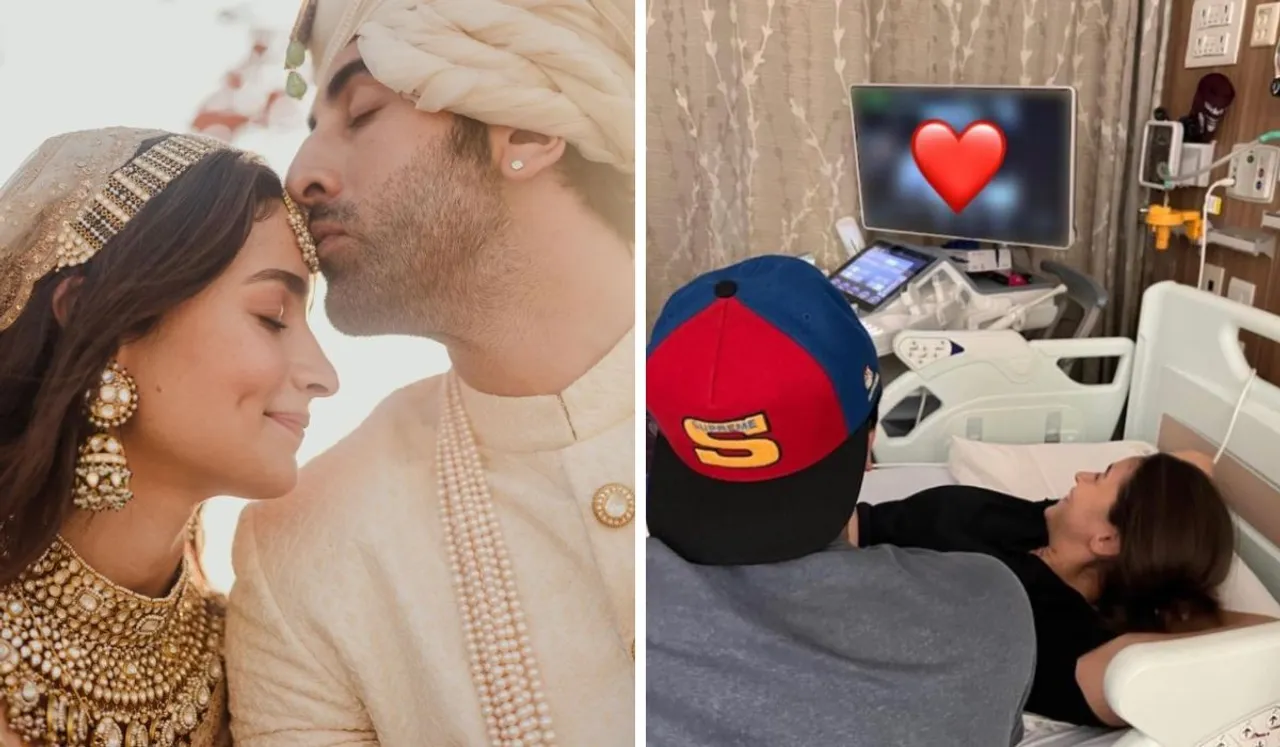 Actor Alia Bhatt on June 27 morning surprised her fans by sharing an Instagram post announcing her pregnancy. The actor who married long-time partner Ranbir Kapoor on April 14 this year announced her pregnancy with a photo of the couple and a sweet note.
In the post, which has now gone viral, she shared features two images. Bhatt can be seen lying on a hospital bed, undergoing sonography in a picture; a heart emoji hid the ultrasound photo of the baby. And the second picture is that of a lioness and lion with a cub. She captioned the post as, "Our baby ….. coming soon."
Alia Bhatt Pregnancy
The news has elated everyone from family, and friends to fans. While celebrities like Karan Johar, Alia's mother and veteran actor Soni Razdan, Priyanka Chopra and many more have left congratulatory comments for the couple. Many fans of the couple are expressing their elation on the arrival of their kid. Some got creative with their messages and best wishes.
A fan shared a short clip of the iconic Simba introduction scene from the film The Lion King and wrote, "Make way for Junior Kapoor."
"I imagine how they felt when they went to the hospital to make sure she was pregnant, it's a beautiful moment and a very beautiful pic! look at Ranbir and Alia's laugh! Ok bye, I got emotional again," a fan wrote feeling elated about the pregnancy.
"Parents of the most beautiful baby there would ever be... parents of junior Kapoor. Can't wait for you to enter this world and make ours go round. We love you, beyond words & beyond anything," stated another one.
A fan wrote, "Look at the happiness on her face. That girl deserves the world! God bless her."
One user was pleasantly surprised about the news; the fan wrote, "Never have I ever thought I would see this day. Many many many Congratulations Alia Bhatt & Ranbir Kapoor. My heart is bursting with love, joy & happiness. Sending all the love & prayers in the Universe from all of us!"
"So You mean to say these two babies are going to have their own baby," wrote a fan sharing childhood photographs of Bhatt and Kapoor.
"Whaaaat! Alia Bhatt is PREGNANT! Alia and Ranbir are expecting their first child. Our hearts are so full! Congratulations to the couple," a user congratulated.
---
Suggested Reading: Here's How Bollywood Celebrities Reacted To Alia Bhatt's Pregnancy