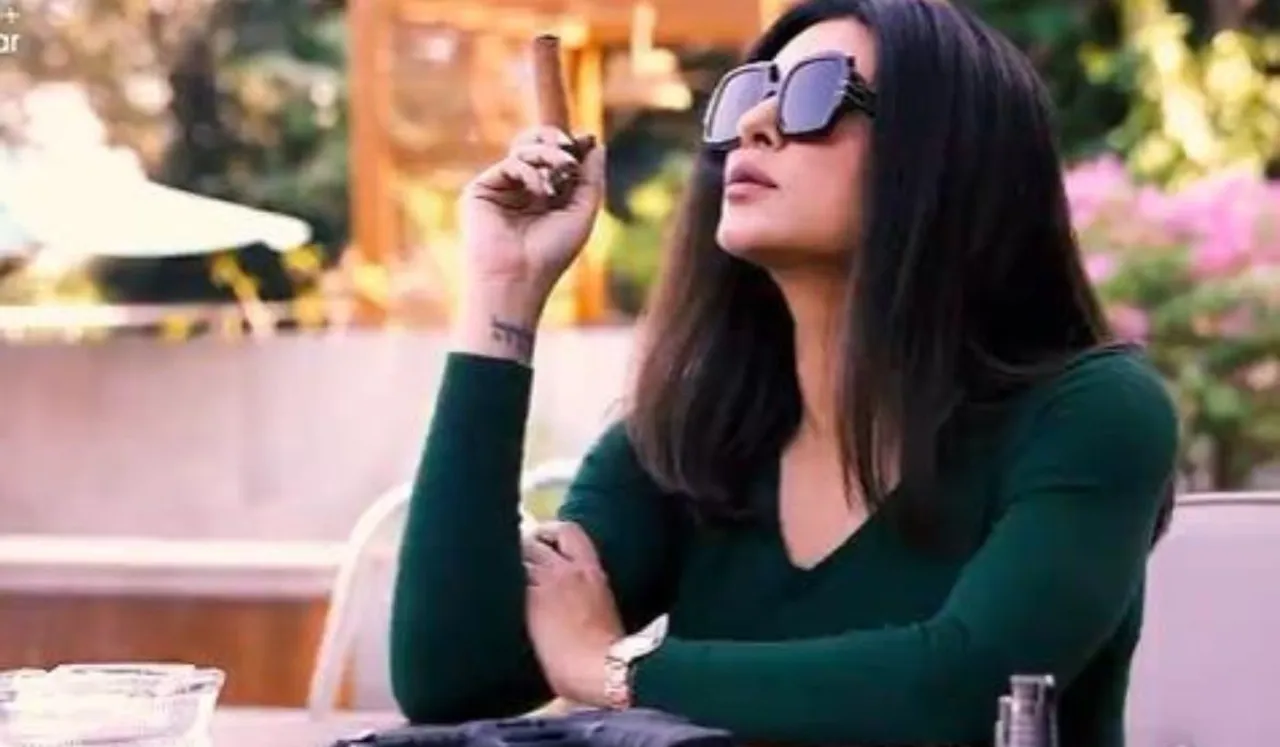 The much-awaited first teaser of actor Sushmita Sen's web series Aarya S3 is out! The actor took to her social media handle to share the first teaser of the upcoming third season of Aarya.
The teaser features snippets of Sushmita Sen, who plays the titular character, Aarya. The actor lights a cigar, loads a gun like a pro, and sets it on the table as she smokes the cigar in style. She is seen wearing a full-sleeved black top and sunglasses as she smokes the cigar.
Aarya S3 Teaser
Sen captioned the teaser, "She is back, and she means business. #hotstarspecial #Aarya3, now shooting," on her social media handle.
Ardent fans of the web series expressed their excitement in the comment section. Sen's daughter Renee Sen commented, "You are unreal." A user wrote, "I'm too excited for the new season." Another user commented, "Damn!!! Eagerly waiting,"  while one wrote "killer."
Watch the teaser here.
Sen made her OTT debut in 2020 with Disney Hostar's Aarya. This web series also marked her comeback to the screen after a long break. Sen plays the titular character Aarya, a bold, strong-willed, independent, and confident woman who would go to any extent to protect her family from the criminal world.
The story revolves around Aarya Sareen initially shown as a loving wife and caring mother who is unaware of the illegal business her family is involved in. When her husband, Tej Sareen, is killed under mysterious circumstances, her family's survival is threatened by the drug mafia. A vulnerable Aarya has no choice but to get involved with the mafia to protect her family. She discovers many uncomfortable truths, betrayals, and threats that change her into a whole different person. As the show moves forward, Aarya evolves from a naïve homemaker into a badass mafia queen while remaining a devoted mother to her three children.
The much-loved and critically acclaimed web series is reportedly based on a Dutch crime series named Penoza by Pieter Bart Korthuis. The cast consists of Sikandar Kher and Chandrachur Singh, among others. The series is produced by Ram Madhvani, Amita Madhvani, and Endemol Shine India. Aarya is primarily directed by Ram Madhvani. It won Sushmita Sen the Filmfare OTT Award for best actress in 2020.
---
Suggested Reading: Aarya: Sushmita Sen Nails It As A Single Mother Who Gets Pushed Into Drug Dealing
---