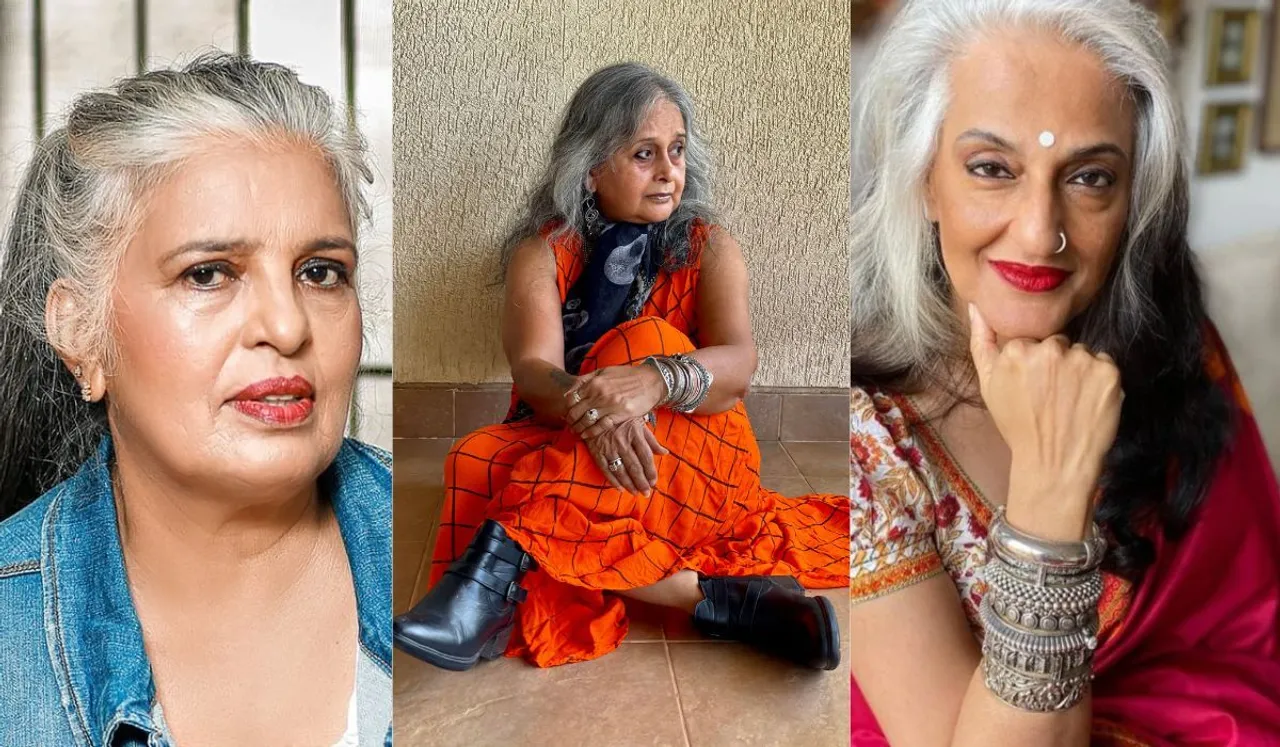 The elderly generation is proving that Instagram is not just for the young, showcasing their expertise in various areas such as cooking, dancing, fashion, and sexual education.
These senior influencers, aka, Indian Granny influencers, are breaking down stereotypes and stigmas and paving the way for change on the social media platform.
Let's have a look at these 5 Indian Granny Influencers:
1. Manjri Varde
Recognized by the moniker 'sassy saasu' in the online community, Manjiri Varde is a professional artist who, alongside her daughter-in-law, actress Sameera Reddy, creates humorous videos that challenge traditional assumptions about the relationship between in-laws.
She is an artist and designer who operates her own label Samanjri, featuring wearable art, calligraphies, and poetry.
Varde possesses a distinctive style of her own and can often be found wearing vibrant sarees and scarves which she designs herself. Despite being in her mid-60s, she continues to be a popular figure on Instagram, where she regularly posts videos showcasing her passion for art, fun and cooking in collaboration with her daughter-in-law.
2. Seema Anand
Seema Anand is a sex health educator and storyteller, known for her stunning looks and silver hair. However, Seema's Insta account stands out for the way she discusses sex and breaks down ageist stereotypes, offering valuable insights for older adults seeking to improve their sex lives. She addresses contraception myths and promotes body awareness. Anand's account is for both young and old looking to learn more about sexual pleasure.
3. Sheela Bajaj
During the lockdown, Sheela Bajaj, a resident of Delhi, reignited her love for the art of crochet and converted it into a business venture with the help of Instagram. For years, she had been using her crochet skills to make sweaters for her relatives. Her granddaughter, Yukti Bajaj, suggested that they start a business to showcase her ability to produce breathtaking knitting creations.
In November 2020, the two individuals started their crochet business, and it has received an overwhelming response. According to them, the demand for their products is now ten times greater than their supply.
Sheela's crocheting skills have garnered her a great online following of 35,000 people. She is well-known for creating a vast collection encompassing sweaters, accessories, earrings, pouches, toys, and home decor items.
4. Rajini Chandy
The actor, a 70-year-old homemaker, gained attention in 2021 for a viral photoshoot. Despite her age, she managed to carry off ripped jeans and dresses with more grace than many others. However, she faced severe criticism for her clothing choices.
Rajini Chandy, who boasts approximately 20,000 followers on Instagram, began her acting profession in Malayalam movies at the age of 65. Notably, she also participated in a season of Big Boss Malayalam.
5. Shanthi Ramachandran
After retiring in 2015, this ex-banker just wanted to relax and enjoy her life. As encouraged by her daughter, she established a social media profile, where she shares her cooking recommendations and tips. Since then, she's gained a significant following and is now known as 'Insta Aunty.' With an impressive 53.3k followers, Shanthi Ramachandran's delectable posts are sure to whet your appetite.
---
Suggested reading: National Gorgeous Grandma Day: 5 Grandmothers That Are Breaking Stereotypes