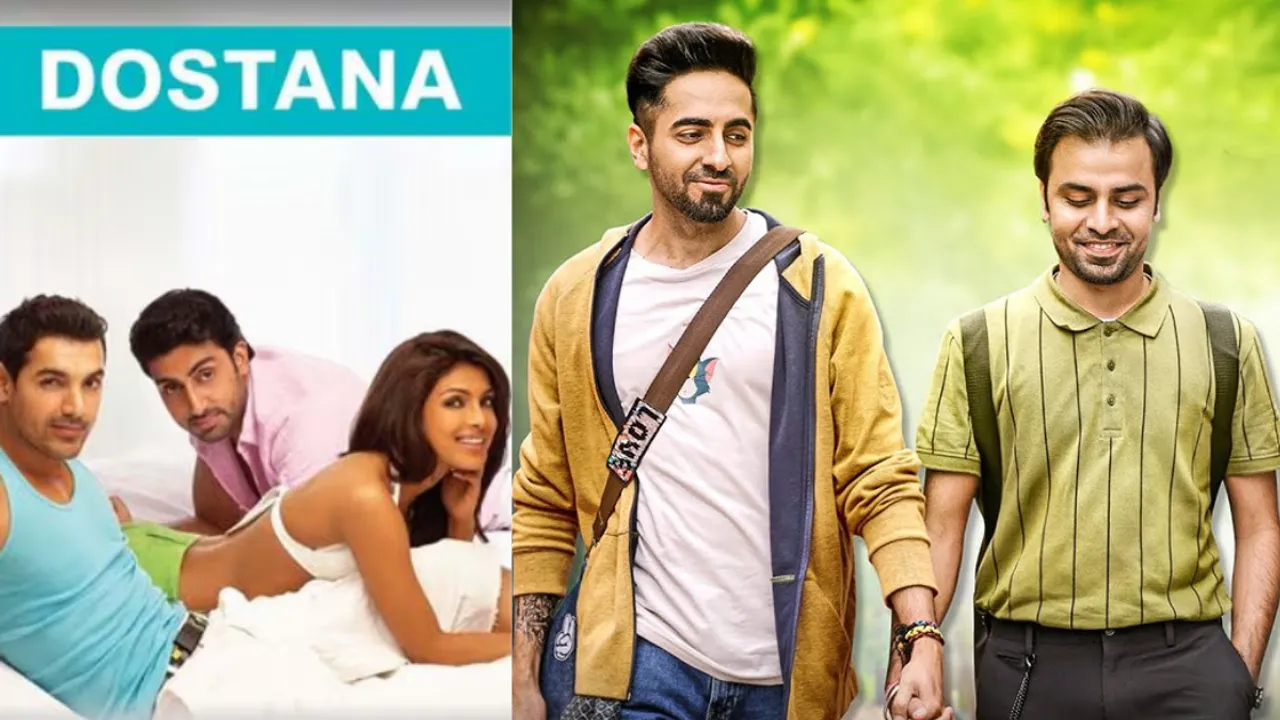 On this day 15 years ago, we were blessed with the iconic pop number, 'Desi Girl' with the release of Dostana. Starring Abhishek Bachchan and John Abraham as a pretend-gay couple, the film was a laughter riot full of tongue-in-cheek humour and exaggerated antics.
However, while Dostana could have served as a much-needed realistic representation of the LGBTQ+ community in Bollywood, the audience was not happy with the reliance on stereotypes, hypersexualisation, and caricatured body language to portray queer people in the name of comedy. But times have changed, and so has the portrayal and acceptance of the queer community in Bollywood. 
Using Comedy to Cultivate Awareness
Filmmakers have proven that the queer community can be represented in a comedy genre without stereotypes or making a mockery of them. Employing comedy in films is a great way to educate the masses by grabbing attention while not sounding too political. One such film that realistically portrays queer relationships in the current political climate is Shubh Mangal Zyada Saavdhan (2020).
The Ayushmann Khurrana and Jitendra Kumar starrer portrays the reality of living in a middle-class family as an openly queer person in India. It shows a gay couple struggling to convince parents, grandparents, uncles, aunts, neighbours, friends, police and everyone else bothered by their relationship. By setting the film in a middle-class household and including heartwarming romantic moments shared between the couple, Shubh Mangal Zyada Saavdhan is more approachable to Indians, making it a great way to educate the audience on LGBTQ+ issues.
Another Ayushmann Khurrana film, Chandigarh Kare Aashiqui (2021), represents a transgender woman played by Vaani Kapoor. The film revolves around Khurrana's struggle with accepting his own feelings towards Kapoor and coming to terms with her sexuality, all while dealing with judgement coming from his friends and family. It provides an insight into the struggle for acceptance of the LGBTQ+ community and judgements that come from all sides of society.
Another comedy film, Badhaai Do, also tackles stigmas and unawareness around homosexuality in an empathetic way. The film stars Rajkummar Rao as a gay man and Bhumi Pednekar as a lesbian woman, who enter a lavender marriage (a marriage of convenience between people of opposite sexualities to appease their families, while each of them has their own homosexual partner on the side). Badhaai Do is full of hilarious plot twists and punchlines but also addresses serious issues like right to adopt and same-sex marriage.
Although the secrecy, shocked reactions, judgements, and snarky comments are disguised as comedy in these films, these are representative of the real struggles that homosexual people face in India. These films also show that the queer community lives mundane lives like everyone else; their needs of belonging and feeling loved by their kin are the same as everyone else's, so there is no need for sneering and indifferent portrayal of the people.
Jokes Apart, This is The Real Deal
In Kapoor & Sons (2016), Fawad Khan plays the character of a gay man, who hides his sexuality from his family, already struggling to stay together. In spite of already living in a dysfunctional family, when Khan's sexuality is exposed to his mother (played by Ratna Pathak Shah), she is distraught and believes that she does not deserve a son 'like him.' This is in fact how homosexuality is largely viewed in India; while there are several other problems to focus on, homosexuality is still viewed as taboo and shame and queer people struggle to be accepted.
Margarita With A Straw (2014) is a drama film that portrays the experience of an Indian bisexual disabled woman (Kalki Koechlin), who falls in love with a Pakistani girl (Sayani Gupta). The actors have delivered a phenomenal performance to portray sensitive subjects like intersectionality, disability, and navigating sexuality without making them seem "out of the ordinary". 
Another story of intersectional queer relationships was portrayed in Geeli Puchchi in Ajeeb Daastaans (2021), starring Konkona Sen and Aditi Rao Hydari. The movie told the tale of a Dalit queer working-class woman who fell in love with an upper-caste woman. No dramatic gestures were made, no comedic punchlines were used; yet the film has managed to create a memorable impression on some issues that are less addressed in society.
Since the Supreme Court 2018 ruling to decriminalise homosexuality has come into action, Bollywood has realised the need for disseminating sensitivity towards the queer community. Although representation of the queer community has been around for many years before decriminalisation (with noted films like Fire (1996), My Brother... Nikhil (2005), and Margarita With A Straw.)
acceptance towards homosexuality and realistic representation in media is only now surreptitiously making its way to society.
Thus it is becoming increasingly important to represent the queer community and their experiences in a realistic and sensitive manner.
Views expressed by the author are their own
---
Suggested Reading: Giving Queer Stories Limelight Is A Celebration: Jaydeep Sarkar On Rainbow Rishta