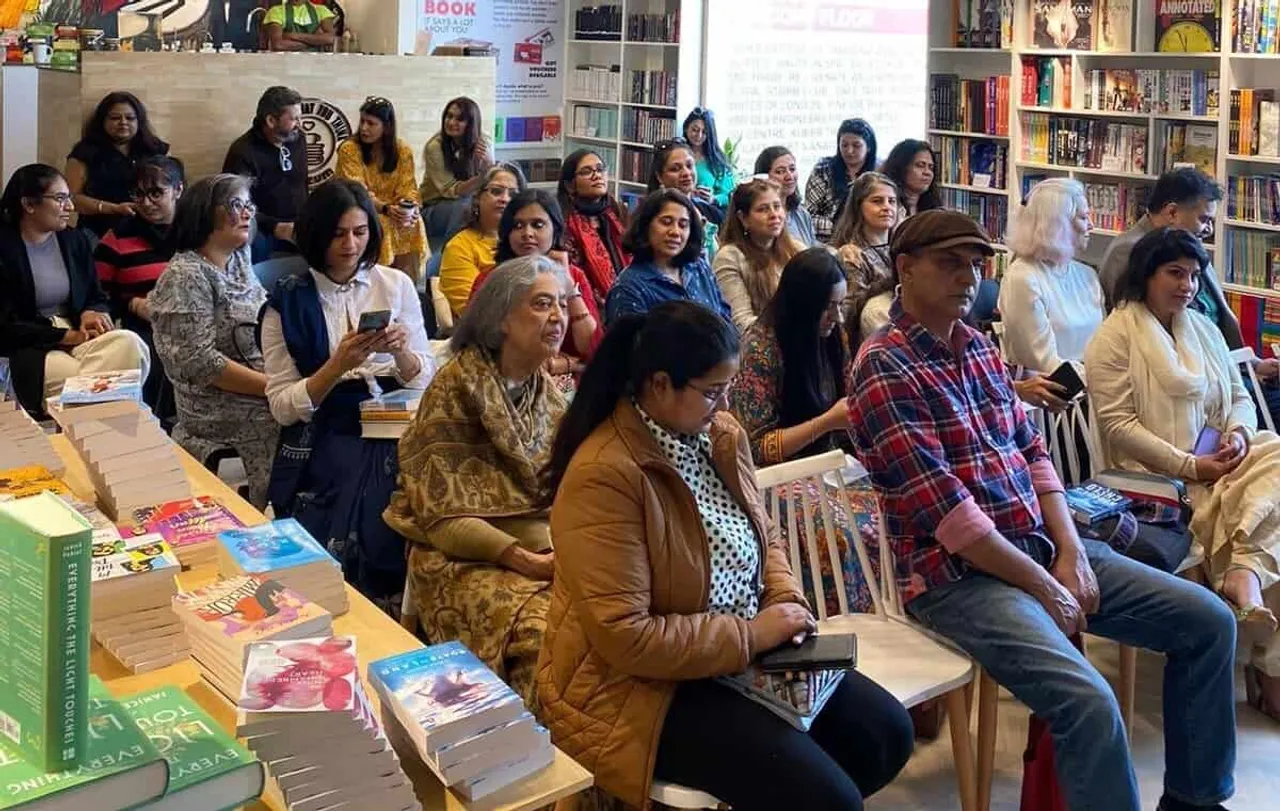 Gurgaon is known for many things unfortunately not for books, reading clubs and book events. But SheThePeople has changed that and how!!
Women Writers fest (WWF) has always been a big crowd-puller and pre-Covid, WWF went to different cities. This year, on 19th Feb, SheThePeople hosted the Gurgaon edition of WWF at Kunzum Book Café.
Women Writer's Fest 2023 Wrap
We had a full house, people kept pouring in; they sat for the sessions, kept asking questions and wanted more.
The event kicked off with the debonair and very savvy Kabir Bedi who hasn't lost the Sandokan charm and every woman in the audience wanted a selfie with him. He launched Kainaz Jussawalla's new book – a memoir titled Who wants to marry Kainaz Juicewala.
The first session of the event was on the different shades of love. Expertly moderated by Anjali Kirpalani, an author of multiple books. The panel discussed the changing dynamics of love in today's society, self-love, transgender issues and desire.
The second session was with the prolific Andaleeb Wajid, who deftly juggles traditional publishing and scoring high on KDP (Kindle Direct Publishing). With more than 40 titles to her name, Jasmine Villa – one of the 3 book series she had written; has been acquired by Westland. At WWF the series was launched.
There's the magic and the thrill of the debut book that's undeniable. The first one is special and the twinkle in the eye of the debut author is unmistakable as they talk about the first journey, the joys and the struggles. Author Debeshi Gooptu moderated the session with 3 debut authors.
Janice Pariat needs no introduction. Writer par excellence; she was in conversation with the founder of SheThePeople Shaili Chopra. She eloquently spoke about the 10-year-long journey of researching and writing her book – Everything the light touches.
The grand finale was the session with senior editors from reputed publishing houses discussing the one topic that is always an instant crowd-puller – How to get published.
One couldn't have asked for a better way to spend Sunday afternoon; in the company of authors, and readers – discussing books, their journeys, struggles and wins. All of this was in a cosy book shop – Kunzum Book café, surrounded by rows of books. The Women Writers Fest has always been a space for free, unhindered conversation, and sharing of thoughts and opinions; the 19th event was no different.
In fact, it brought to the fore a new and interesting face of Gurgaon that has been hitherto unseen. No one can now say that Gurgaon doesn't read.
Kanchana Banerjee is an author and published her first book A Forgotten Affair with Harper Collins in 2016. The views expressed by the author are their own.
---
Suggested Reading: Janice Pariat: Women Need The Space To Tell Their Own Stories