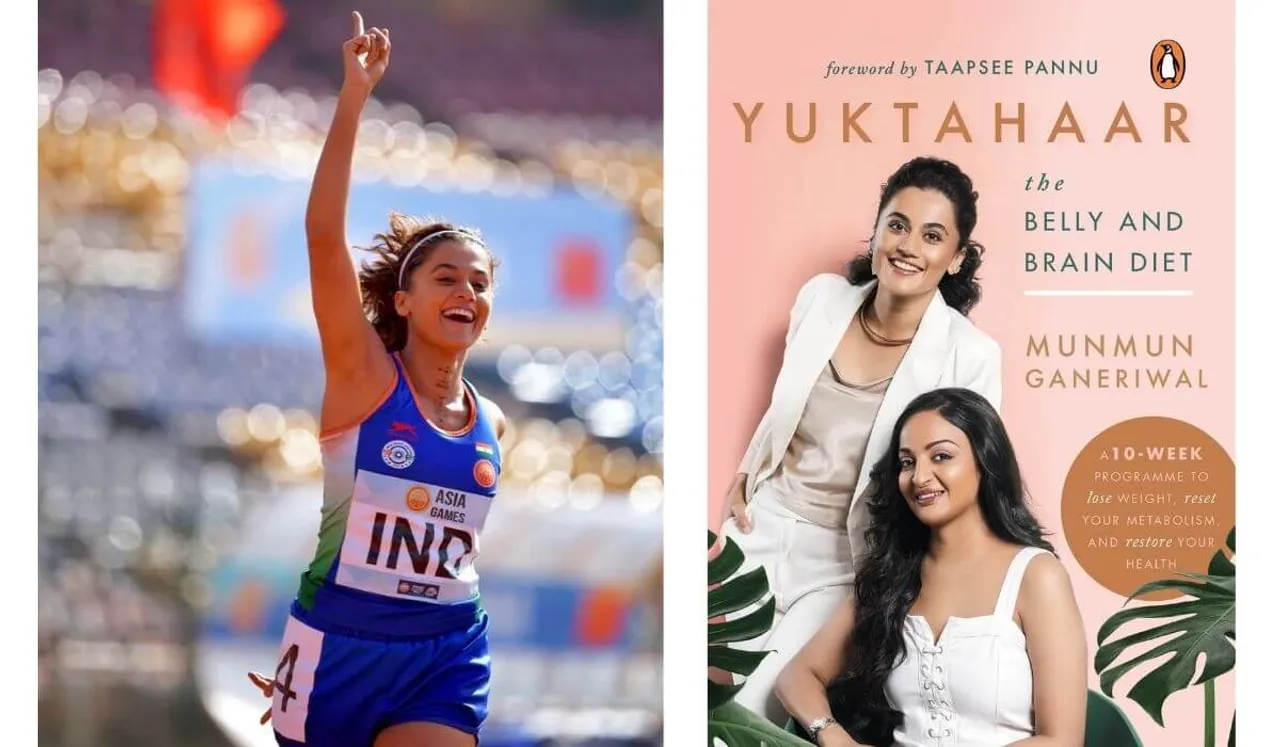 Yuktahaar by Munmun Ganeriwal argues that the reason why none of the diets in the past have seemed to work is because they focused on the wrong cause. An excerpt:
Taapsee was scrolling through pictures on an iPad and sitting beside her, I was looking through them. We were in a meeting along with the producers of Rashmi Rocket. Pictures of great and powerful female sprinters from across the world had been collected and were being shown to us as reference.
'So, Munmun, this is the transformation we are aiming for.' 'How much time do we have?' I asked.
'Exactly after two months, the shoot begins. And after about three months from now, we will start shooting the final race scenes that will be the climax of the movie,' Taapsee said, looking at me.
When I got back, a montage was playing in my head: A woman athlete exploding off the starting block on the athletic track, another one sprinting towards the finish line, a stadium filled with fans holding placards that said, 'Stop her if you can!'
---
Suggested Reading:
What Happens In The Battle Between The Humans And The Demons
---
It quickly dawned on me that for the purpose of the movie, not only was an aesthetic transformation required, but it was also imperative to turn Taapsee into a 'running rocket' for real! The challenge was huge, but I was quite confident of making it. No, wait, before you label me as arrogant, hear me out. Over my 19 years of practice, I have come to realize that my success with my clients isn't all about what I do for them. It's about the clients who choose to work with me. That's because I can only give them guidance; it's they who execute it and turn it into a success story. I had already been working with Taapsee for a few years before Rashmi Rocket came along, and knowing her, I had no doubt that she would give 100 per cent to this project. There was no reason for me to doubt the results. Female actors taking up a challenge of this kind is rare, and that itself speaks volume about Taapsee's courage and grit. My confidence came not from me but from our partnership. As they say, you are only as good as your team, and looking back over the years, I could confidently say, 'Oh boy! She and I make a bloody good team!'
Arre yaar, chalo maan liya, teamwork makes the dream work and all that jazz, par sirf do mahine? Do mahine mei kiski body banti hai? For me to answer this question, allow me to take you back a couple of years. Flashback! Ab kya karu, thodi filmi toh mei bhi hu!
Year 2018
It was a Monday morning. The clock was about to strike 9 a.m., so I hurriedly planted myself in my chair and reached for my phone. In the next minute, I was on a FaceTime call with Taapsee, my very first consultation with her. Casually dressed in a pink tee and matching PJs, her hair tied into a bun and no trace of make-up on her face, her look complemented the non-starry attitude she exhibited while getting in touch with me for her first appointment. It is well known that managers of stars make the first call, take appointments, etc., and this is considered business as usual. But Taapsee likes to stand out from the crowd in just about everything. Instead of having her manager facilitate the call between us, she chose to be on it herself. The next hour flew by with her talking about herself and me registering every minute detail in my head. For instance, she explained, 'See I am a sardarni. I love food, and I just cannot bring myself to eat something that doesn't appeal to my taste buds.' This was music to my ears. Why? Because today we live in a world where a guy can convince millions of people that putting butter in their coffee will help them lose fat. Whether it tastes horrible or not, doesn't really matter! The man created a business from it. But here was this girl who wanted to ensure her meal plan consisted of only foods that she liked to eat. And then she would follow the plan to a T, no matter if it's the weekend or she's on a holiday.
When your routine diet is tailor-made based on what you like to eat, there is no reason to look for a cheat meal. Contrary to most others who decide to eat anything to lose weight—all in the name of willpower—and then fall off the wagon after just a few weeks, Taapsee has been quite sensible, and this is something that I love the most about her. In an industry where for an actress, being skinny is directly proportional to being successful and in demand, she refuses to burden herself with the pressure of how much she weighs on the scale. Weight loss is the by-product of a healthy lifestyle—or a healthy gut, so to speak—and I was glad that she was ready to work on her gut health, metabolism and digestion instead of chasing a number on the scale.
Excerpted with permission of Penguin India from Yuktahaar: The Belly and Brain Diet by Munmun Ganeriwal.
You can also join SheThePeople's Book club on Facebook, LinkedIn and Instagram.