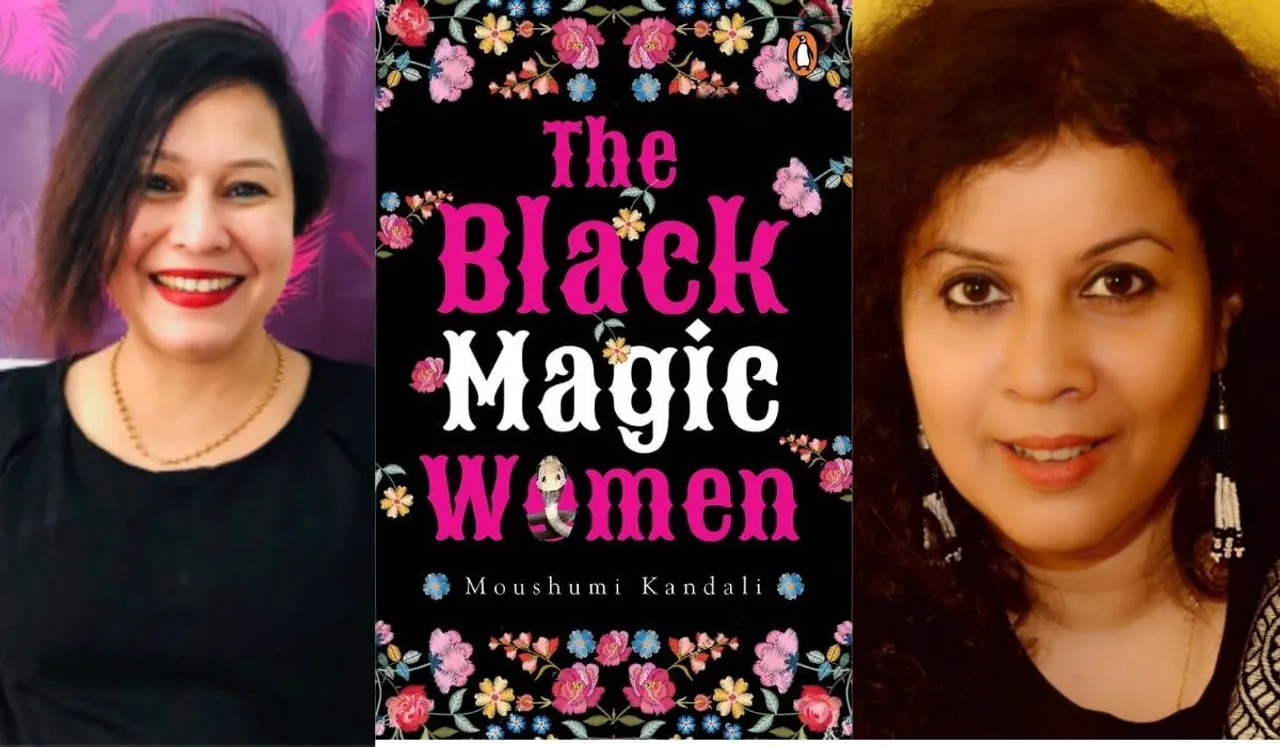 The Black Magic 
Women
focuses about how mainstream India perceives the Assamese women. An excerpt:
The face of the moon resembled a skull. He was looking at it after so many years. He saw the pale face of the moon peeping through the window of the emergency ward, just above the ambulance parked outside. The red light of the ambulance switched on, followed by the wailing of the siren. The inert figure on the next bed got a jolt. He opened his eyes, which were covered with dried blood. His swollen nose, swollen cheeks and bandaged head made those eyes look like two small red pools sunken in dark crevices. With great difficulty he managed to ask him in Nagamese, 'Why are you still awake, Mita?'
'Mita'  Rizulu called him Mita! Rizulu reached out to him as Mita. Ah! He kept looking at Rizulu's eyes, and his swollen dark lips that had just uttered this word to him— Mita . . . It had taken years of bonding between two ethnic communities for this word 'Mita' to evolve. It had layers of meaning embedded in it. It was as sturdy and impermeable  as the walls of the Talatal Ghar, the Rangpur Palace in Assam's Sivasagur, cemented  with  lentils  and  duck  eggs. It was a word fortified with the emotions of a friend and a well-wisher. Leaning on that fort were his uncle and the father of the tattered body that lay in the emergency ward whose name was Rizulu. The word was a tree that germinated from a seed that came  with the breeze blown from the hills of the Nagas and was nourished by the fertile soil of the plains of the Brahmaputra river. Breaking the barriers imposed by history with its rigid customs and traditions, rules and regulations and its stringent memories, the word branched out under a divine sky with all its glory. Some people took refuge under that  sky, but their shelter appeared to be nothing but a transitory makeshift camp of thatched roof and frail bamboo on the ever- eroding bank of a river in rage. Though the unsparing truth of history had steadily destroyed the tent, that word, like a compulsive traveller, had now pitched a tent in this emergency ward. From the secure enclosure of the tent, two bloodshot eyes were looking at him. The bloodshot eyes of Rizulu, Rizulu Reo Angami, a boy from the hills of Nagaland 'Rizulu Reo, right?' A policeman, stepping inside the emergency ward, volleyed him as soon as he turned his gaze away from the swollen tenderness of his bloodshot eyes to the bellowing at the door.
---
Suggested Reading:
Why There Is A Need To Recognise The Work Of Women Writers
---
'You have not lodged an FIR, have you? He was unconscious when our patrolling van picked him up. How is he now? This is election time. Every party is on alert. It might be made into a campaign issue. It will make newspaper headlines. We are trying to speed up our investigations. Otherwise, there will be unnecessary politicization of the issue. We will get harassed. The blame game will start. Perhaps he can talk now. What about you? You tell us who you are and what you know.'The policeman talked ceaselessly, 'You see, we are doing our duty even at this hour. There is no time to rest, not at all. Such incidents are only increasing by the day. Haven't you noticed? You people should be careful. Why do you roam around at night? Have you not seen how the people from your region  are  being  targeted?  Your  girls, why  don't  they  cover themselves up? If a deer comes and jumps enticingly in front of a tiger, the tiger will pounce. You people look different. You, of course, do look like one of us—many children of Ma Kamakhya and Baba Brahmaputra look like us—but some of you and those living in the hills and jungles look so different that it is difficult to imagine that they belong to this country. They look like they are from that other country, China. Look at him, he comes from your neighbouring land, who fought with us for a hundred years. They don't want to be part of this country, do they?'
The policeman was looking intently at his face, but the gaze couldn't reach his eyes which were roving around some faraway  hills, in  the  lush  green  foothills, its  crevices  and cleavages where charred bodies lay hidden, burnt huts, burnt churches, burnt orange groves, the stench of those burnt lives was still alive like cockroaches flapping their dark brown wings amidst invasive clouds of thick radiation. Though the invasive platoons in camouflaged olive-green uniforms had disappeared, their shadows and the sounds of thunder-like guns still lingered on in those hills, in streams and wild berries, in lullabies and in the forgotten songs of nightmares. They no longer talked about these things; move on, move on, that's what we have always said, add soil and bury all, the wisest thing to do, whether it is heartbreak or the holocaust.
Excerpted with permission from The Black Magic 

Women

 

by Dr. Moushumi Kandali

.
You can also join SheThePeople's Book club on Facebook, LinkedIn and Instagram.