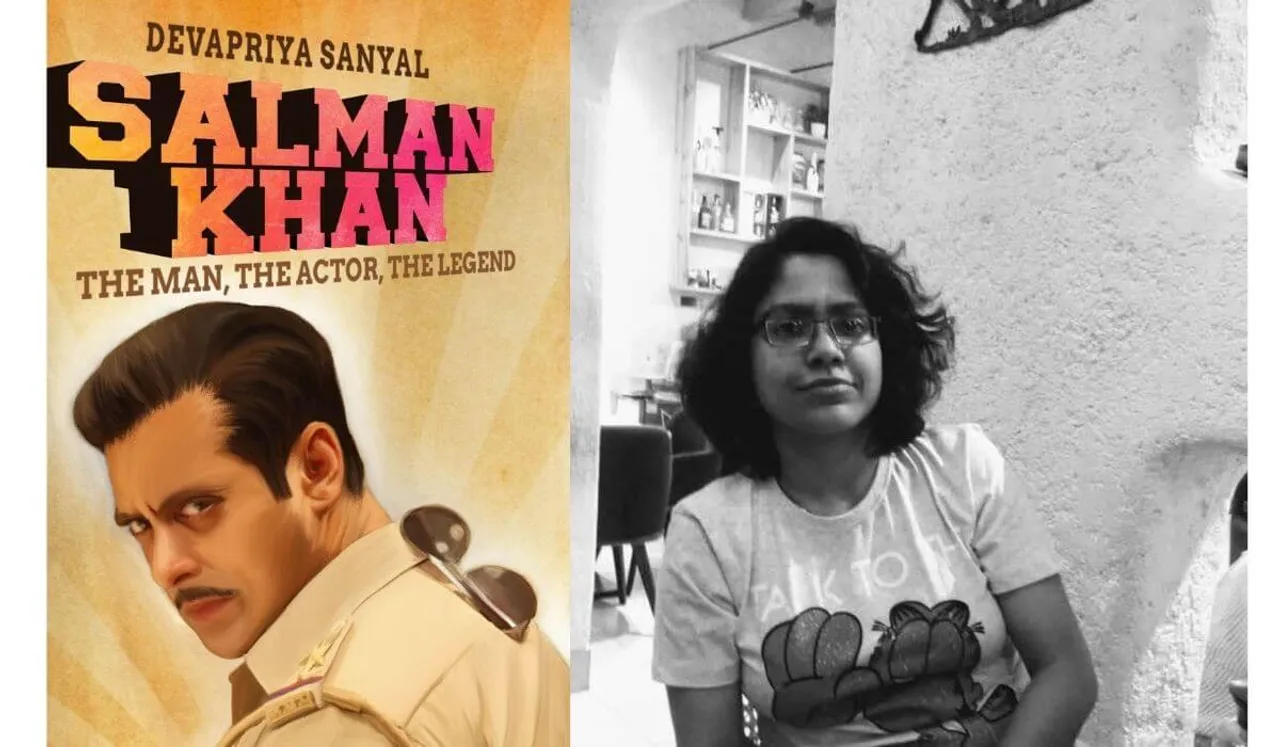 A name that's synonymous with packed theatres shouting his name and crowds of young men cheering for him, Salman Khan has been reigning in the popular imagination for three decades now. An excerpt from Salman Khan: The Man, The Actor, The Legend, by Devapriya Sanyal:
The genres operative in the film industry till the late eighties and the early nineties changed with the launch of the three Khans, who revolutionised the way people looked at Bollywood from then on. It also helped that the three were excellent actors who were successful in putting the house in order. Many people were critical of the way Hindi cinema was looking to Hollywood for inspiration. The golden years of the sixties and seventies, which saw films that were interspersed with strong and captivating storylines, great music and decent acting, were long gone. The Khans, Aamir, Salman and Shah Rukh, were instrumental in reconditioning and revamping Bollywood with their quintessential romantic sagas. All of a sudden, the new craze was to be portrayed as a lover. For a while, they were the only ones dominating Hindi films. In fact, the three Khans proved to be the ones with the longest record of being able to pull in crowds; even now a Salman Khan-starrer is sold out and even though cinema hall tickets may be priced more than other films, people are keen and enthusiastic to see the 'Bhai' act.
It is very tricky to pinpoint when Salman Khan became 'Bhai' in Bollywood history. Terrific box office records, unprecedented figures are among the prime reasons why Salman continues to perform the role of 'Bhai' so well. He is among the most commercially flourishing actors ever, his films guarantee the widest release each time and the publicity that follows only adds to it. There is no single thing that makes Salman the 'Bhai'; it is just perhaps Bhai himself, just Salman, unequivocally and unapologetically himself. Whatever capital gain he has accumulated over these years has catapulted him into the phenomenon that he is.
Salman has some of the highest-grossing films to his name than any other star in the history of Bollywood. Then, from 2009 onwards, with the release of Wanted, both directors and Salman seem to have realised where his true appeal and treasure lies—within his own personality. It would certainly not be stretching the point far if I say that he has now begun to play an exaggerated version of it, over time. His off-screen persona is no doubt stage-managed by capable PR personnel who advise him on this aspect. His philanthropy too has been streamlined into a very visible NGO brand (Being Human) that bombards its target audience from hoardings and shop windows all over India, especially in Mumbai. Nowadays, Salman has become even more accessible to the media.
Salman has been around for decades now and one of the facets of his extraordinary personality is the umpteen anecdotes of him being chivalrous and compassionate to people, especially the underprivileged. Bhai has helped a host of people during their slump, be it actors like Govinda or Aditya Pancholi, or director Saawan Kumar Tak for whom he is said to have worked for free in the movie Saawan (2006). His kind-hearted image constantly helps him connect well with people. He has acted as a launchpad to many people in the film industry who have made a name for themselves today. These people have expressed their gratitude to Salman publicly a number of times, elevating Salman to unprecedented heights. The followers these people have garnered naturally tend to have a soft corner for Salman and perhaps this is how the legion of Salman's fans keeps growing year by year.
---
Suggested Reading:
Are You A Sleep Deprived New Mom? This Book Talks About Baby Sleep
---
There's no certain way or a set formula that guarantees a connection with people, even more so for such a long time, but Salman Khan seems to have got the method or formula just right which only magnifies to a potent and powerful image. Salman Khan has proved to be one of the most bankable and influential stars over a period of time, even though he is well past his prime. In fact, Salman is perhaps one of the only actors who still gets to romance new debutants, often, making them commercially viable as well. One of them, Katrina Kaif, was introduced to Bollywood by Salman and another, Sonakshi Sinha, was launched in 2010 in Dabangg. Neither of them has ever looked back.
Excerpted with permission from Salman Khan: The Man, The Actor, The Legend, by Devapriya Sanyal, Bloomsbury India.
You can also join SheThePeople's Book club on Facebook, LinkedIn and Instagram.