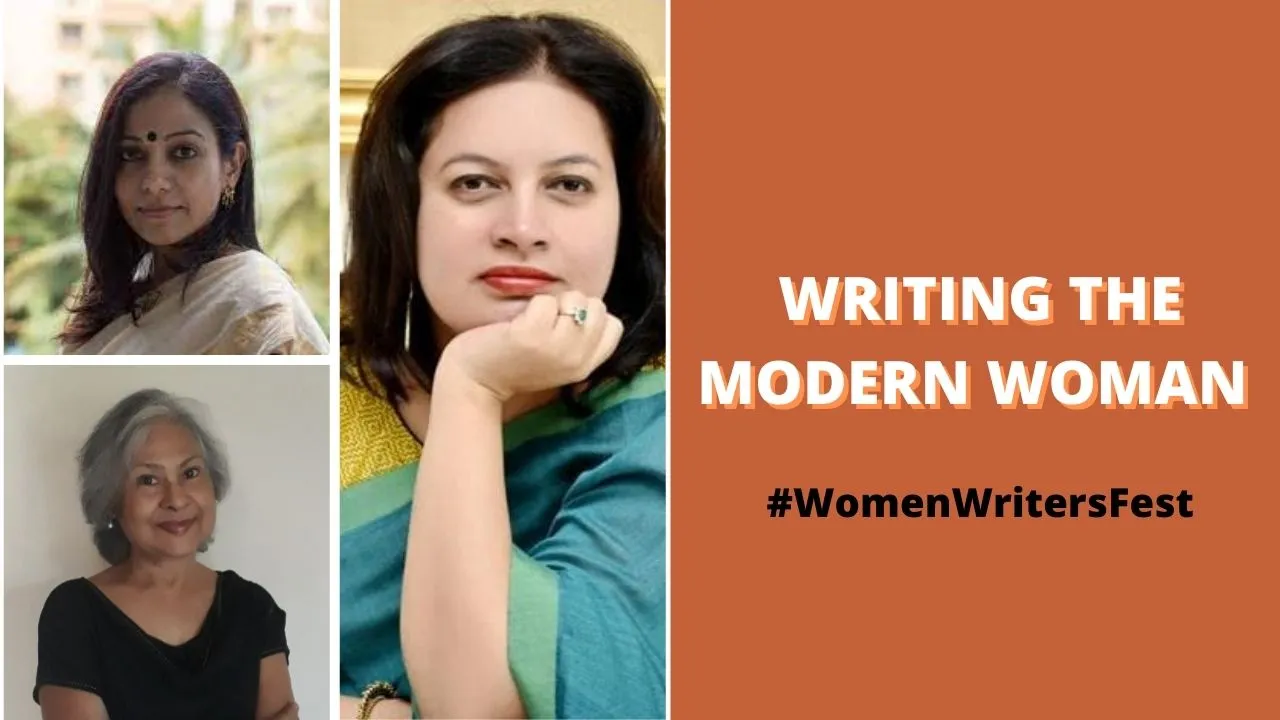 Writing Women Protagonists: Literature has seen women protagonists evolve through the ages. The way women characters are presented has changed over the years today women characters carry the story ahead, have agency and have a mind of their own. In the panel titled "Writing the modern Woman"  or SheThePeople's Women Writers Fest authors Sudha Nair, Tanushree Podder and Kanchana Banerjee were in conversation with SheThePeople's Senior Editor Deepshikha Chakravarti.
Here's an excerpt from the panel discussion where they speak about the unconventional women protagonists they have created in their works.
Writing Women Protagonists: Do books written by women have more relatable women protagonists now?
Sudha Nair said that the protagonists in women's novels are surely relatable. They talk about the trials and tribulations and the insecurities of the modern woman. These include what they face in society and their lives. The characters also talk about the life and marriage choices a woman makes. Nair went on to say that there's the universal theme of finding happiness and choosing one's path in life. A modern woman looks to find a space in the world.
Nair won Amazon KDP Pen to Publish Contest award for her debut novel, The Wedding Tamasha. Her latest book is Strictly at Work.
Deviating from archetypes
Tanushree Podder's talked about women characters adhering to archetypes. She elaborated with an example from her latest book  The Girls in Green. She says in the book she has created a character from Haryana who rebels and joins the army without her father's knowledge. About deviating from the archetypical representation of women in Literature, she said that she doesn't think there are any such expectations from a modern woman residing in cities.
Importance of female gaze
Kanchana Banerjee who is coming out with her third book I on You soon agrees that as a woman author, her female gaze is stronger. She revealed that her book is about a young, single, bold and sexy woman named Myra. However, as a woman author, she cannot leave aside the male point of view. Her books are not just "for women, by women and of women". There are other characters and she tries to balance them all.
Banerjee added for her research for the book she, " Followed a lot of people I don't know from the younger generation. And realised that they update almost by the minute and wondered at the amount of digital footprint they are leaving without being aware."
Tanushree Podder talks about the challenges she faced while writing The Girls in Green
Podder has experienced the armed forces live for a major part of her life. She feels comfortable writing about the ethos and life in the army. But she had to conduct extensive research to write about the training the soldiers have to go through.
Homosexuality in Strictly at Work
Homosexuality is considered to be a closed topic in our country. In her book, Nair she touches upon the topic, "My job as an author is to uphold different aspects of the society and we rationalise our thoughts to the reader. We have a very judgemental society, many people want to push the topic of homosexuality away, I am just putting out all the points of view."
Suggested readings:
Pune Edition Of Women Writers' Fest Celebrates Diversity In Literature
Glimpses From The Enchanting Women Writers' Fest In Lucknow
&t=1462s