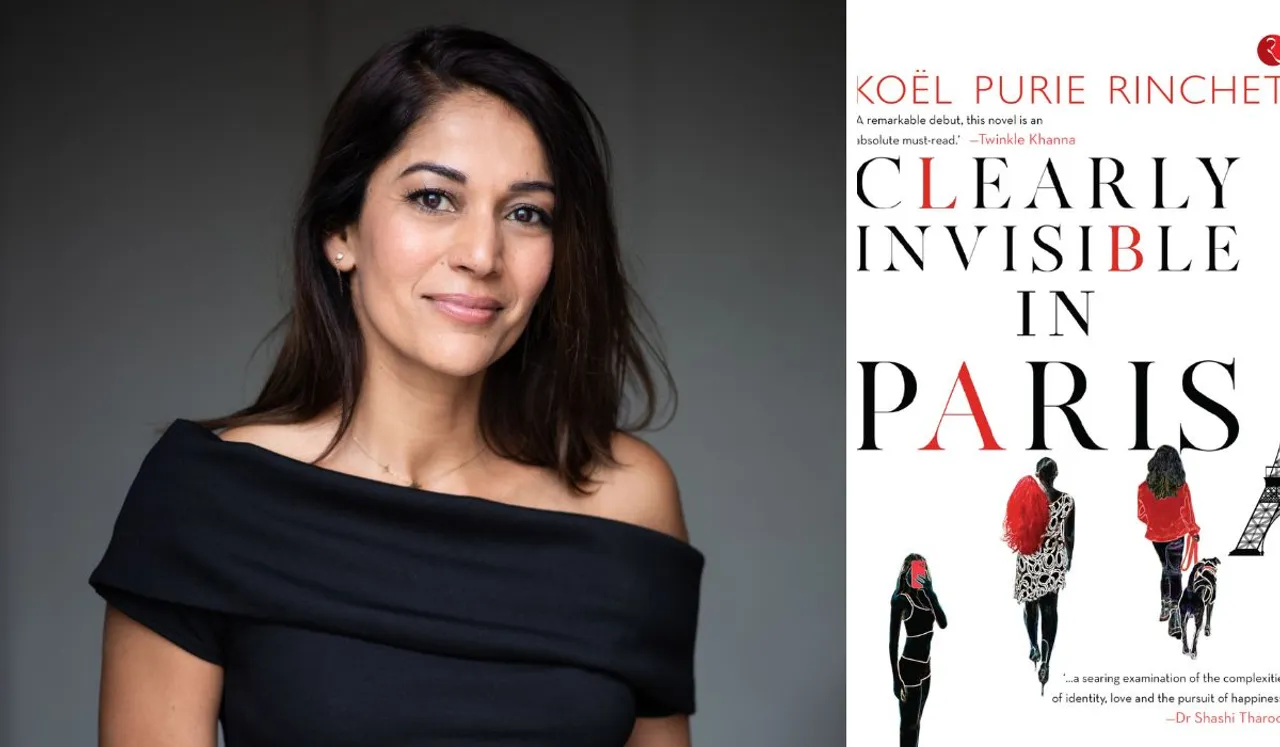 Set in the capital of all things chic, Koël Purie Rinchet's first novel is a love letter to the friendships that have got so many people through their darkest days—a celebration of being an outsider and finding one's own family. Irreverent, joyous and hilarious, with characters that seem to leap off the page, Clearly Invisible in Paris is a tale of friendship and belonging. 
All Neera, Rosel, Violet and Dasha have in common are their identity as immigrants in Paris and their address, 36, rue de Diablesse. Neera is a rich socialite who lives a life of luxury with her film director husband while smoking joint after joint for mental peace; Violet is a burlesque dancer by night who depends on sex work to afford her luxuries and contraband 'feminizing' products; Dasha is a model trying to make it in the global capital of fashion, struggling with an eating disorder and her sexuality; and Rosel, an ex-servant of a Kuwaiti mistress, just wants to go back to the Philippines to her son. 
These four women live their lives, floors away from each other in the same apartment complex, never connecting. However, fate and the pandemic push these women into becoming the unlikeliest of friends. With the world in chaos, they rely on each other to face their demons together, including those of lost love, poverty, abandonment, murder and identity theft. With grit and a dash of luck, the four women browbeat Paris into acknowledging them as its own.    
Here's an excerpt from Koël Purie Rinchet's Clearly Invisible in Paris 
At that precise moment back above ground, Neera was running out of Number Thirty-Six, rue des Diablesse, in her oh-so bourgeois west Paris neighbourhood.  

Neera, the pen-wielding demolisher of lives, seen running barefoot in the Parisian snow! What would the bottle-blonde Mumbai ladies lunching at Bastian think of her now? Would they notice her lime green Issey Miyake skirt, dainty Zimbabwean emerald earrings, snug cashmere sweater and matching fur shrug? No, they would just focus on her bare feet. Even after all the years and miles, she despised those women, more than her father despised the summer flies stuck on his jalebi counter. She wanted to swat them, one by one, with an electric swatter! The pleasure she'd feel at watching them fry to death.  

It was snowing lightly, and snow, like her, didn't belong in Paris. It would cover everything in its silvery splendour for five-and-a-half minutes and then the locals would rail against the sludge it left behind. She spotted the Mercedes that matched the details in the text she'd been sent.  

She tapped the window, said Bonjour, monsieur—the full extent of her French, almost—and began to hand the tattooed driver fifty-euro notes. The driver, living up to the reputation of the city, instantly became agitated. 

'Montez dans la voiture, Madame,' he protested. 

'Sorry, I don't understand.'  

The cold was travelling up her feet, setting into her spine. Pausing to put on shoes could've been the thing that changed her mind, and she was determined to finish what she'd set in motion that morning. Could he just take the money already? 'Non, non, non. Madame, s'il vous plaît, entrez. Je ne peux  pas le faire comme ça.'  

'Here, please take the money or speak English.' 

The driver opened the passenger side door, signalling for her to get in.  

'No, no, no, I have to go back upstairs, my husband is waiting.' Neera was hopelessly gesturing to make herself understood, not entirely sure how one mimed a waiting husband.  

The driver slammed the door shut and started to drive away, but Neera ran behind the car, desperately holding onto the handle of the backseat door. He stopped and she reluctantly got in the back, relieved, at least, to have her feet off the slush.  

The driver pulled out a credit card, slid it in the thin gap above the stereo and yanked the entire panel open. There was more weed in there than she had ever seen. The stench of it filled the car. Could she go to jail for this? How would she explain that to her waiting husband, or worse, her father, who'd spent his whole life waiting on her? Neera began to hyperventilate. The driver turned to look as she rolled down the window and stuck her head out, breathing in the cold to calm herself and ending up in a coughing fit, gasping for air.  

The coughing made her feel about as calm as an illegal immigrant caught jumping a forbidden boundary wall. The tattooed driver–dealer, meanwhile, was handing her bag after bag of fragrant weed and she was handing them right back to him. It would have been infinitely funny had it not been truly terrifying for her and equally irritating for him.  

From the day, way back in Mumbai, when she first got a taste for disconnecting from her mind, she made it a point to surround herself with convenient friends who were glad to score a bag of happiness for her. But this was Paris and Neera had no one to run her errands, or for that matter, anyone to be her friend, convenient or not. Even after five years of smoking the stuff, she had no idea how to go about doing the deal, how much anything cost, what the law was or how frightening it could all be. Still, like most things in her life, she was sure she could fake it till she figured it out. She wished she was high and not foreign. A recurring wish, she noted. Well, she was about to be a little more of the former. If only she could be a little less of the latter.  

She tried once more in broken French to tell him she wanted just the one bag, but the driver refused to take the others back.  
'Ça c'est le minimum, Madame,' he insisted in French, 'You voulez room service, non? Alors, ça c'est le minimum. D'accord?'  

Neera understood the word 'minimum', and she had brought the money that the person on the phone had demanded. 'Yes, but I pay the minimum, I no want so much. I want one,  un, une, ooonn, uno…' What is the goddamned word? 'I pay, I take ONE. QUIERO UNO. COMPRENDO?' Okay, well done, that's not even French. She handed him the sweaty roll of money she had in her hand.  

'Oui,' he said, pocketing the two hundred and fifty euros. 'Voilà!' 

Success, she thought. Then he passed her five full bags. Neera stared at the little green bags in her lap, wondering what to do, when the driver started to drive off, with her still seated in the back. She started screaming for her life. When he parked fifty metres ahead in an empty spot, she realized he was only trying to clear the way for a passing car. The driver turned around to stare at this looney lady, whom he had definitely had enough of. She tried to cover up the scream with, 'Haaay! Yay!  Yaaaayeeee! Yaas, yes, yes, thank you.'  

They were both desperate for her to get out of the car. She cursed herself for not carrying a bag or wearing a coat with pockets.
She shoved the five bags, as discreetly as possible, into the front of her panty, got out of the dreaded car and stood barefoot in the sludge with a bulging crotch, which gave out a distinct aroma and looked decidedly aroused. 
Extracted with permission from Koël Purie Rinchet's Clearly Invisible in Paris; published by Rupa Publications. You can also join SheThePeople's Book club on Facebook, LinkedIn and Instagram.
---
Suggested Reading: Lost Cat: A Searing Memoir of Love, Loss, Safety, Grief