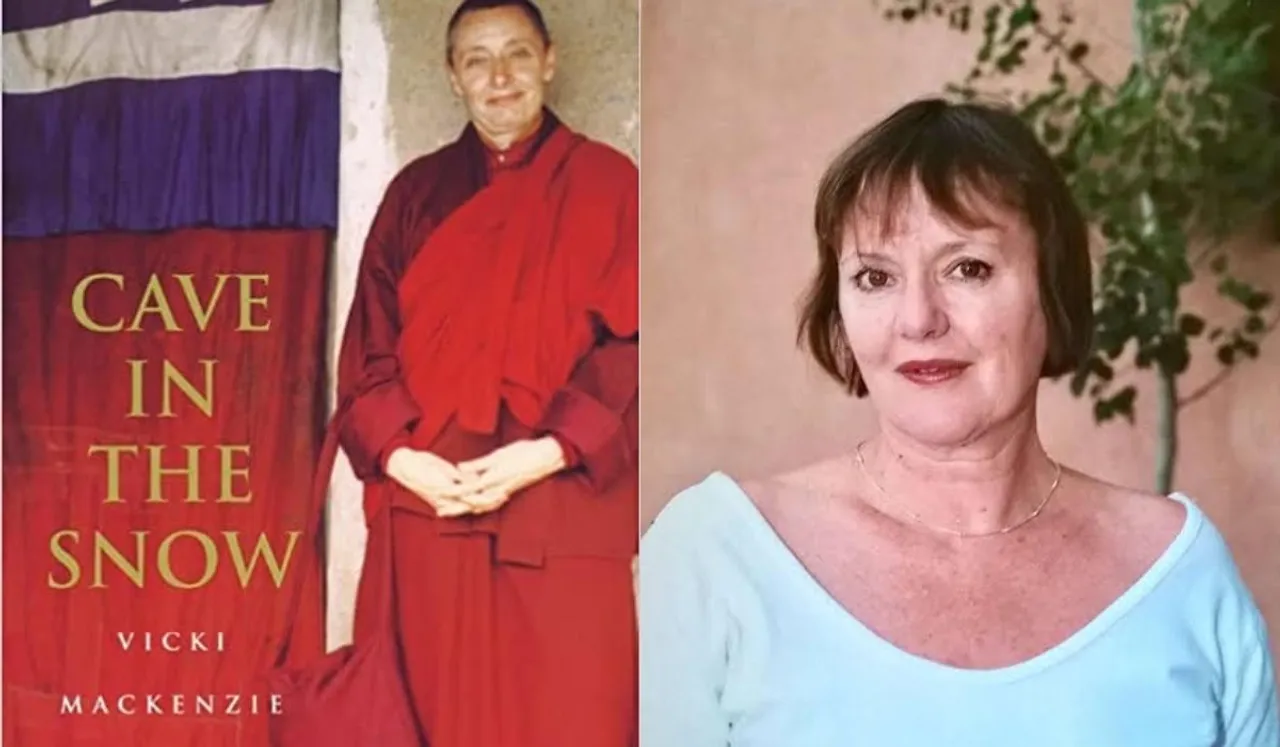 A month and a half ago, I had begun writing about the books I was reading at a particular point in time, and why I had chosen them. As I have mentioned earlier, I choose some books because I like the work of that author, some because they are recommended highly by readers whose opinions I value, some because they arrive with a lot of hype and arouse my curiosity, and some because I am researching something, and some because my circumstances draw me to them.
For the last couple of years, I have been mostly homebound. Elder care, illnesses of loved ones, and other challenges have kept me indoors and busy. Apart from my daily walkabouts inside the compound of my residential complex or just around the block, I haven't travelled at all. I have only been dreaming of backpacking through the Himalayas, of travelling solo, of extreme adventures, but at the moment, these remain desires. Till I am able to venture out physically, I travel vicariously.
Cave in the Snow: Against All Odds
I read about ">women who dared to explore their chosen geographical or spiritual paths, embarked on exciting expeditions, and braved inclement weather and patriarchy to accomplish their goals. Some, like Raynor Winn, author of 'The Salt Path' and 'The Wild Silence' were compelled to. Raynor was rendered homeless, and devoid of a livelihood, and had to live wild and free, at the mercy of the sea and sky, and ended up writing about her redemptive journey. Swallowed by her addiction, Amy Liptrot wrote an evocative, lyrical memoir of her days tracking Orkney's wildlife, and her nights searching the sky for the Merry Dancers. Both books were unputdownable.
Next, I read 'Cave in the Snow' by Vickie Mackenzie, the biography of Jetsunma Tenzin Palmo, an author, teacher and founder of the Dongyu Gatsal Ling Nunnery in Himachal Pradesh. Born Diane Perry, Palmo was the daughter of a fishmonger and grew up in London's East End. At the age of 18 however, she read a book on Buddhism and realised that this could possibly fill the void she has been experiencing for a long. Soon she came to India and joined Khamtrul Rinpoche's monastery. She was the sole nun there among 100 monks. While she did not experience any sexual harassment, and the monks were kind to her, she had a first-hand experience of the discrimination that restricted women's access to what was available to men freely. She was kept out of most monastic activities. The monks assured her that they would pray that she would be reborn as a male so that she could be included in the same. This misogyny sowed the seeds of activism in Tenzin Palmo and made her vow that she would attain Enlightenment in the female form - no matter how many lifetimes it took.
After six years in the monastery, Palmo, as suggested by her teacher, went to Lahaul,13,000 feet up in the higher reaches of the Indian Himalayas, on the border of Himachal Pradesh and Tibet, where she entered a cave 10 feet wide and six feet deep. Here, she launched herself into uninterrupted, intense spiritual practice. She survived temperatures of below minus 35°C and snow and rockfalls, grew her own food, practised deep meditation, and in accordance with protocol, never lay down. She slept in a traditional wooden meditation box in a meditative posture for just three hours a night. In the 12 years that she stayed in the cave, she was in complete isolation for three. When she emerged from the cave, Palmo was determined to revive the Togdenma lineage, a long-forgotten female spiritual elite. In 2008, Palmo Tenzin Palmo received the title of Jetsunma (reverend lady) in recognition of her spiritual achievements as a nun.
A gripping narrative, the book takes you through Palmo's adventures, her philosophy, her clear-headed thinking and doggedness in the face of challenges, her single-minded focus, and all through it, her equanimity. It also offers hope and courage to women who choose the unbeaten path. If you can dream it, you can do it.
Archana Pai Kulkarni is the Books Editor at SheThePeople. The views expressed are the author's own. 
You can also join SheThePeople's Book club on Facebook, LinkedIn and Instagram.
---
Suggested reading: Humanist Fiction 'Small Things Like These' Puts Us On Quest To Live More Authentically