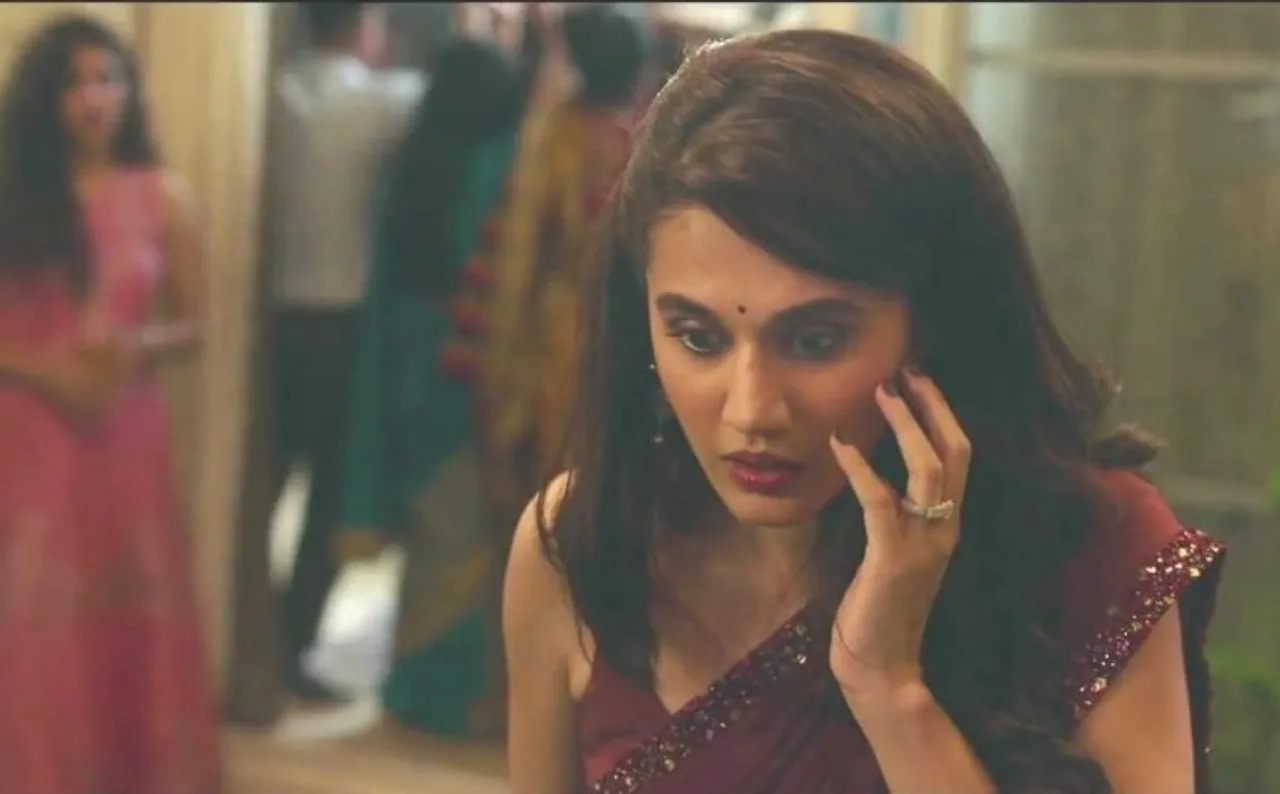 Every morning Amrita wakes up at six, makes herself a cup of lemongrass and ginger tea and waters the plants on her terrace. This is the only thing that we see Amrita doing for herself through her entire day, which includes, waking up her husband with bed tea, switching on geyser for him, packing him off to office, monitoring her mother-in-law's blood sugar levels and then fussing over her husband when he comes back home from work. It is a routine Amrita has lived happily for years, day-in-day-out, until it all changes when Vikram slaps her during a house party in a fit of misplaced rage. Every woman who'll watch Thappad will see a little bit or a lot more of Amrita in themselves and women around them. And when in a masterfully crafted scene Amrita is slapped by her husband, it jolts us awake and makes us see Indian marriages in a different light, challenging us to confront the deep-seated patriarchy that exists across households.
Directed by Anubhav Sinha, Thappad isn't just a film about domestic violence. It is about everyday male entitlement, that reduces the worth of women in the eyes of their husbands, often to an extent that they end up thinking that they can get away with hitting their wife.
What's it about
Played by Taapsee Pannu, Amrita is a housewife who is married to Vikram, a big shot in an MNC, who hails from an affluent background. The couple lives in an elite neighbourhood in Delhi, where you see high-end cars of neighbours parallel parked. Amrita is happy fussing over her husband, living his dreams and aspirations. But when Vikram is passed over for a big promotion and handed a slightly smaller post, he loses his cool at a house party they have organised. We see an agitated and drunk Vikram get into a heated argument with is superior. When Amrita tries to intervene, Vikram slaps her.
This slap, as Amu says in one scene, makes her see every unfair adjustment that she had been overlooking very clearly. While everyone around her, including her mother (Ratna Pathak Shah) and lawyer (Maya Sarao) "advise" her to let it go, Amrita is adamant. He hit her, and he cannot.
Also Read: Thappad Trailer Tells Us Why It Is Never JUST A Slap
The lonely journey of a domestic abuse survivor
The force of Vikram's slap creates a vacuum around Amu suddenly alienating her from everyone, friends and family alike. Right after the incident, her usually loving mother-in-law (played by Tanvi Azmi) plainly tells her to come back to the party again, as the guests are still in the house. Her usually chatty maid (an endearing performance by Geetika Vidya) hesitates in speaking to her the next morning, while her parents contemplate whether to call and check in on her or not. All these reactions stem from awkwardness. Our society is guilty of turning a convenient blind eye towards any ruffles in a marriage. As long as it is happening behind the closed doors, no one cares what goes on amidst a couple. "Yeh unke apas ki baat hai," we say. So when this relationship unravels so publicly we simply do not know how to react. However, this sudden awkwardness and frigid attitude leave abuse survivors feeling lonely.
In Thappad, it is Amrita's neighbour (Dia Mirza) who is first to offer her some form of comfort when she hugs her. All the while her family, stunned by the incident is still contemplating how to deal with the "situation" while knowing that whatever happened wasn't right.
The victimhood of the privileged
One of the most nuanced things about this film is that it doesn't demonise Amrita's husband Vikram. This is a fellow who is simply self-centred and feels entitled to attention, affection and sympathy, even when he is at fault. Vikram simply isn't conditioned to see beyond his needs and aspirations. After the incident, instead of apologising to his wife for his behaviour and asking how she is feeling, Vikram wonders what other people may be thinking about him. Similarly, when Amrita decides to take a break and go over to her parents' place for some time, Vikram accuses her of escalating things. On multiple occasions, Vikram complains about the work pressure, his dejection at being passed over for the much-awaited promotion and surprisingly most of the people close to the couple seem to agree. They use the same excuses to justify his behaviour.
Also Read: I Don't Feel An Actor Is Bigger Than The Film, Says Taapsee Pannu
The sense of victimhood displayed by Vikram is a gift that men in India have been bestowed with by patriarchy. Vikram feels that he has made his set of sacrifices in marriage by agreeing to marry a girl who doesn't know how to cook. Don't we all know such men? Don't we all know moms, dads, sisters, bothers who defend misogynistic behaviour and one-time offences of a husband alleging that he is otherwise a "good man"? The problem is that the bar for being a "good husband" is set so low in India that most men feel entitled to being revered for showing basic decency and respect in a relationship.
There is something for everyone to take home from Thappad, irrespective of their gender. One hopes that while men are forced to acknowledge their privilege, women feel encouraged to form a support system for each other, instead of advocating the need to "endure" in a marriage for the sake of sustaining it.
Image Credit: YouTube screenshot
Yamini Pustake Bhalerao is a writer with the SheThePeople team, in the Opinions section. The views expressed are the author's own.