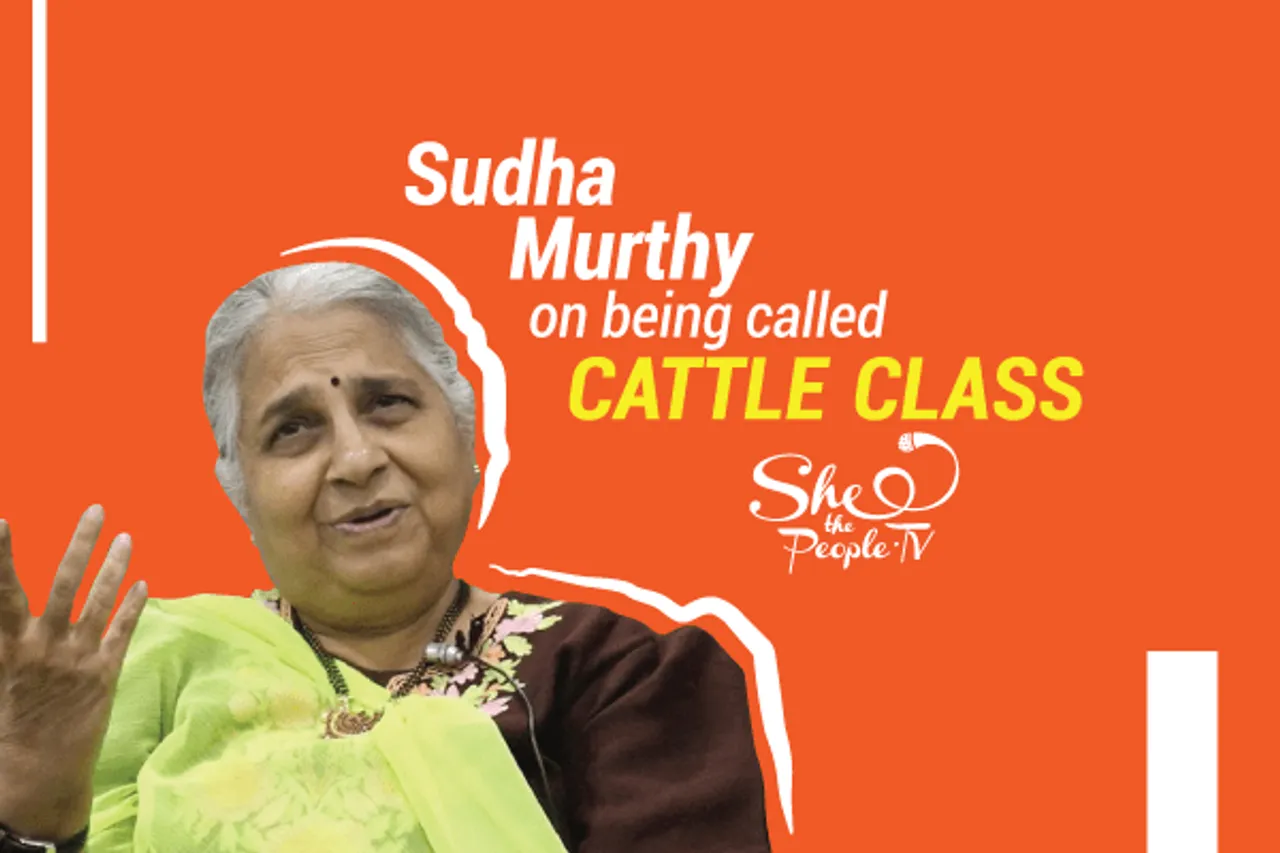 Taking from her personal encounters, Sudha Murthy, in her novel, 'Three Thousand Stitches', casts light on some of the general prejudices in the society. In a passage from the book, the contrarily cool 66-year-old gives a fellow passenger a piece of her mind when she was described a 'cattle class person' at Heathrow airport. We have also captured that journey in the video below.
Business class standards
A well-dressed lady told Sudha Murthy to go and stand in the economy class queue. "This line is for business class travellers," she added while the latter was at Heathrow Airport in London.
The chairwoman of Infosys Foundation was at the airport donning a salwar kameez, which presented her as a misfit in the line in question. But, what ultimately got Murthy's attention was when she was termed as a "cattle-class person".
"Class does not mean large possession of money. Mother Teresa was a classy lady. So is Manjula Bhargava, a prominent mathematician of Indian descent. The idea that you automatically gain class by procuring money is an antiquated thinking process," she writes in her book.
In an interview to PTI, she said that she could have shown her boarding pass and clarified all doubts about her "class" immediately, but she was curious to know how, according to that woman, she was not fit for business-class standards.
"Soon I understood it was because of my clothes!" she said. Sudha met the same woman later during the day.
Also Read: Sudha Murthy Talks About Her Life While Growing Up In KBC's Finale
Never judge a person by their clothes
Ironically the said woman had changed into a simple khaadi saree from her airport attire, to befit the theme of a meeting. This was the same meeting where Sudha was pitching Infosys Foundation to sponsor funds for a government institution. The woman was naturally shocked to see Murthy chairing the event.
"The clothes were a reminder of the stereotype that is still rampant today. Just like one is expected to wear the finest of silks for a wedding, social workers must present themselves in a plain and uninteresting manner," she pens.
Frugality versus Simplicity
Sudha Murthy has recalled in an interview how her mother only had seven sarees so that when she passed away, it was easy to distribute them. She is a firm believer in the fact that there is no use of material wealth after some point in time and is against accumulating material possessions. Her learnings have come from her grandfather who had a limited amount of clothes and she reflects his mindset.
Murthy's simple lifestyle is a lesson for a lot of young people today who are mesmerised by materialism. We love to hoard clothes and accessories. And not just any stuff will do, because branded goods is what we either go after or dream to acquire. A lot of us associate branded stuff, and luxury dressing as a sign of affluence and "class", thus constantly chasing it. But where does this chase lead us? How does it affect our thinking? Does it make is biased and classist? These are some questions we must reflect on.
Differing lifestyles and opinions
Murthy's most impactful statement would be that hoarding essentially shows a person's insecurity and lack of self-esteem. Murthy is against shopping and finds it really boring, saying that it is a waste of time and money. Over the years, she has bought minimally and suggests others do the same. However, she believes that every person is different and therefore she does not like giving any advice. As actors have a certain lifestyle, she cannot impose any of her views on someone whose career requires them to be dressed in a certain way.
Also Read: I grew up reading mythology says author and novelist Sudha Murthy
Her husband Narayanan Murthy, on the other hand, strongly disagrees with Sudha, as he feels that consumerism leads to the creation of wealth, and thus giving back to the society by leading to job generation, as it is the demand and supply chain which helps increasing employability.
Whether you agree with Sudha Murthy's minimalist approach or not, but one has to agree that in times when the conversation around sustainability has gained momentum, her words are worth pondering over.
Saumya Rastogi is an intern with SheThePeople.TV