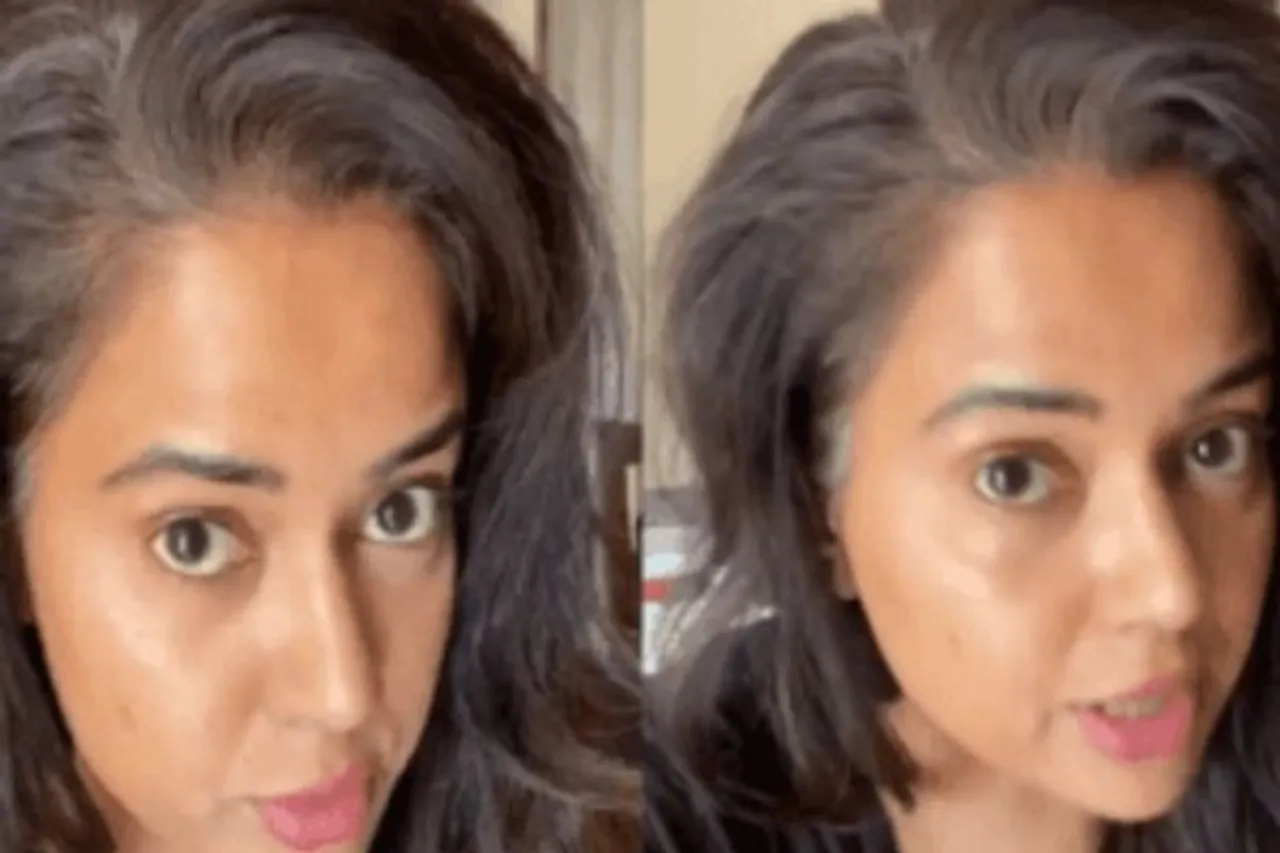 Bollywood actress Sameera Reddy, in her latest Instagram video post, revealed her struggles with weight and skin colour during her early years in Bollywood. She opened up about how she tried to lighten her skin and use body padding to conform to the stereotypes attached to actresses. And this is not the first time Sameera Reddy took to instagram to be candid about her experiences. Earlier, in another post, she revealed how she have always had white hairs, and unlike earlier when she crazily tried to hide them, she now owns it with pride. Reddy has named these Instagram video series of hers 'ImperfectlyPerfect'
Sameera Reddy's posts made me think about the unrealistic standards that popular culture sets in people's minds about women's bodies. Often, we've seen women around us spending more money on make-up that would make them look younger, or plumper, than on anything else. They would go to a parlour more regularly than they would consider having a healthy, balanced diet. And in my opinion, this can all be traced back to popular culture and its mediums, including cinema, social media and fashion magazines, which present the dolled-up, perfect picture of models and actresses as natural and pretty.
The Impossible Beauty Standards
How many times have we seen actresses onscreen without make-up? Which films have ever shown actresses having body-hair and pimples scars across their faces? How many Indian magazines even feature plus-sized models? How many Instagram Influencers dare to make videos without having their eyebrows and upper-lips done, or their hair blow-dried? The answer to all of these (taken together) can be counted on one hand. Visual mediums like cinema and television are supposed to show us faithful representations of reality. But they have always ended up representing a patriarchal idealisation of the woman's body. No woman goes to sleep with her make-up on, and neither does she wake up with the perfect hair everyday. All the girlfriends in a girl's gang don't have the same figure or height, and absolutely no girl walks around in her own house with winged eyeliners on.
Also Read: My fight against body shaming made me aware of how patriarchy feeds this vicious cycle
But for a girl-child who has grown up watching people chase only after the zero-sized, waxed figure of a heroine, every other alternative look equals to not being adequate enough: not pretty enough, not thin enough, not plump enough, not fair enough, not tall enough. But when the competition is with such unrealistic beauty standards, the question is—can a girl ever be enough?
Pretty Hurts
At the end of her video where she talks about white hair, Sameera Reddy dons a red lipstick after having coloured her hair in front of her followers. And then she tells her audience: "that, my friends, is the difference between social media and reality". Indeed, a valuable lesson which we mostly fail to remember—that there is an unbridgeable gap between virtual reality and actual reality.
Women's obsession with the perfect beauty standards accompany them from the cradle to the grave. And more often than not, they are not the ones who can be blamed for it.
But we need to remember that such beauty standards are impossible to achieve in real life.  It is an ideal. And in case of women, we all know who sets the ideals. The solution is then twofold: on one hand we need more and more actresses to come up and embrace their faces and bodies sans make-up. On the other hand we need more and more women to follow such examples and be confident in their natural bodies.
So ladies, listen to Sameera Reddy and the likes of these brave actresses and models. And from the next time, sit however you like, wear that dress without shaving your legs if you want to and rock those acne scars and wrinkle marks with pride. Imperfection is liberating when you embrace it.
Also Read: Let's Nullify The Beauty Standards And Embrace Ourselves
Dyuti Gupta is an intern with SheThePeople.TV. The views expressed are the author's own.