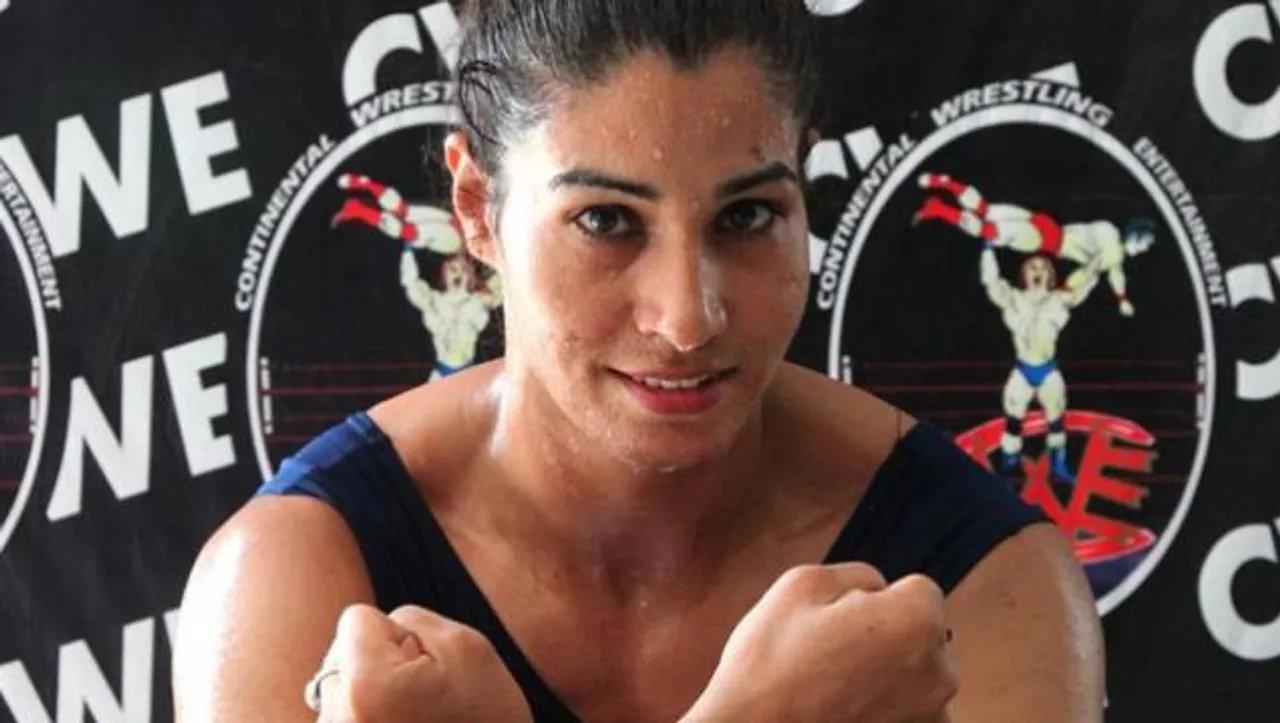 Despite being knocked out in the first round of the Mae Young Classic tournament Kavita Devi's WWE presence is very special. It's not a trivial achievement to represent the country in such a popular sport in the international arena. Devi has done what no Indian woman has done so far and that too twice. She has garnered both attention and fan following with her wrestling skills. But the sheer fact that Kavita Devi nee Dalal is the first female professional wrestler of Indian nationality to wrestle in WWE (World Wrestling Entertainment) ever, is impressive on its own.
Kavita's personality and desi spirit add a special flavour to every match she plays. She started training at their Performance Center in January 2018 and made her first appearance as part of the company at WrestleMania 34, by competing during the inaugural WrestleMania Women's Battle Royal.
While women in India have to struggle even to hold on to regular jobs, Devi chose such an unconventional profession and made to the top tier.
Professional wrestling, that too of commercial nature doesn't have many takers in our country. So her grit, stamina and journey are inspiring and encouraging to young girls, proving that if you put some weight behind your dreams, you can achieve them for sure.
Representing the country in international arena
While our wrestlers have made their presence felt in international competitions like the Olympics and Commonwealth, not many have forayed into WWE. This kind of wrestling is more theatrical and more in the line of entertainment than sport. The rules seldom hold any ground. The players find popularity more for their glamour quotient and attitude. Which is why WWE wrestling isn't taken as seriously as competitive international wrestling.
SOME TAKEAWAYS
Kavita Devi is the first female professional wrestler of Indian nationality to wrestle in WWE ever.
She won a gold medal in the 75 kg category at the South Asian Games in 2016.
She has trained previously under The Great Khali to participate in WWE.
Not many wrestlers from India, especially females foray into WWE or any other form of commercial wrestling.
The only notable Indian name which most of us associate with WWE wrestling is that of The Great Khali, who incidentally has trained Kavita Devi. With it's no holds barred format and glamour quotient, WWE is in a league of its own. So, Kavita Devi herself, isn't like any other Indian female wrestler we have seen in the ring.
In her match versus Dakota Kai in last year's tournament, Devi fought wearing a saffron salwar kameez, with her dupatta tied around her waist.
This year Devi entered the ring with a big bright blue bindi on her forehead. She could be wearing a salwar kameez or have a bindi on her forehead, but her skills are of international level. It is not debatable that Devi has proved her worth.
As for winning or losing, we are sure that Devi will advance into further rounds of the tournament next year. After all, she did win gold in the 75 kg category at the 2016 South Asian Games. Win or lose, she has already made us proud by being the first woman to venture into the uncharted territory that is WWE women's wrestling. And we are super proud of her.
Photo Credit: Hindustan Times
Also Read : Rajshri Deshpande On Sacred Games, Tackling Trolls & More
Yamini Pustake Bhalerao is a writer with the SheThePeople team, in the Opinions section. The views expressed are author's own.