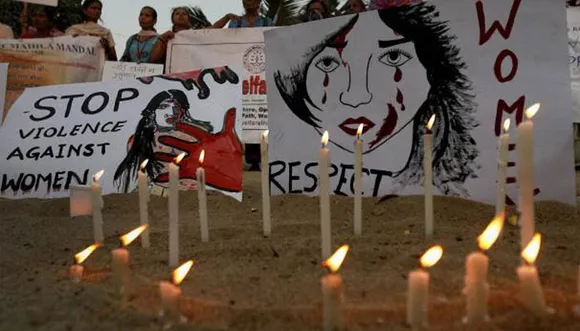 Is justice enough for Nirbhaya? // Pic credits: Zee News
Today is a landmark day because the Supreme Court of India upheld the death penalty for the four accused in the Jyoti Singh gang rape and murder case of December 2012. The accused were appealing the High Court judgement of 2013.
The accused may believe they deserve a lesser punishment but not the parents of the young woman whose life was cut short in a brutal manner. "Only the death penalty (will do) for culprits now, it should not be denied," said Nirbhaya's mother Asha Devi.
The police also have said that this "rarest of rare" case warrants a death penalty they also said the court should consider the effect of crime committed by them on the victim and the society at large.
Yes, this particular case did shock everyone with its brutality and inhumanity but is it really a rarest of rare case? Not when you have several news reports almost daily talking about babies, children and even old women being raped.
So has the situation really improved since December 2012? Let's take a look.
1. Nirbhaya Fund - The Nirbhaya Fund is a corpus of Rs 1000 crores to be spent on supporting initiatives by the Government and NGOs working towards protecting the dignity and ensuring safety of women in India. It was announced in the Union budget of 2013 by the then Finance Minister P. Chidambaram and 3 years later it still lies unused. We are yet to see One Stop Crisis centres being rolled out in all parts of the country or comprehensive programs for women's safety being implemented.
2. Police and Judicial reforms - Several laws have undergone a change since 2012. But awareness of these legislations is poor. We have found many women and men are unaware of the various sections of the Indian Penal Code that lists sexual harassment as a crime, the POSH Act and the POCSO Act. They are unaware of the reporting system and are reluctant to take up these cases officially due to fear of the police and the lengthy judicial process for justice. We need more women police officers at every police station, police who are gender sensitive and empathetic, police who themselves are knowledgable about the law and who don't force citizens to file complaints in the wrong category which make it a lesser crime or dissuade them from making a complaint. Fast track courts for gender based violence and violations of women's rights needs to be instituted. We also need judges who are gender sensitive as recently some of the judgements passed have been extremely biased and reinforces harmful gender stereotypes and practices.
3. The Tourism Ministry last year issued a travel advisory for foreign women to self-regulate their behavior in India "for their own safety". Mahesh Sharma, India's Minister for Culture and Tourism said, "Some parts of India, particularly the smaller towns and villages, still have traditional styles of dressing. Do find out about local customs and traditions or concerned authorities before visiting such places." This advice wrongly implies that a woman's dress is enough to invite a man to sexually violate her and it further suggests that Indian men cannot control themselves when they see a woman dressed in a skirt, showing a bit of leg. Apart from this advisory, what has the Ministry done to ensure women are safe?
4. Socio cultural norms - Sexual violence is a global pandemic affecting one in three women around the world at least once in their lifetime. In my experience, the figure is much higher in India because whenever we ask the question about experiencing sexual violence at a workshop or during our focus groups, almost all women have a story to share. This reflects the socio cultural norms that govern us and encourage such violence and prevents women and girls from speaking up. Further our movies, pop culture and leaders - political and religious - promote gender stereotypes that are harmful and further this kind of violence. They promote the idea of women's role in society being subservient to men and relegated to the home whilst men are powerful and make all the decisions. The idea of consent does not exist and women are not allowed agency over their own lives.
5. Sex education in schools - Sex education in schools is much needed to create awareness of the issue, set the boundaries on what is appropriate or not, discuss consent and individual responsibility and define the process to seek help. Having such a system in place is critical to creating open spaces for discussion and dialogue, support systems to deal with such violence and develop preventive measures. Yet many Education Boards are reluctant to upset the status quo and address the issue head on.
Looking back over the last 4 years I would say that we have lost valuable time in addressing the issue of sexual violence on a war footing and taking the lead on alleviating this problem if not eradicating it. Therefore the Supreme Court's decision today is critical as it sends a powerful message to potential perpetrators as well as satisfiesinnate sense of justice for Jyoti Singh.
Pic credits: