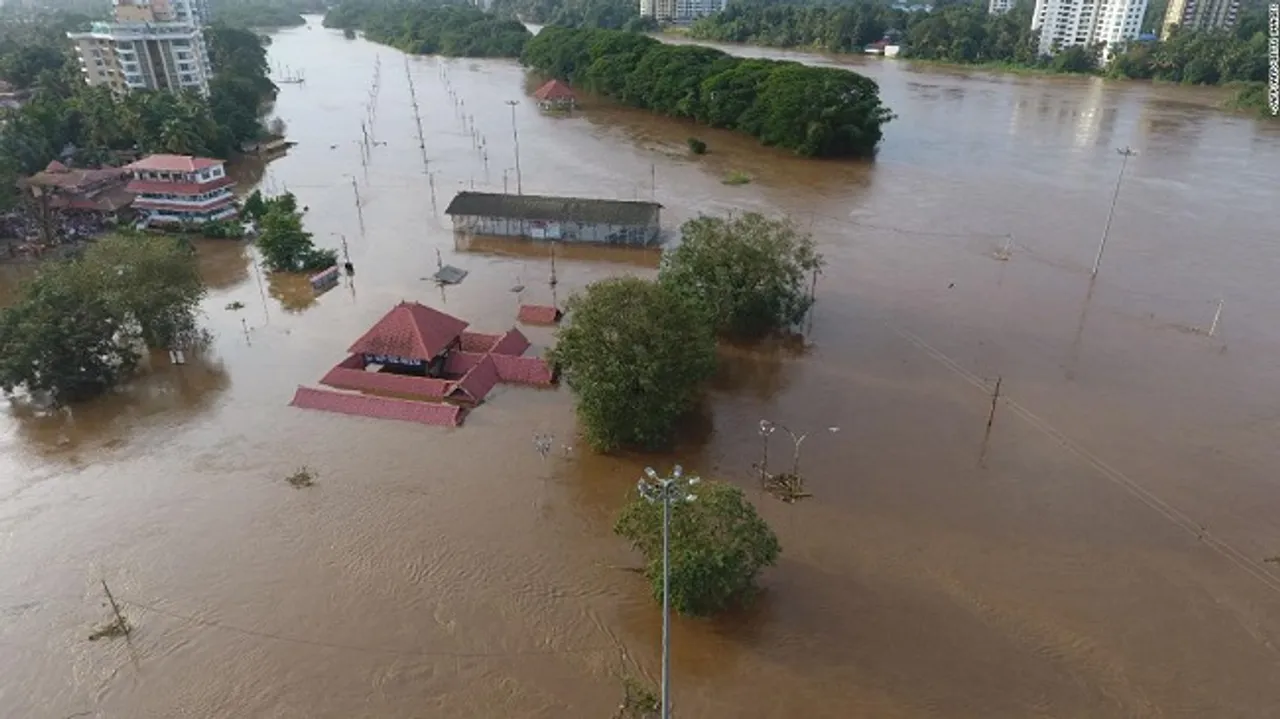 As the country slowly comes to terms with severity of Kerala floods and in nearby states, many good Samaritans are coming forward to provide aid. From collecting grocery, medicines and clothes, to providing financial aid. Many common citizens have joined forces with the Indian army and the state government to help Kerala and Coorg through this travesty.
Many of these people are not billionaires or big celebrities, but common citizens just like us. They are proving that you do not need deep pockets or powerful contacts to lend a helping hand. A kind heart and a sincere intent is more than enough.
Heroes without capes:
Numerous people are not just pooling in money but various other aids, which could be essential to those stuck in affected areas.
People are losing assets, food and clothes etc are to flood waters. Many of these things cannot be bought immediately by money. Hence people are donating and collecting goods like blankets, grocery, baby diapers, common medicines and packed goods, to provide instant relief to those stuck in floods.
URGENT SUPPLIES
Writer based in Bangalore, Sandhya Menon is collecting groceries and medical supplies as part of the relief campaign. She is also sharing functioning routes with travelers, so that they can navigate to safety.
I have room in the truck I'm sending out tomorrow.

If you've collected material and have no place to send please let me know.

If you haven't bought stuff and want to help, this is what we need now.

If you want to volunteer procuring things ping me. pic.twitter.com/qquNByVwKd

— Sandhya (@TheRestlessQuil) August 18, 2018
Seeking medical supplies

Please don't send expired stock. #KeralaFloodRelief pic.twitter.com/FS13EnXYCC

— Sandhya (@TheRestlessQuil) August 17, 2018
Menon also shared details of a foundation she backs, where interested citizens can donate money.
3 hours and we've raised close to 20K
Thank you. Deeply.

If you want to donate money: the registered charitable trust's details.

Ac name: CARSEL Foundation
Ac status: Current
Ac # : 0810073000000045
IFSCODE:SIBL0000810
Bank: South Indian Bank
Branch: Pampakuda
SWIFT: SOININ55 https://t.co/gaXVk2zEUU

— Sandhya (@TheRestlessQuil) August 16, 2018
In Coorg, Nikki Ponappa has offered her home in Bangalore to collect stuff for Coorg Wellness Foundation to send to Kadagu region. On their list aside of blankets are hygiene products like Sanitary napkins.
FINANCIAL AID
In long term however, a lot of financial aid will be required to rebuilt life as it was in flooded areas. While beside aid from state governments and celebrities, common folks are also donating money. However many people are also going out of their way and motivating others to donate by providing their services to them, in return of donations.
Sports journalist Prem Panicker has offered to do a landscape edit of people's writing/manuscript/narrative, of any length in exchange of donations worth 10,000 rupees.
And here is my offer to go with @amitvarma 's -- donate 10k, send me the receipt, and I will do a landscape edit of your writing/manuscript/narrative, of any length. https://t.co/APqg2gRZvm

— Prem Panicker (@prempanicker) August 18, 2018
POETRY FOR HELP
Similarly columnist and editor Amit Varma is doing a Twitter thread where he will do a limerick on subject chosen by those who donate 5,000 rupees to Kerala Chief Minister's Distress Relief Fund relief fund.
What's happening in Kerala is heartbreaking. I wish I could do more. So here's my offer for you:

If you donate 5k to the CM's relief fund, I'll write a limerick on a subject of your choice.https://t.co/ggkX6qXLGw

Send me receipt & subject. I will post limerick on this thread.

— Amit Varma (@amitvarma) August 18, 2018
While author and freelance journalist Kavitha Rao is offering guidance to refine pitches, book proposals and suggest possible markets to writers and freelancers, all in exchange of donation worth 5000 to the above-mentioned relief fund.
2/ (a) If you are a freelance journo, I can help look over/edit/refine your pitches and suggest possible markets. (b) if you are interested in publishing a book, I can help refine your book proposal, suggest markets and publishers, give general advice.

— Kavitha Rao (@kavitharao) August 19, 2018
Entrepreneur Himanshu Khanna has also offered to provide consultation for 30 mins or 1 hour in exchange of donations worth 3000 and 5000 rupees respectively.
Guys, I'm open to consultations for next 1 week. I'll charge 3k/30mins or 5k/hr for #UX / #brand / #design consultation.

All the money collected will be sent for #KeralaFloodRelief. Please RT & help?

— Himanshu Khanna (@SparklinGuy) August 17, 2018
But help isn't restricted to Twitter or social media. A blanket trader from Madhya Pradesh donated his entire stock of 50 blankets, which he had brought for sale.
As per an article in The Indian Express, Vishnu Kacchava was in the state to sell blankets during the monsoons. However, sensing the gravity of the situation, he donated those blankets to a relief camp set up by district collector in Kannur instead.
Rajroop Bhaduri from Kolkata is offering free coffee to anyone who makes donation for this worthy cause at his café.
My friend Rajroop Bhaduri in Calcutta is offering free coffee to anyone who donates for #KeralaFloods at his cafe—Café Drifter, 7, Jatin Bagchi Road, Lake Terrace. Please visit, and donate. And let Rajroop know that we are with him in this. Thank you in advance. #KeralaReliefFund pic.twitter.com/oIY4FFwBCQ

— Sayantan Ghosh (@sayantansunnyg) August 19, 2018
Another such large hearted commoner is Hanan Hamid, who was trolled for selling fish in her uniform just a few days ago. The third year B.Sc Chemistry student and Thrissur native began to receive financial aid after the incident came to light. Wanting to give back the help she received from the society, Hanan donated 1.5 lakh rupees she had received, for the flood relief. She confirmed that she will be returning the entire amount she received and only retaining the balance which she had saved from doing odd jobs after college.
Commendable work is also being done by members of Khalsa Aid, a U.K. based international humanitarian relief organisation. The members are feeding people at a relief camp for free. Not just that, they are in process of establishing kitchen at another relief camp as well. So far they have fed more than 8000 affected people in Kerala.
Kerala Floods: UPDATE

We are now feeding 8000 people who have been affected by the floods in #Kerala. We are also setting up a kitchen in another camp.

Thank you for your support

To Donate: https://t.co/KDtNwLPEPC #KeralaFloods pic.twitter.com/qii1Zo8fFd

— Khalsa Aid (@Khalsa_Aid) August 19, 2018
CONSOLIDATING NUMBERS
In these testing times, every little piece of information can prove to be vital. Pianist and founder of Rhapsody Music Anil Srinivasan is making sure that crucial information does not go unnoticed on social media. He is sharing helpline numbers, SOS calls from stranded citizens with everyone.
1. Do keep relaying verified rescue/SOS calls and I will keep connecting.2. Contribute to the CM relief fund in Kerala 3. If you have materials or articles to provide I'd say wait a couple of days so that immediate rescue can be dealt with

— Anil Srinivasan (@anilsrinivasan) August 17, 2018
It is heartening to see how help is pouring from all corners of our country for Kerala. Big or small, financial or otherwise, every form of help is a necessity in these testing times. Even if you haven't done your bit as of yet, we urge you to take inspiration from these commoners. A little help will go a long way for those in need right now. Let us join forces and make sure that no cry for help goes unheard in God's Own Country.
Similarly @KaapiRight and @2olegend have worked on a map which provides people with location of all available resources across #Kerala. The map covers functional shelters, medical aid centres, food, transportation, and rescue centres. They keep updating the map every few minutes to ensure that latest information is at disposal of anyone who needs it.
Guys, we just hit 600000 hits on this map with above 50% search success. We now have 12000 data points across Kerala. We now have almost double the "offer" data points compared to anything ANYTHING out there. It is STILL getting updated with VERIFIED info. Please PLEASE RT this! https://t.co/IfKZJATy5q

— Rum (@KaapiRight) August 18, 2018
Guys, this is a map of all available resources across #Kerala . Shelters, Medicine, Food, Transportation, Rescue etc etc
Please keep sharing.https://t.co/bkiI8bo31z

— Stable Genius At That (@2olegend) August 16, 2018
This is not an exhaustive list, but an indicative one. This is a developing story and we will update it. Picture credit to CNN
Also Read : Indian Navy Rescues Pregnant Woman In Flood-Hit Kerala