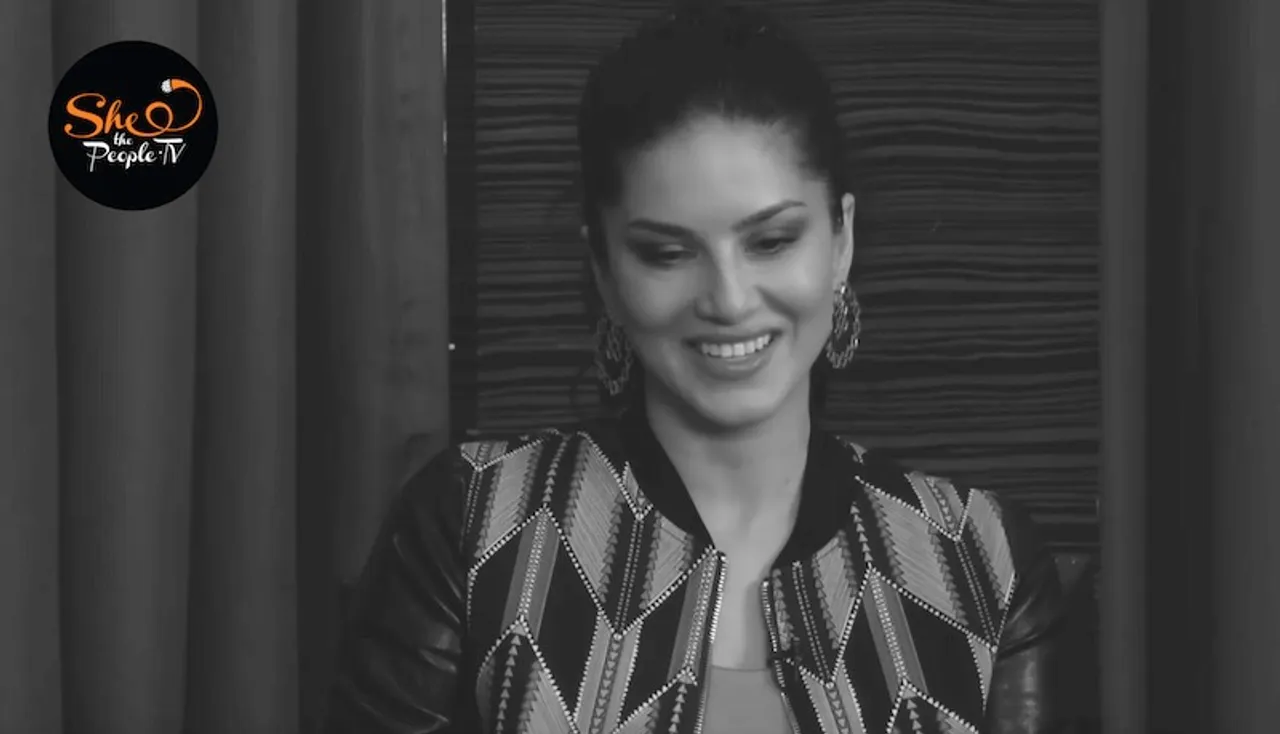 SheThePeople.TV premiered its new series BOLD with a fitting interview with actor Sunny Leone. While most viewers were awestruck by Sunny's clarity and relatable takes on feminism, body shaming and trolling, some couldn't just get past the fact that Leone used to be a porn star. Shockingly the most hateful comments came from women who denied Leone the agency of making choices which their moral high ground disapproved of.
They accused the actor of immorality and indecency, setting a bad example for women, children and of misleading naive Indian gents down the path of lust by "selling sex". They called her a "prostitute" and accused her of corrupting our culture with her "dirty" deeds. Not one single woman though, questioned the intentions of millions of men who consume porn. No one questioned their upbringing or morality or faithfulness. It was as if Leone had bewitched Indian men and the poor souls had no other choice than to ogle at her.
Am I endorsing porn consumption here? No. I'm merely questioning why women themselves conveniently chose to keep men out of this conversation? Why the hatred was directed towards a "seductress" and not men who cannot stop leering after her? And, when women vilify Leone and accuse her of degrading morality are they not letting men off the hook?
It is not as if Leone has forced men to consume porn on gunpoint. But this is India, here, the burden of morality lies with a woman.
When will women start holding men accountable for their actions?
Just for once, let's look at porn as an industry which provides a service or product based on consumers' demand. So if Leone became a successful porn star, isn't is because there was a hoard of consumers who purchased that content? If the porn industry is flourishing so much, it is because there is a huge demand for what it manufactures. But some women are deliberately ignoring that this demand originates too close to their vicinity for comfort.
SOME TAKEAWAYS
S

heThePeople.TV

premiered its new series BOLD with a fitting interview of actor Sunny Leone.
Some female viewers couldn't just get past the fact that Leone used to be a porn star.
It is easy to shame Leone for her career, but no woman dared to hold men accountable for lowering the society's so call moral quotient by consuming porn.
Being reduced to the secondary gender, has led women in our society to believe that they do not have any power to question and reprimand men for their libertine conduct. What then, is the point in fuming and frothing, when you cannot do anything about it. But women are doing nothing more than fooling themselves. The moral high ground which permits them to shame Leone, sits on the shaky grounds of a mindset where accountability always lies with women and men are entitled promiscuity and sexual gratification without any sense of emotional responsibility towards their partners. This mindset is also why women blame the "other woman" of stealing their man, instead of putting it on the head of one who cheated. The cultural subjugation they face doesn't allow them ever to question, how did Leone end up being one of the most Googled celebrity in our country? What has led to this acceptance that men will be men? That their roving eyes and hands are purely reflexive, hence their behaviour is pardonable.
Women seriously need to liberate their minds of this hypocritical thinking. It is difficult and traumatising to see a person you love, lust after another woman. But to blame her and portray Indian men as victims of Leone's seductive prowess is as misplaced as blaming the one who cooked food for your gluttony. So if you have a problem with men leering after Leone, then go and confront them, not her. Because she has moved on from that profession, while men continue to watch porn.
Also Read : Sunny Leone Is A Strong Woman In The Absolute Sense Of The Term
Yamini Pustake Bhalerao is a writer with the SheThePeople team, in the Opinions section.  The views expressed are the author's own.