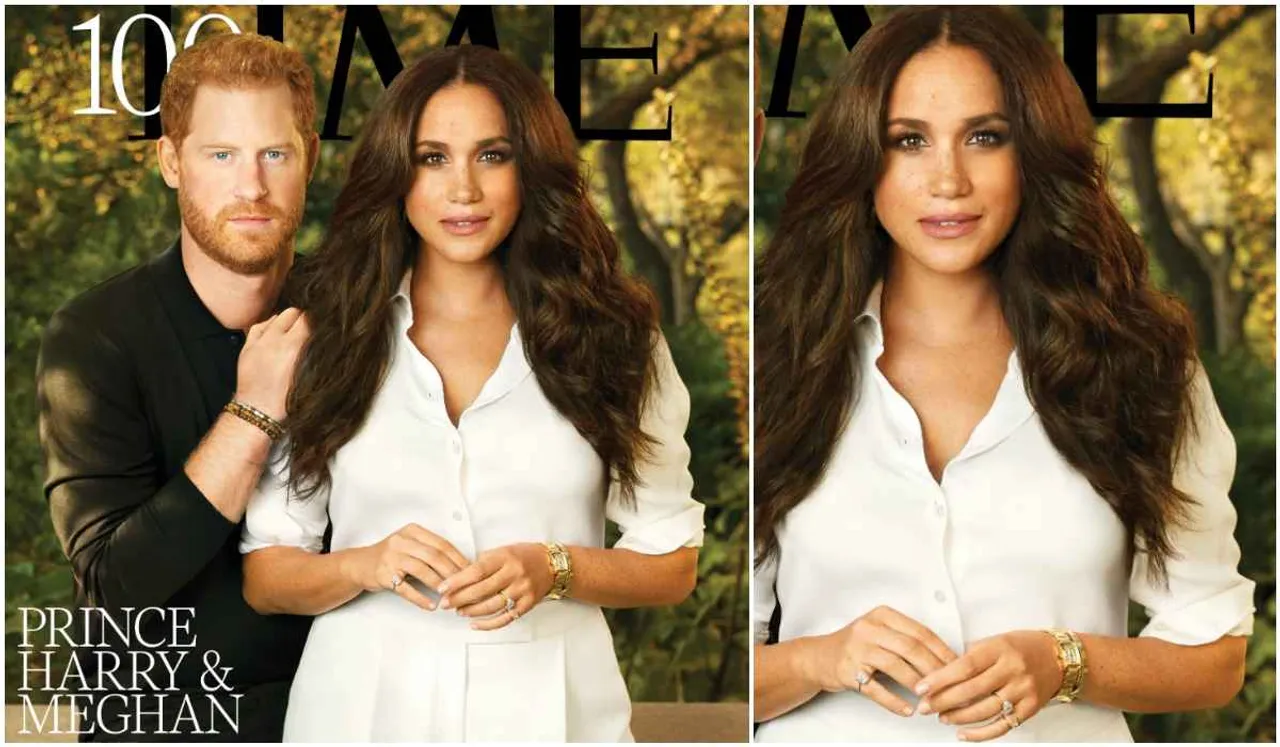 Meghan Markle pinky ring: TIME magazine released its annual list of the world's most 100 influential people earlier this week, featuring on their cover former British royals Meghan Markle and Prince Harry. The photo, showing Markle in the foreground donning white with Harry behind her, was endlessly and expectedly scrutinised. One piece of Markle's jewellery, however, particularly grabbed the spotlight.
The 40-year-old's finger was frosted with a statement ring from Shiffon, an ethical fashion venture set up by Indian-American designer Shilpa Yarlagadda. The 'Duet Pinky Ring' as it is called flaunts two diamonds, one larger than the other, placed side by side. It holds symbolism as "one woman supporting another through a 'pinky promise'," the jewellery brand's website reads.
Crafted in New York City, where Yarlagadda's business is located, the ring can be worn on the pinky alone. As per the brand, is made from ethically sourced materials, in keeping with their mission, and also that of Markle, who is known for promoting a cruelty-free wardrobe.
Markle's jewellery is often under close observation, especially the times she wears inherited pieces of her late mother-in-law, Princess Diana. The ring Harry proposed to her with in 2017 had two diamonds from his mother's collection and the bracelet Markle wore on her explosive sit-down with Oprah Winfrey in March this year belonged to Diana.
Shilpa Yarlagadda: Know The Designer Behind Meghan Markle Pinky Ring
Yarlagadda, 23, is a Harvard student who founded her brand in 2017, only a year into college. The premise of Shiffon is focused on the empowerment and upliftment of women, with certain profits going as proceeds into philanthropy. As a young woman in NYC's Diamond District, Yarlagadda seeks to change the narrative on fashion with social awareness.
"Throughout my studies and work experiences, I never saw that many women, which is something that bothered me," Yarlagadda, who grew up in Silicon Valley, the US' big tech hub, tells Vanity Fair. 
Fine jewellery, she says, was more an industry run by men and for men buying pieces for women. "So if we can reclaim this multi-trillion dollar industry, then it's that much more powerful and empowering." Her startup's big moment came in 2018 when, at the Emmys, Nicole Kidman wore Shiffon on the red carpet, thrusting the brand to wide notice.
Yarlagadda's jewellery has been spotted on notables like the US' former First Lady Michelle Obama and tennis star Serena Williams.
Image: TIME
---
Trending now: 
&t=1s