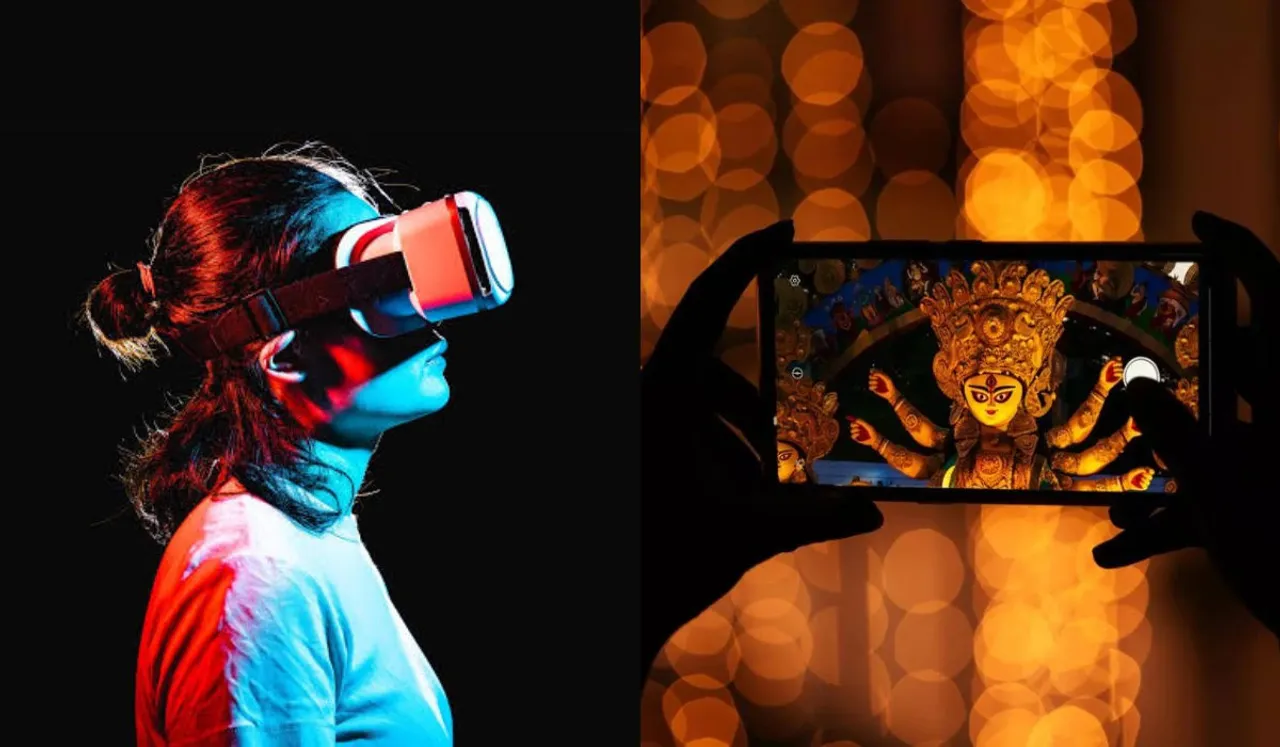 The Durga Puja Pandals in Kolkata have been making history for all the right reasons this year. In yet another empowering attempt, the Durga Puja Pandals will be seen making the right use of technology by making its availability felt through 3D techniques with the new MetaPujo feature. Modern-day technology has been put to good use and in the most culturally defined way possible this time around the year.
MetaPujo is a new age feature that enables the Durga Puja to enter the world of Metaverse. This is the first time in history that Puja Pandals across Kolkata are introducing this tech feature that will boost digitalisation in the region to a whole new level.
---
Suggested reading: How Kolkata Durga Puja Pandal Theme Parichay Honours Sex Workers In Society
---
What is MetaPujo?
MetaPujo is the term for The Durga Puja entering the world of Metaverse, through 3D, making the Pandals across Kolkata accessible to people via technology.  All the major Pandals are reportedly making themselves accessible through the 3D twins feature. The Pandals taking this initiative in Kolkata include Tala Prattay, Deshapriya Park, Hiritola Sarbojanin, and Ballygunge Cultural. These Pandal organisers will now make people do a virtual darshan of the Pandals via 3D Platforms, according to reports. The technology experts Metaform and XP&DLAND and Spatial will be helming this initiative for the Pandals.
The metaverse is a virtual space where people can visit a particular environment through a computer-generated programme. The platform is designed in the form of a Pandal, which will enable the devotees to enter a world where they can sit in the comfort of their homes and perform their respective darshan. While the devotees can be based anywhere around the globe, the grand staging of the sandals in Kolkata is something they will be blessed to witness with the help of technology.
Not only this, people can walk around, take photos, and interact with the environment around them during the Puja celebrations.
Speaking of making history, the Sarbojanin Durga Puja in Kolkata's new town community is all set to introduce an all-women team of priests, drummers and performers for the Durga Puja. This is an attempt to spread awareness around women empowerment and make more opportunities available for women professionals in the festivities.
Feature photo credit: Wired, TOI