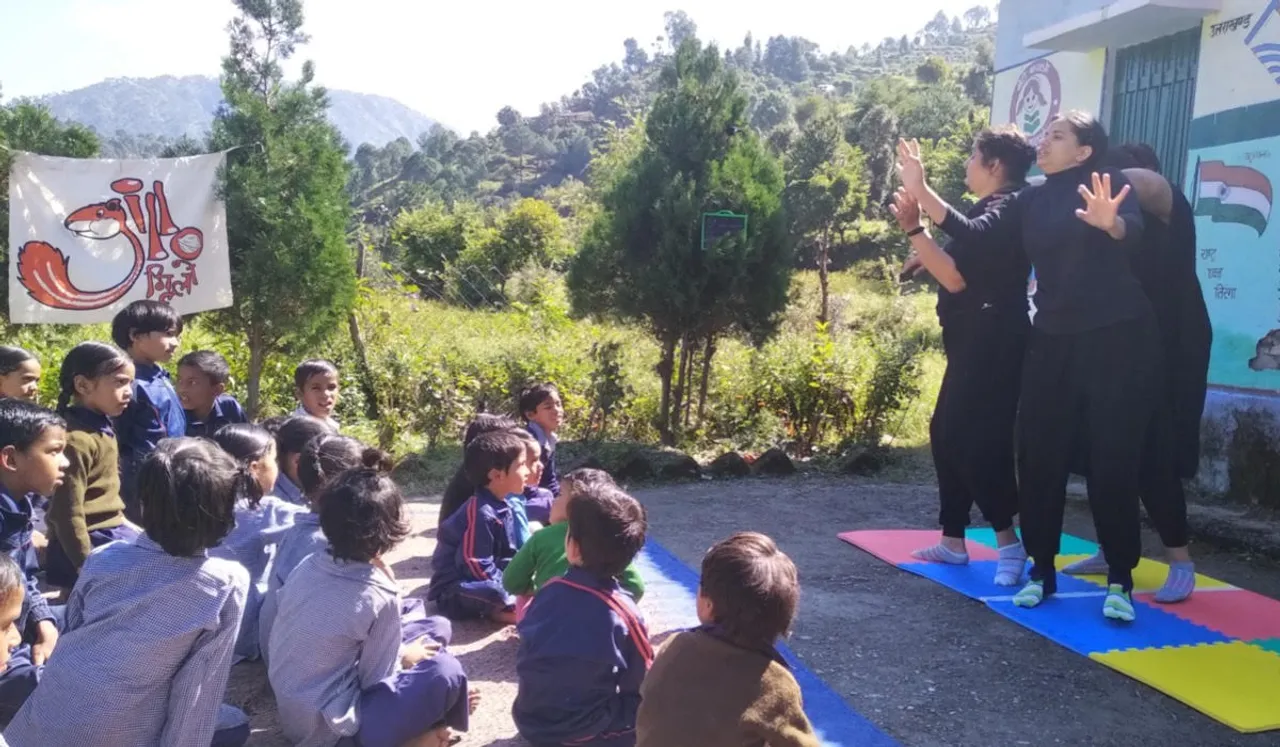 In a world where both learning and unlearning are vastly significant for a child's growth, Mumbai-based Gillo Repertory Theatre is making a meaningful difference with one performance at a time. With the squirrel Gillo as their mascot, the group works towards children's creative education by organising activities, performing plays, and introducing unique learning methods to help them become empathetically aware of the world around them.
The theatre artists, who have been touring the country across schools, aim to connect children and young adults with art and expand the creative world through an environment that's fun and engaging. The group recently travelled to the Kumaon region of Uttarakhand and organised workshops at various schools. As they draw curtains on their extensive tour in the hills, we learn more about their work and their ambition for children's development through art.
In an interview with SheThePeople, Shaili Sathyu - the artistic director of Gillo Repertory Theatre - discusses their work, the group's recent tour of Kumaon, their exclusivity of performing for children, and why innovative shifts in education systems can pave the way for the all-round development of young students.
The culmination of Gillo Gilehri
What sets the Gillo Repertory Theatre group apart is that they work exclusively for children. As an independent organisation committed to children and young adults, the group focuses on assembling a diverse experience for children. Shaili Sathyu has a background in architecture, education and theatre. She has had an intriguing journey of exploring the world around her, and she carried her experiences into creating a company that would do a variety of work for children – publishing, theatre, activities, movies, creative workshops and much more.
As a theatre artist, she advanced her dream and started the theatre wing Gillo Repertory Theatre in 2009. "In the theatre wing, I wanted to design and create experiences that would bring joy to children during their growing-up years. The focus has been on creating arts engagements and experiences that spark curiosity, share stories, and create a space for expression and thought to share," she shares.
---
Suggested Reading:
Why Iranian-American Shahla Ettefagh Moved To Rishikesh To Start A School For Underprivileged Kids
---
Choosing the Indian Palm Squirrel as their mascot, popularly and lovingly named Gillo, was a conscious choice. "This squirrel is found across India from the coast to the plains and the foothills in the north. In the same way, we dream of reaching our work and engaging with children across India, making Gillo one of their friends through childhood," she adds.
"Adopting already existing models of learning that inspire children to question, try new things, develop a sensitivity to their contexts and go beyond the marks-oriented system is something that can go a long way in improving the quality of education in the country."
Children should have a space to express themselves in raw, authentic ways. When it comes to education systems in the country offering that space for children, the options are, more times than often, restricted. We asked Sathyu her thoughts on how the education system can contribute collectively, beyond mere academic excellence and scores, helping them generate curiosity about the world around them.
Explaining that we collectively need a leap of faith, she articulates, "In our country, we have several organisations doing excellent work in the field of education. I feel the problem is that big schools (by numbers) don't want to use innovative methods. There is excessive focus on exams and marks."
Barkha Fatnani of the Gillo Repertory Theatre
Challenging the age-old notions around learning
Gillo Repertory Theatre Group's work exists outside of age-old presumptions around education. Pointing out how the understanding of learning has evolved considerably over the decades, Sathyu expresses that being open-minded about what theatre is and what performance is directs them to associate themselves with devising diverse methods. "We have been fortunate to get several opportunities to work with alternate schools across the country, and their work and approach have helped us evolve our understanding of learning. That, in turn, has informed our theatre practice," she adds.
The journey from their first performance in Mumbai to touring the country today
From their first performance in Mumbai to taking a tour across the country today, the team has experienced a unique understanding of children's reception to knowledge. "Children all over the country are waiting and ready for new experiences. Our work may seem momentary and intangible, but even that one theatre engagement stays with children for a long time. When we go back to a group of children after a year, they remember us, the plays, the characters and more. It is amazing how sharp their memory is," she says.
"The more we travel, the more we are convinced that more arts experiences are needed for children. It is not possible unless artists and cultural organisations collaborate with educational institutions throughout the year."
Sathyu shares how she has come across several like-minded people working at the cusp of arts and education over the years, and her team has been collaborating with them from time to time on various projects. As an artist, she adds, "I know that I shall always have an ample audience if I perform for children. Children are very giving of their time, thoughts and feelings. They watch a play with little judgment, as compared to adults. And they are ever curious about the tiniest detail. They don't miss anything. It is a humbling experience for us as adult artists."
Roadblocks
Like any unconventional path, the theatre group's journey wasn't smooth either, especially when they initially started. "In India Theatre groups/companies don't often work exclusively for children. So in the beginning it was difficult to convey to people that we only perform for children there are no child actors in our team, and it is adults performing for children. While raising funds isn't that formidable today compared to earlier times, one of most the significant challenges they faced initially was fundraising, says Sathyu, "because the sponsorship and footfall module does not work for us, especially because theatre performances we create are often intimate, for less than 100 or even less than 50 children at a time. Fortunately, raising funds is not as difficult now as it was earlier, but we do struggle when we start a new project."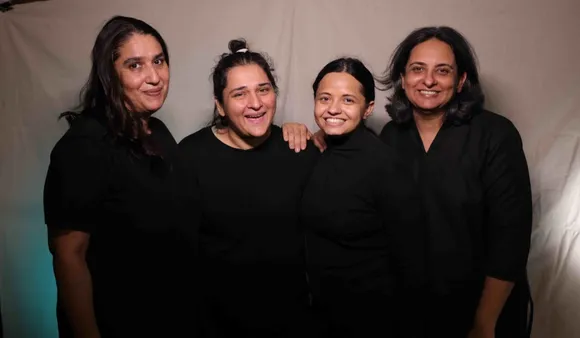 Vaishali Bisht, Puja Sarup, Barkha Fatnani and Shaili Sathyu during rehearsals.
The tour in Kumaon
The core team for Gillo On The Go - Uttarakhand included four members. Theatre artist Vaishali Bisht, one of the co-founders of the Hyderabad Children's Theatre Festival, India's largest theatre festival for young audiences, and Puja Sarup, co-founder of the theatre company 'Patchworks Ensemble' are two individuals that the Gillo Group's Shaili Sathyu and actor, musician and dancer Barkha Fatnani collaborated with for a unique tour in the Kumaon region of Uttarakhand recently. "Vaishali and Puja initiated this project to connect with children in Kumaon and we joined along. Also, this part of the country has very little to no access to theatre for children," recalls Sathyu.
"I think cultural access is a right every child has regardless of where they live.  Creative learning and expression are extremely relevant and essential for young people." - Vaishali Bisht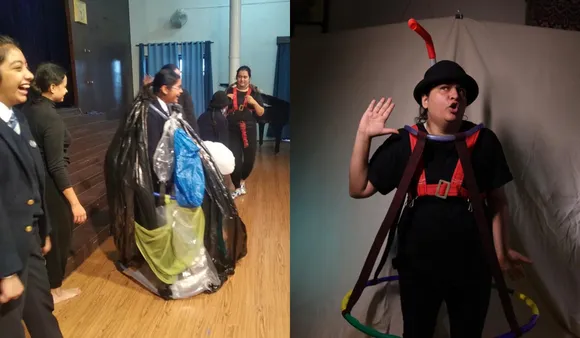 Gillo Repertory Theatre Group performing at All Saints' College, Nainital.
Bisht, who worked with Puja Sarup on a theatre production titled 'Hello Farmaish' in 2018, unexpectedly discovered that they had a common connection with the small village of Majkhali in Uttarakhand. "We immediately thought of doing work over there. Since I had interacted with Shaili and was aware of their Gillo On The Go project in Maharashtra and Karnataka, we proposed a collaboration in Uttarakhand for the year 2020. In 2019, we did a recce but due to the pandemic, we could not execute our plans and eventually did it this year."
"We hope to continue this initiative in Kumaon and other parts of Uttarakhand for a few years and slowly build collaborations with local artists who can then continue a similar touring route in the state."
The group performed four plays across schools per the students' age in two weeks in Kumaon. Sathyu elaborates: "Our play Duck Duck Go is a short puppet play about migration, for preschool up to Class 2. The second one Hermit Crab's Dream is based on a Japanese folk tale for classes 1 to 5, about imagination and resilience when faced with hard times. The play Baal Mithai, named after a popular savoury in the hills, was for classes 1 to 5, using the platform method of performance, a story about inclusion and bullying, told through the character of Baal Mithai. The fourth play was Padde Pahad Ki Powerful Poonch for classes 6 to 8, an absurd tale of Padde Pahad - the giant mountain."
The tour was a significant step for the region, too, because some schools based in isolated and inaccessible terrains in the hills are less exposed compared to the others facilitated. Sarup explains, "Having been to a handful of schools in Kumaon, while the education system is at par with the rest of the country, the difficult terrain and migration from rural areas to urban centres is a unique challenge in the region. Often schools are isolated, inaccessible by road and have very low student strength."
The group's experience in the hills was exemplary as the students in both government and private schools were enthusiastic and welcoming to the engagements Gillo brought for them, paving the way for future collaborations.
"Be ready to keep unlearning and learning all the time. Don't be stuck in patterns and forms."
As an artist holding a comprehensive background across domains, Sathyu's advice for aspiring creative entrepreneurs comes from her experience. "I would say take a leap and believe in your ideas. It is often difficult to start new things, but you can make it over time and with hard work. Also, be ready to keep unlearning and learning all the time. Don't be stuck in patterns and forms," she concludes.