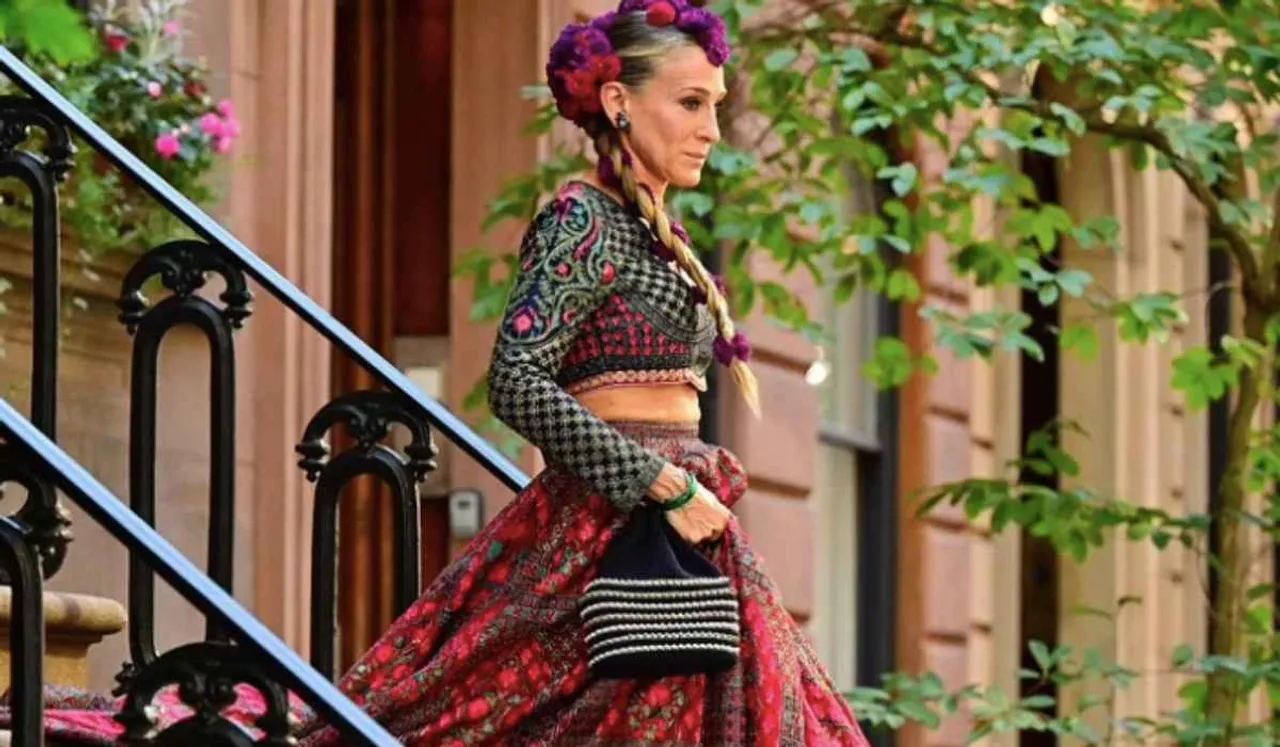 Sex and the City lehenga? Yes, it's a thing now apparently. If you don't live under a rock without internet data, you would in all probability know that Sarah Jessica Parker, as the ever-perfect Carrie Bradshaw, sported this grand desi garment on an episode of the classic show's reboot, And Just Like That. And just like that, she joined the legion of white stars who have come through as culture appropriating caricatures.
The 90s original, starring Parker, Kim Cattrall,  Kristin Davis, Cynthia Nixon, and its sequel Sex and the City films are famous for their aspirational quality but also infamous for their ">sexist, classist tone. Fans tuned into the latest HBO Max sequel of the show thus gathered that its extravagant desi-ness might have been an attempt at salvaging SATC's limited representation of the rich, white, New York upper class.
That attempt bombed miserably.
First off, the attire the show continues to tone-deafly call a saree is actually a lehenga. Now, we desis carry immense pride in the culture of our lands, particularly the colourful, dazzling apparel that hails from here. Each of us worth our salt would be able to at least differentiate between the lehenga and saree.
But no, Carrie scours through a 'saree shop' that evidently has lehengas on display. Sarita Choudhary, of Indian-English origin, who plays Seema on the show isn't able to salvage the episode either. Well, at least she wears a saree that looks like a saree.
---
Suggested Reading: 8 Things You Need To Hear If You Feel You Are Getting Nowhere In Life
---
Parker sports a beautiful (probably exorbitant) Falguni Shane Peacock lehenga, completing her look with a mini bouquet of flowers in her braided hairdo. Whether or not it makes sense, just throw in a few flowers for a touch of tradition at the slightest mention of anything desi. This has been a long-held Western mantra for representation.
Recall Beyonce in Coldplay's culture bursting Hymn for the Weekend?
We do love flowers on special occasions but no, we don't walk around with floral crowns on our humble heads.
---
Suggested Reading: Male Power Centres Exist In Indian Comedy | Radhika Vaz Interview
---
All this is done on And Just Like That in celebration of an episode that's literally called Diwali. The episode was penned by Rachna Fruchbom, an Indian-origin writer, and features a familiar Indian face in acting and writing stalwart Madhur Jaffrey. Unfortunately, Carrie's peculiar garb - the headgear in particular - make it difficult to focus on much else.
For all its mononymous, defined title, the episode explores little of the Indian festival beyond a few sparkling outfits and a token sacred thread that Seema ties on Carrie's wrist.
India's diverse culture is global and a rich one to borrow from. On the back of appropriate representation, which desi would object to seeing authentic replication of ourselves on screen? But, though these may be aspects that attract Westerners most for their striking extraordinariness, we are more than just our Holi colours, bindi and henna decorations, and spices.
If there are no plans of going all in, then Western content would do better by safely laying off altogether.
Views expressed are the author's own.