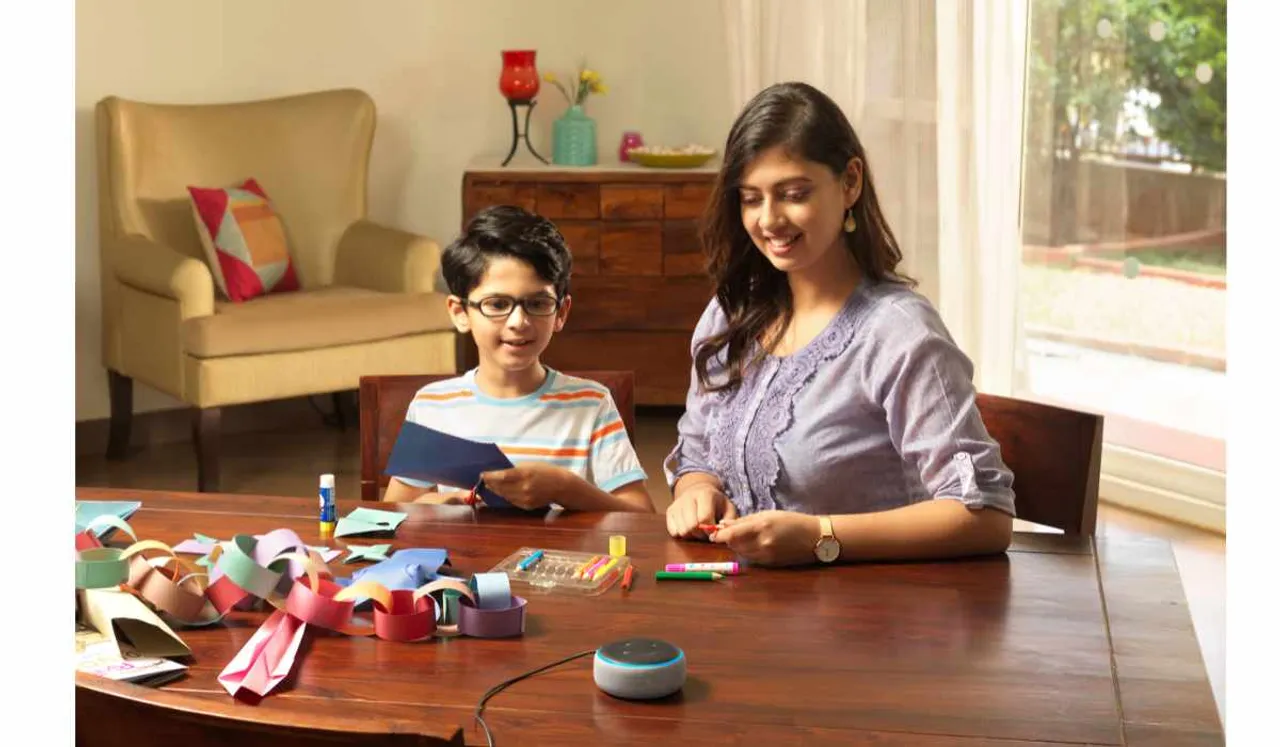 "Alexa, how much time till 7.45 am?", "Alexa, please give a timer for one minute to solve this sum", "Alexa, what is the temperature today?" -- These are some of the questions seven-year-old Soham asks his Amazon Echo Smart Speaker daily. His mother breathes a sigh of relief. In the quest to progress in her career, technology has allowed her to organise her work, set alarms, plan shopping lists and figure out home priorities. Parents can never stop worrying whether they are doing enough for their children, but voice assistants like Alexa can be a game-changer to create an interactive and educative experience.
Soham feels more independent with Alexa and relies on Alexa to play songs and even quizzes, cutting down excessive screen time. For instance, Alexa's daily alarm or timer features allow Soham to get ready for school independently on time. Asking for the day's weather helps him quickly decide if the day warrants a hoodie as winter sets in. For this generation, technology is improving their autonomy, nurturing their curiosity, and evidently empowering even this young boy to make his own decisions. Soham also keeps himself busy by listening to the latest soccer updates and now that football fever is all around, he even likes to dance while playing 'Waka Waka' on his Echo smart speaker.
The great thing about voice-based assistants like Alexa is that people don't need to know technological jargon or be pro internet users. They can just ask.
For Soham's mom, it manages her cooking time - seven minutes for a hard-boiled egg, two-and-a-half minutes for a half-boiled one, while she gets ready to take on her day. She sets timers and reminders for almost everything. If you ask Soham, a five-minute timer to switch off the television is his mother's favourite command to Alexa.
Evenings are dedicated to family time, Soham and his mother tackle his homework and then along with his dad they listen to a story from Alexa, sometimes from Aesop's Fables or even Panchatantra. Little Soham often asks Alexa questions that he is shy to ask others. For example, just the other day, he needed clarification about the spelling of dime and dine, and he turned to Alexa for help without feeling judged for not knowing. Soham also repeats his multiplication tables with Alexa. Now that Christmas is around the corner, he is also making his Christmas wish list for Santa Claus with Alexa.
Alexa was a companion for the entire family when they were locked down during the pandemic. Quizzes and games on Alexa kept Soham busy while his parents were working their way through umpteen Zoom meetings. Spontaneous dance parties, jokes and riddles brought cheer to the family's faces as they learned to enjoy doing their household chores. It has become a bedtime ritual for Soham to ask Alexa to tell him a joke. Now Soham's family is planning a trip to Rajasthan, and they are going to Jaipur, Udaipur and Jaisalmer. He has been learning keenly about the palaces they are going to visit by asking Alexa all that he wants to know.
On weekends when it is Soham and his dad's turn to make breakfast, Alexa helps them with the recipes. Last time, when his mother was on a work trip, Soham and his dad made waffles. When Soham spilled the chocolate sauce on the dining table, it took his father an hour to clean up! Unfortunately, Alexa isn't yet ready to wear the apron and start cleaning but it can still tell Soham about good table manners when he is up for listening.
Well, your kids will always need you to make sense of life, but thankfully for some things, you can turn to Alexa and take a well-deserved break.
This article has been posted in collaboration with Amazon India.