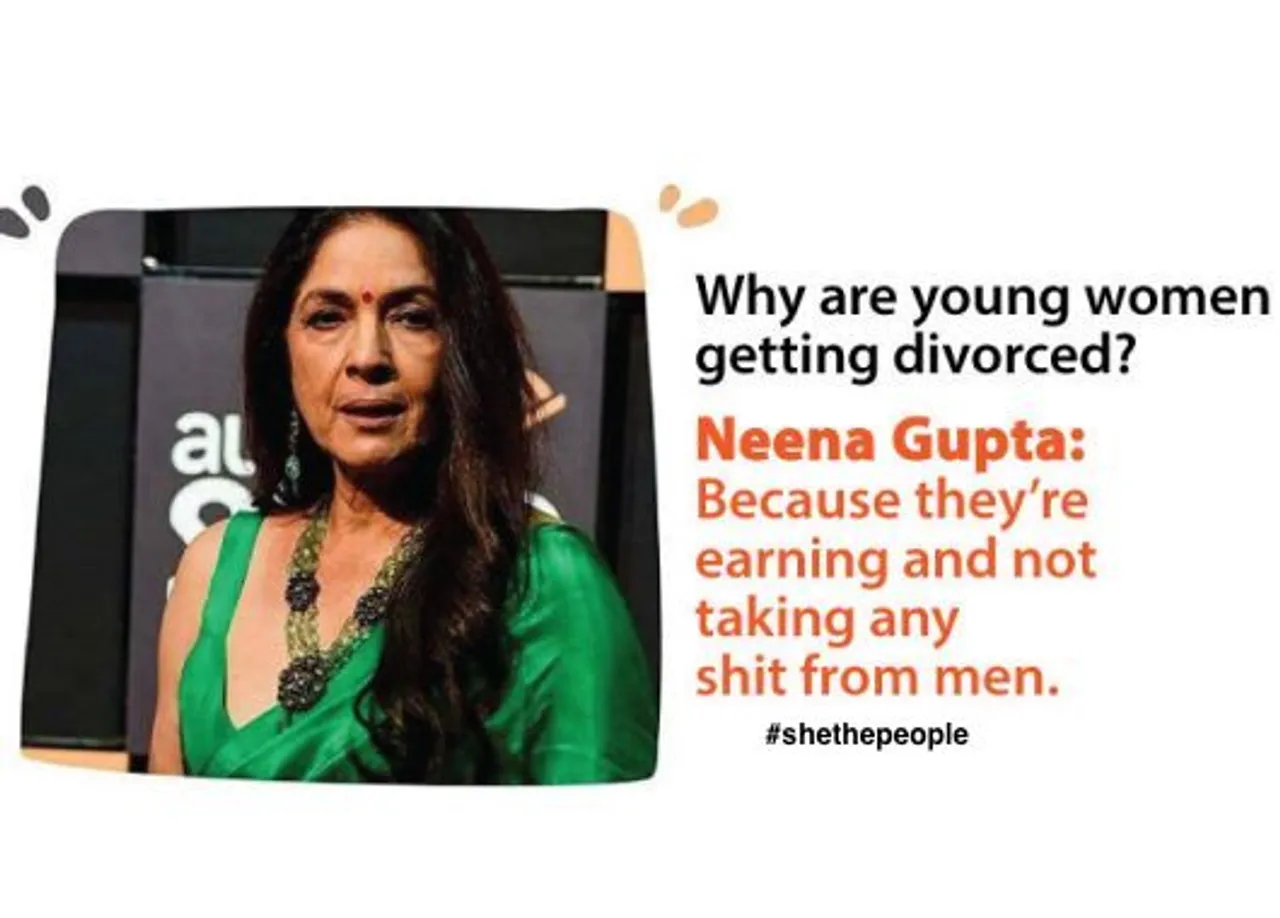 Divorce is still one of the the most controversial topics of discussion in an Indian society. The existing stigmas make it even more complicated. Marriages don't have to mean staying together till death. Putting an end to a troublesome relationship is always a better option. Let us normalise divorce and stop blaming women for it every time.
Why The Stigma?
As a conservative nation, India looks as divorced women as selfish. Not only that. They are also seen as a 'threat to the society'. Choosing to break away from a marriage is not perceived positively because patriarchy doesn't permit women to live an independent life. They are seen as their 'husband's property' and are expected to adjust despite all difficulties. In a country where marriage is thought to be a woman's ultimate goal, how can we bear seeing her walking away from it?
Divorces are also stigmatised because apparently it affects the children. Well, realising that their parents are in an unhappy marriage is more dangerous. For a proper upbringing, children must have a healthy environment at home. This is possible only if the parents have a cordial relationship. Its absence  affects the children negatively.
Why is the divorce rate less in India?
We should normalise divorce instead of avoiding it and continuing to live in a marriage that is not working. Women fear filing a divorce because on doing so, they get labelled as 'home wreckers'. According to a report from the Organisation for Economic Co-operation and Development, in 2017, India's divorce rate was as less as 1%. This is not because marriages were working well but because the emotional, physical and mental abuse women face in marriages were never reported.
In the last decade, the number of divorces in India has increased from 1 in 1000 to 13 in 1000. However, we still remain the country with the lowest divorce rate. Arranged marriages in India happen between two families (who barely know each other) and not individuals. Asking for a divorce would be seen as going against a decision made by parents and yeah, Indian parents are never wrong.
End the stigma and normalise divorce
Why does the society want women to adjust, compromise and be flexible even if they are suffering? Can't we just normalise divorce and see women as living, breathing humans and not just 'wives' and 'daughters-in-law'? I am pretty sure its not THAT difficult to live and let live. The society should now stop making presumptions about a divorced woman and call her names. 
Women who are bold enough to move out of a toxic marriage deserve appreciation and not humiliation. They did what many women are scared of doing: refused to take shit from others. Women continue to stay in abusive marriages because they are taught to 'adjust and accept' no matter what. Moreover, a married woman is seen as her husband's 'responsibility'. Once divorced, she is on her own with no one to 'look after' her. People are also unsure if she would get married again. Ultimately, the society concludes that her life is ruined.
These stigmas act as obstacles on a woman's path of breaking free from toxic relationships. Its time to end the stigmas around divorce and empower women so that they can stand up for themselves and make the right choice. 
Jagisha Arora on Divorce
Jagisha Arora is a young woman, in an inter-caste marriage who was disowned by her own family. Talking about the issue of divorce in an episode of 'Siterhood With Shaili', she says that she doesn't understand why divorce is so stigmatised. In marriages, partners are expected to live together despite all problems but why is it so?
"Arrange marriages mein bhi yahin hota hai ki aapko nibhana hi hai, ki women ko bola jata hai ki aapko nibhana hi hai, kuchh bhi ho jaaye. Agar aapne love marriage karli toh iska matlab ki aapko nibhana hi hai? If they don't get along well toh kya hum divorce nahi le sakte? Aur divorce itna stigmatised kyun hai, I don't understand. Do log khush bhi toh ho sakte hai na individual"
Why do you feel we should normalise divorce and support women surviving in difficult marriages?