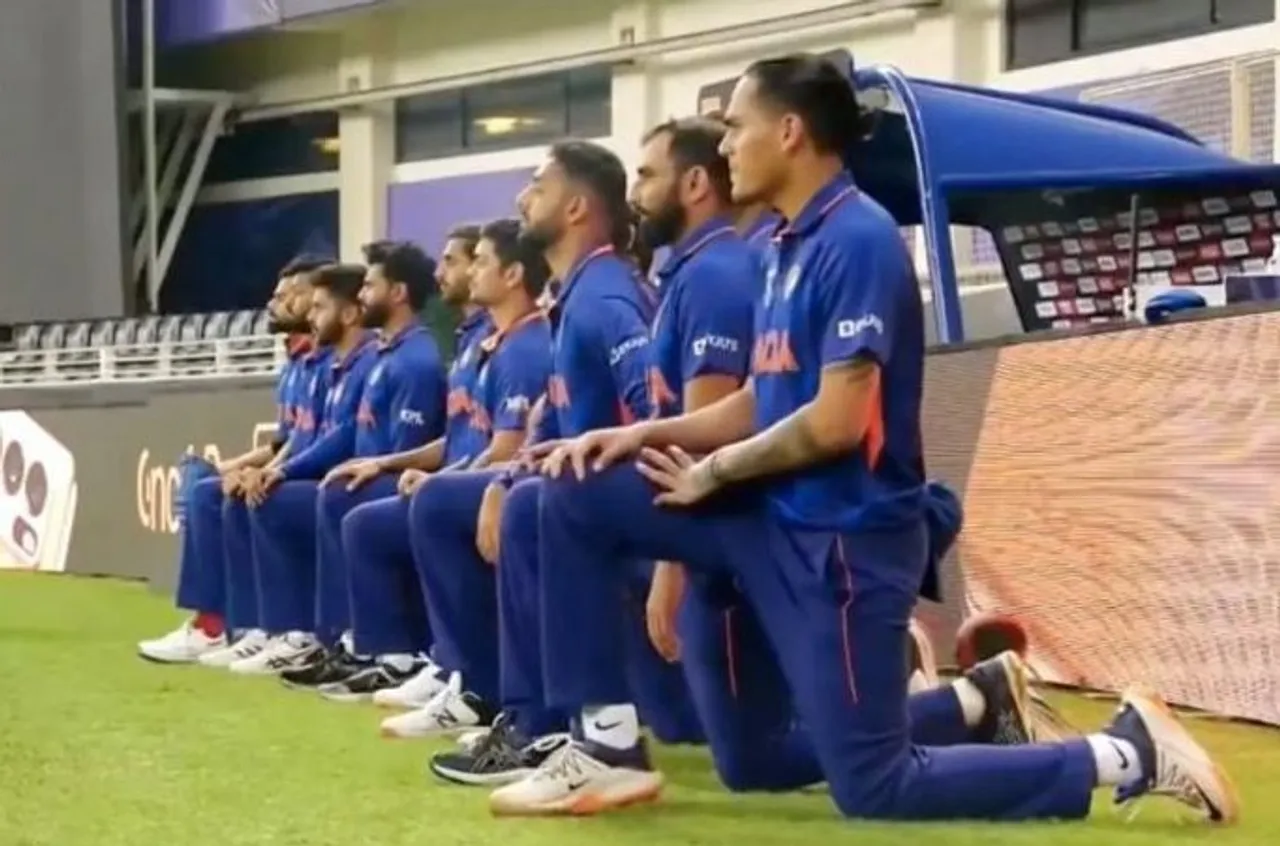 Indian team supports Black Lives Matter: India cricket team took the knee on October 24, during its match with Pakistan, at the ongoing T20 World Cup in Dubai. The act was to show solidarity to the Black Lives Matter movement in the United States which gained momentum after the death of African-American George Floyd at hands of police officer Derek Chauvin. However, desi Twitter has criticised team India for its radio silence on issues at home. But is speaking on issues close home as easy as showing support to BLM?
Floyd's passing last year had sent shockwaves worldwide. The incident was caught on camera, in which a police officer was seen kneeling on the deceased's neck as he pleaded with him, saying, "I can't breathe" repeatedly. The US erupted in nationwide protests after the tragedy and as the video went viral, BLM found global support. Several teams and players across different sports have extended support to BLM in the past year, in different ways.
Football club FC Bayern Munich wore black armbands with the text "Black Lives Matter" before a match in June 2020. In July the same year, golfer Nicola Bennett wore a black hat with the same caption during a game at The Rose Ladies Series. One of the common gestures to support BLM among sports has been to take a knee, and Indian cricketers joined teams from various sports like basketball, baseball, football, and even cricket, to use it as a way to extend support to the movement.
The Indian cricket team basically dropped on the knees on command. No questions asked. No thought as to the irony of taking the knee for #blacklivesmatter at the command of an autocratic government hellbent on attacking minorities. show me a better pic of Lobotomised. https://t.co/peueNFKUsQ

— Avantika Mehta (@bitingfriends) October 25, 2021
Is this the Indian cricket team taking a knee for the #MuslimLivesMatter and the #DalitLivesMatter movement? Courageous move. Very inspiring. pic.twitter.com/acpqiW2ZNW

— Pieter Friedrich (@FriedrichPieter) October 25, 2021
Imagine Indian Cricket Team taking the knee for protesting farmers.

What would have happened in bhakt space? pic.twitter.com/I6yfq37g5a

— Kapil (@kapsology) October 25, 2021
- Farmers protest
- Hate crimes against Muslims & Dalits
- Attack on Kashmiri Students

Few things out of many currently going on in India yet the Indian cricket team wants to take a knee for BLM while completely disregarding all the problems in their own country. Performative.

— H Brar (@harkiratkia) October 25, 2021
BLM is one of the very few localised movements to have found international support of this scale. While it intends to challenge racism and discrimination against African-Americans, perhaps the sheer nature of Floyd's death and the spread of videos related to the incident worldwide due to social media, made people feel personally invested in the cause. However, the question raised by critics of the Indian cricket team is relevant - BLM is, after all, a socio-political cause and there is no dearth of such issues in our country, so why are players only expressing support to an American movement? Shouldn't they be speaking up on crucial issues that have bothered us as Indians?
Just looking at the amount of hate that public personalities invite for speaking up on political issues should be enough to tell us why it is easier to speak on global movements for them. No matter what side you take, there is a faction of media and social media that will feel offended by your stance and will heavily troll you. The hostility on social networking space in India is so intense that people have to think twice before putting out seemingly docile tweets because you don't know who you'll end up offending, let alone politically charged ones.
We have created an environment where free speech comes with a huge cost. Any person taking a political stand must brace themselves for trolling that won't just target them or their work, but will also come for their family and I think that's the scariest part for anyone. If we want our public personalities to speak up on political issues then we have to be willing to listen to them and be open to views that won't align with our won- left, right or centre. But sadly, no fraction on social media wants to listen to views that go against what they believe is right. We don't want people to ask questions, or take a natural stand, or stay mum, everyone just wants everyone to agree with them.
We have to ask ourselves, do we even have any right to demand that our public personalities speak up, knowing that they could pay up the price with their careers, safety and mental health? Unless we create a social and political culture that is open to all forms of criticism we actually shouldn't expect people to come out of their comfort zone, especially when we can do nothing to support or protect them, when they land in deep trouble, apart from tweeting with ineffective "I Support" hashtags.
Views expressed are the author's own.
---
Suggested Reading:
Celebrities Take To Social Media To Pay Tributes To James Michael Tyler
Luo Xiao Mao Mao Zi's Death Should Be A Warning For Social Media Influencers
FabIndia's Diwali Ad Faces Backlash On Social Media: Here's All About The Controversy
---