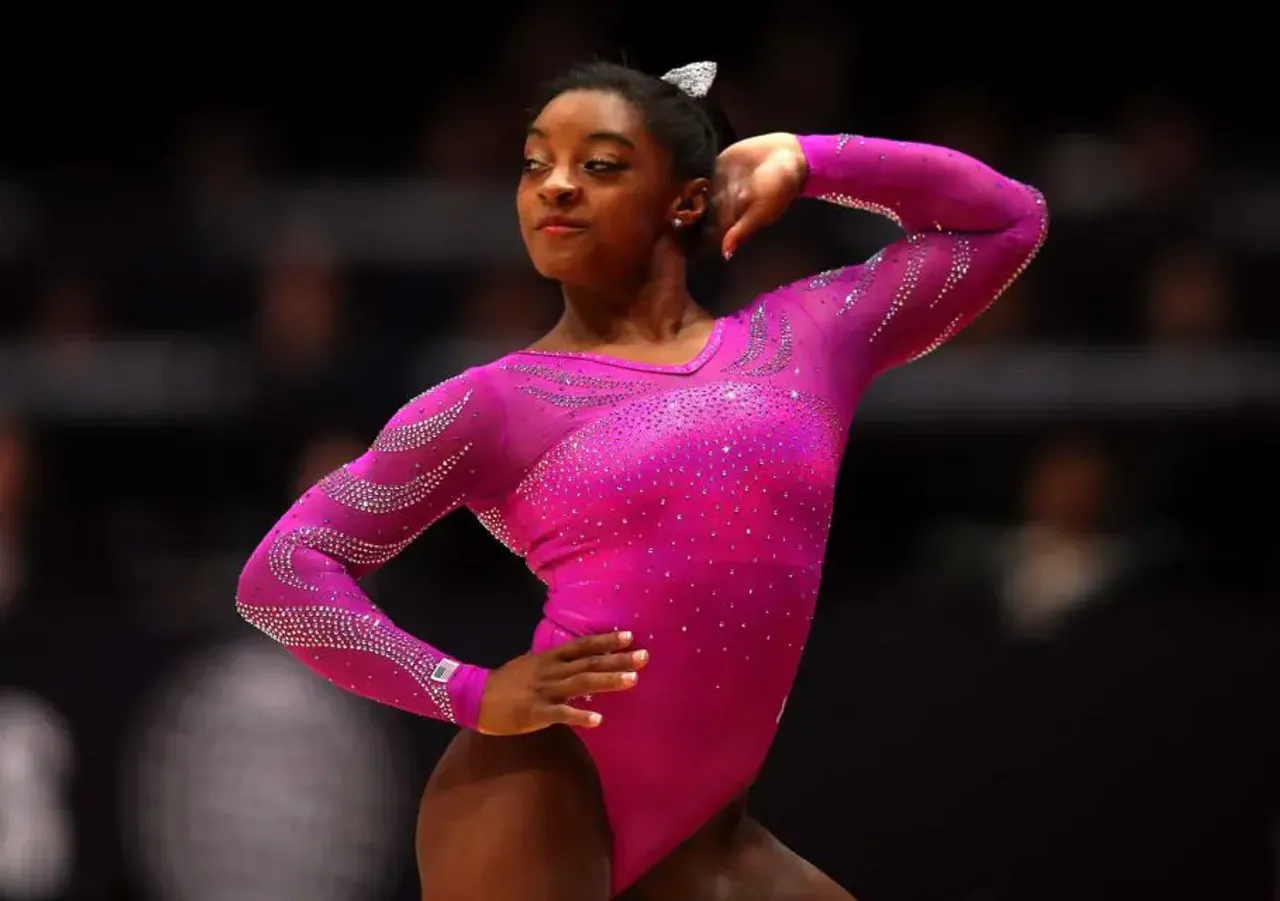 Is the media obsessed with women athletes? Is promoting their appearance, not talent, is what the audience demands? Why is the focus is always on female athletes' looks? For any athlete, the focus should be on their expertise and athletic ability, right? But when it comes to women sportspersons, the picture slightly shifts from competence and veers towards the looks to focus on dark or blue-eyed, tanned skin or 'Oh, look she is pregnant and the glow is so evident' sort of comment.
The race seems to be which publication can cover more cleavage and curvaceous figures.  Is she wearing miniskirts and been featured in provocative poses on the centerfolds in Playboy? But when I think of men's games, I see coverage of batting averages, touchdowns, sweat, physical exertion and smelly locker rooms.
READ: When Serena Williams Handled John McEnroe's Sexist Jibe Like A Boss
But that's not the only thing bothering me. For women sportspersons, being muscled is not seen positively. For their physiques, they always get bodyshamed. Male athletes, on their part, are held at high standards. But to make matters worse, women's sports only gain traction if baring some thigh like tennis and figure skating. Media will cover it because of attractive female athletes who look good on camera. Who cares what record she has set today?
Is it only me to whom these complements sound demeaning? I hope not!
Also read: This is how women waged their war against Olympics sexism and won it
Even when athletes are top-notch, like the Williams sisters, appearances help them in getting endorsements and media coverage. Serena Williams earned a $40 million endorsement deal with Nike, and bagged a reality TV show with her sister Venus on ABC Family. But do you know of their rival Lindsay Davenport who happens to be an excellent player too? Having won 38 career titles and been ranked number one among singles players, doesn't she deserve endorsements too? But most magazines love the Williams sisters and ignore Davenport!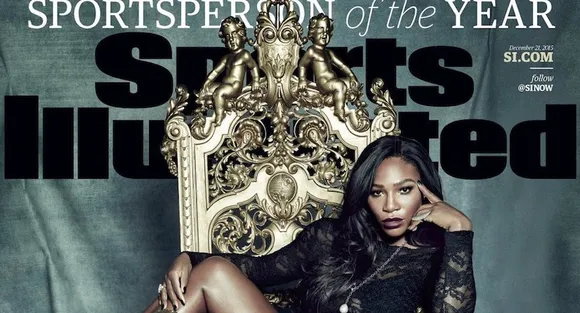 Double standards? Of course! But it is the media which is at fault here, not the athletes.
This is why tennis player Anna Kournikova is the media's darling -- her sexy magazine covers, music videos. Fact check: she does not have a single major tournament in her name and was ranked 70th when she last competed in 2003. But hey, she is pretty!
Making sex symbols out of a fine athlete is a habit now. Because covering anything remotely scandalous is a win-win!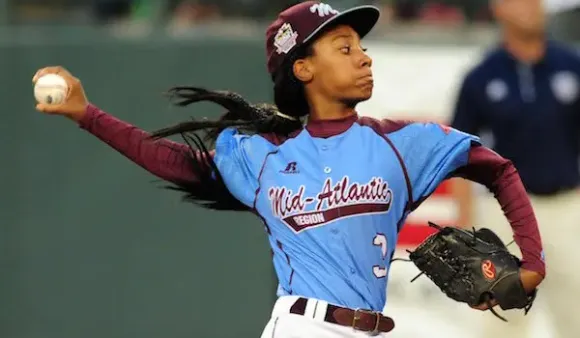 Mo'ne Davis (Photo Credit: VoiceWaves)
For example, 14-year-old baseball sensation Mo'ne Davis became the first-ever girl to pitch a shutout in the Little League World Series and posed for the front cover of Sports Illustrated in 2014. Filmmaker Spike Lee documented her story. In an interview with the filmmaker, she was asked how she feels about being on the cover…
"Just to, like, see my face on here is pretty cool, but not the face that I'm making…", Mo'ne answered.
"You don't like your face on the cover?" he asks, surprisingly.
"I mean I look like a blowfish," says Mo'ne, "but otherwise it's pretty cool. You can see how much power I put into it."
Dressing up normally and coming to a warm-up or after-match party is a big NO! Women athletes should have to wear a brand and flaunt their figure in something tight. If not? JUDGE. JUDGE. JUDGE.
In 2014, Rebecca Adlington, a swimmer who has four Olympic medals to her name and is also known as one of the most decorated female Olympian swimmers in Britain had been scrutinized in a massive backlash in the media over her appearance while featuring on 'I'm a Celebrity'. Then comes other major attributes such as the 'flat-chested'; or a 'sports bra' or if you're a swimmer, 'fast skins'.
A survey by The Guardian states, "A recent Sport England report found that 75% of the women they surveyed wanted to take part in sport, but were inhibited by fear of being judged on their appearance and ability."
Another recent poll of Britain's elite female athletes by BT Sport says, "67% said they feared that the public and the media valued their appearance over their sporting achievements. They thought how they looked was more important to the public than the medals they won. 76% said the same concerns had influenced their diet and training regimes."
A similar thing happened when in last year's Olympics, Hungarian swimmer Katinka Hosszú won the gold and broke the world record in the 400m individual medley, the NBC camera panned the audience and focused on her husband, while commentator Dan Hicks said: "…and there's the man responsible".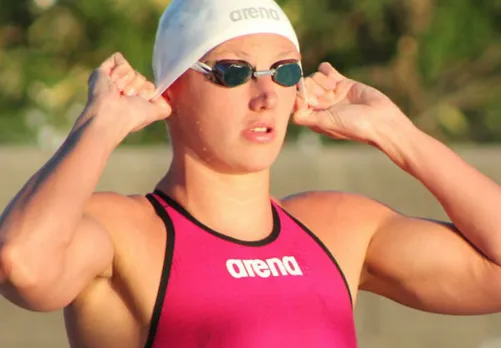 Katinka Hosszu's perfect shaped body (Pic Byswimmingworldmagazine.com)
In the same event, an unidentified commentator said about the US gymnastics team that the seven women looked as though they "might as well be standing in the middle of a mall" as the camera panned to them laughing and chatting on the sidelines.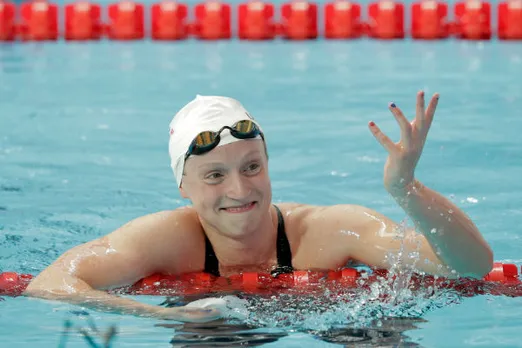 Swimmer Katie Ledecky celebrates her gold medal at Rio 2016 (Pic By Businessinsider.com)
And again, the same night, when US swimmer Katie Ledecky broke her own world record and took the gold in the women's 400-meter freestyle, all that the 'The Daily Mail' could say was that she is the "female Michael Phelps".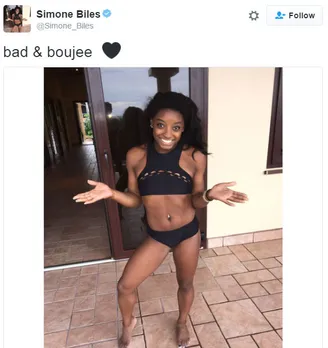 Again, extraordinary Olympian gymnast Simone Biles is the kind of athlete who makes you want to work out… she has a physique to die for and several medals from Rio under her belt. But body-shamers found a way to criticise her for some ridiculous reason too.
India's ace female tennis player, Sania Mirza is no exception. Till date, she faces comments on her attire, body and relationships more than her talent.
Sports is supposed to play a concrete role in bringing equal rights for women and girls, but instead it provides fodder to social media trolls. Our own messed-up ideas about body image should be washed away, otherwise equal gender stability is far from reach.
Also read: Axe effect no more: Unilever drops sexist ad campaigns, will others follow suit?
Also read: How to handle cyber sexism? Stand up to it!
Join Us on https://www.facebook.com/SheThePeoplePage
Follow Us on https://twitter.com/SheThePeopleTV