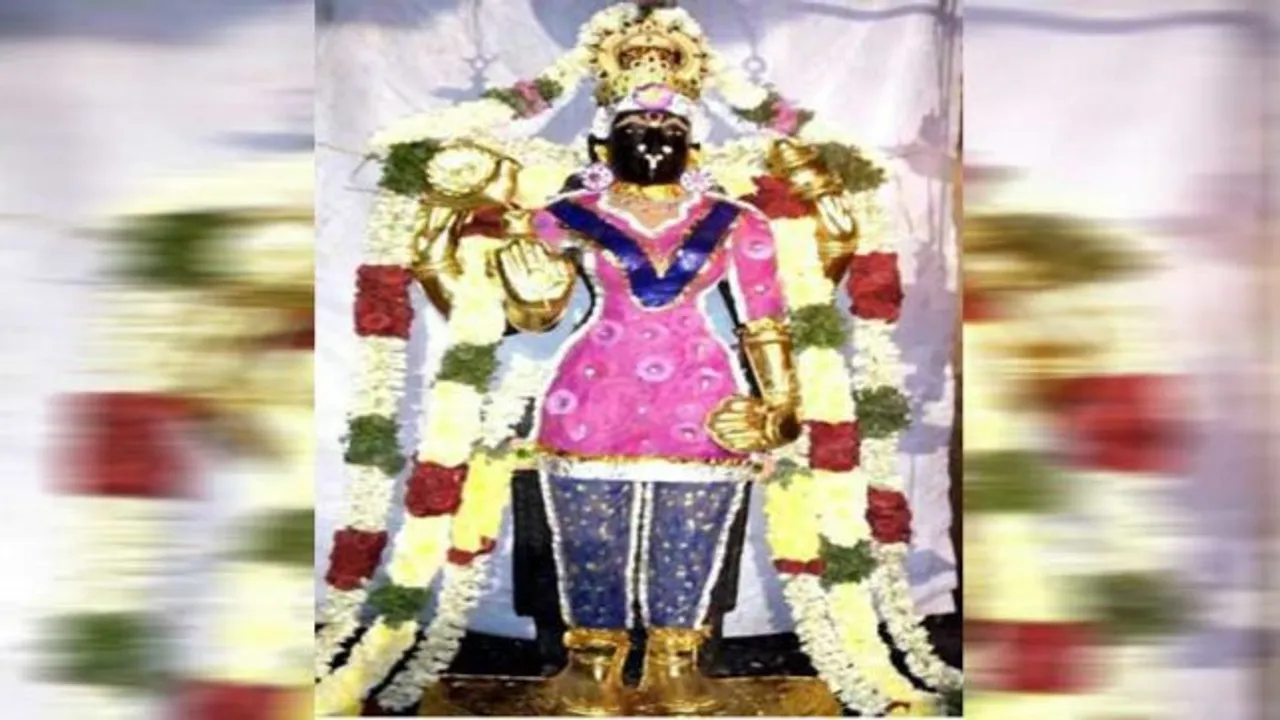 Two temple priests from Mayiladuthurai's Mayuranathaswami temple in Tamil Nadu have been removed from their services after a WhatsApp photo went viral. The photo landed the father and son duo in trouble as they are accused of violating the 1000-year-long tradition of dressing the presiding deity in a saree, instead they dressed her in salwar kameez.
According to reports, the two priests -- father Kalyanasundaram (75) and son K Raj (45) -- were asked to leave their jobs. As part of the ritual of worship sandhana kaapu (sandalwood paste) is adorned on the idol of Goddess Abayambigai. Furthermore, on every Friday, she is draped in new colour paper. However, last Friday, Priest Raj, changed the attire of the Goddess from saree and dressed her in a pink salwar kameez and blue dupatta.
Raj allegedly shared the photo of Goddess Abayambigai in salwar kameez with a few of his friends in the media and sought publicity.
READ: Akshita Chandra is Fighting Censorship through Temple Art
Raj's father Kalyanasundaram has been a devoted priest all his life, Raj, on the other hand, had joined the temple service around six months ago to help his father.
Speaking to Express S Ganesan, Administrator of the Temple said, "The priest behaved in this manner without realising the implications of his actions. When we questioned them, the duo accepted it was a mistake. Since many devotees opposed their actions, which was also against Aagama rules, we terminated Raj as well as his father Kalyanam."
Also Read: At 17, artist and feminist Tara Anand is already changing the world
According to devotees of the temple, "A few months ago, Raj gurukkal decorated the Nandi idol with 15,000 currency notes of Rs 100 denomination. At that time, his act drew praise from several devotees and locals. But now he has landed in trouble" said a Photojournalist of Mayiladuthurai.
When an idea gone wrong,
Temple authorities sacked a priest in Tamilnadu, when Raj (priest) at Mayiladuthurai Mayuranathaswami Temple in Tamilnadu dressed goddess Abhayambal, 1k year old idol in salwar kameez and devotees got upset n opposed the decoration strongly pic.twitter.com/bOWpPY1r72

— This Is Kavitha (@iamKavithaRao) February 5, 2018
When reached out, Raj told the Express, "I just wanted to decorate the goddess in a different way, which has hurt the sentiments of the devotees that come to worship here everyday. I accept that I made a big mistake. Through this newspaper, I want to clarify to the devotees that I do not have any intention to tarnish the glory of the temple. I seek their forgiveness."
Feature Image Credit: NewsX
Also read: The ardent feminist: 17-year-old Kaanchi's art for acid attack survivors