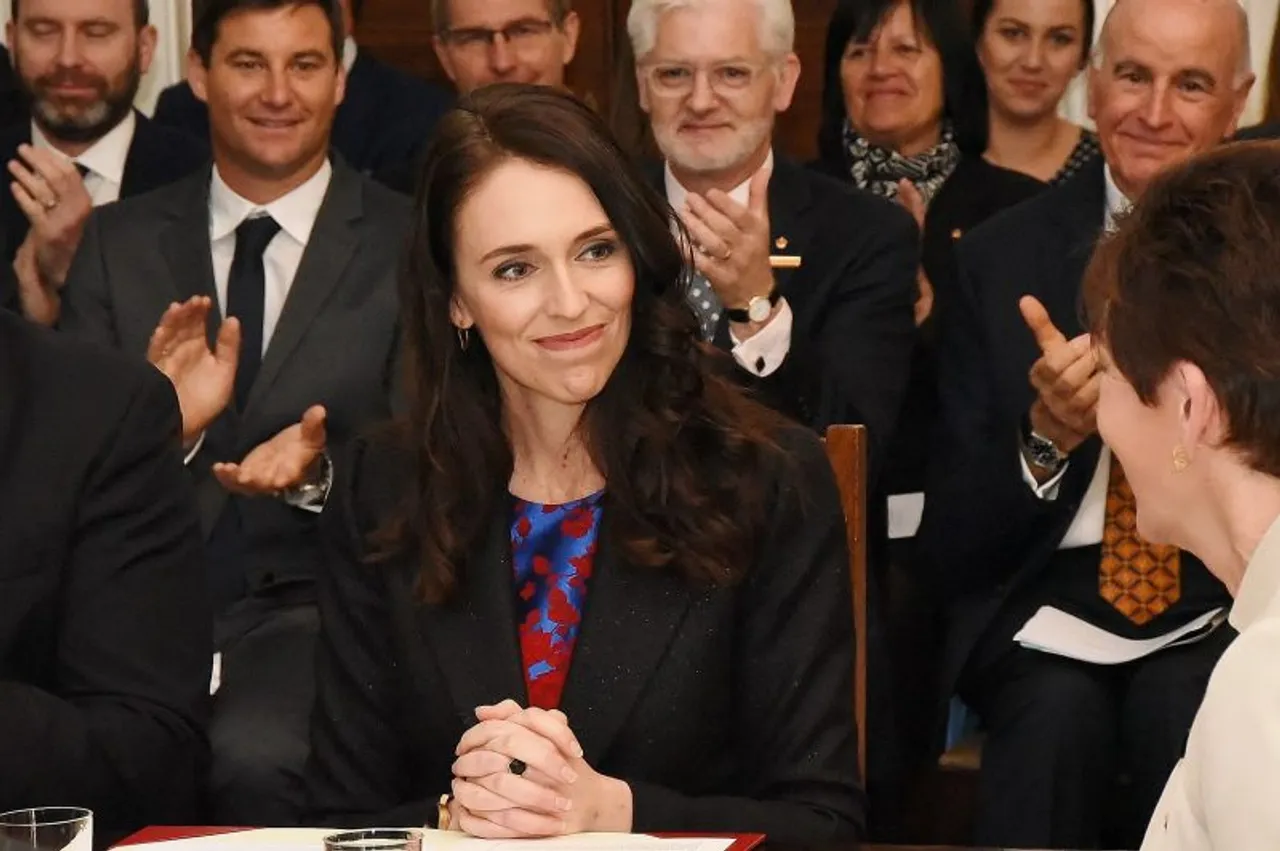 Jacinda Ardern, New Zealand's youngest Prime Minister ever, won a second term at the office last month. Ardern's left-centre Labour Party won 48.9 per cent of the 87 per cent votes cast in the election. Post her landslide victory, Ardern has now revealed an "incredibly diverse" cabinet with "huge merit and talent."
Here are ten things you must  know about Prime Minister Jacinda Ardern's new ministerial line-up:
1. Former finance minister Grant Robertson has been appointed as the Deputy Prime Minister. He is the first openly gay person to hold the prestigious position.
2. The country's new foreign affairs minister is Nanaia Mahuta – the first indigenous female to hold the position. Four years ago, she also became the first female member of parliament to sport a moko kauae, a traditional tattoo representative of New Zealand's indigenous Māori community, on her chin.
3. Women leaders make up approximately 50 per cent of the country's new cabinet. This figure is starkly higher than the global average of 25 per cent.
4. Additionally, around ten per cent of the incoming parliamentarians openly belong to the LGBTQ community. With this feat, New Zealand has beaten the United Kingdom which has seven per cent of openly gay parliamentarians in the House of Commons.
5. The new cabinet includes former Health Minister Chris Hipkins assuming the new role of minister for COVID-19 response.
Also Read: Jacinda Ardern Apologises For Non-Socially Distanced Selfie, And Why That's A Mark Of True Leadership
6. Jacinda Ardern has also appointed two Green Party lawmakers to ministries outside the cabinet: James Shaw will become climate change minister and Marama Davidson's portfolio will focus on preventing family and sexual violence.
7. The cabinet, constituted by a total of 20 members, includes five Māori and three Pasifika legislators.
8. Ayesha Verrall, a new member of parliament and an infectious disease doctor, was brought straight into the cabinet. Notably, Verrall served as one of Ardern's principal scientific advisers for the government's response to the COVID-19 pandemic.
9. Priyanca Radhakrishnan, hailing from Kerala, has been appointed as New Zealand's first-ever Indian-origin minister. She will manage the following portfolios: Minister for Diversity, Inclusion and Ethnic Communities, Minister for the Community and Voluntary Sector, and Associate Minister for Social Development and Employment.
10. Talking about her new cabinet, Ardern said, "I think one of the amazing things about New Zealand is that we are often in a space now where all of these questions (about diversity) often become secondary. The representation is there. And that is not the first consideration."
Also Read: No New Cases In 12 Days. New Zealand PM Jacinda Ardern Removes COVID-19 Restrictions Again
New Zealand's new parliamentarians are all set to be sworn in on Friday, November 6.
PC: WikiCommons
Tarini Gandhiok is an intern with SheThePeople.TV