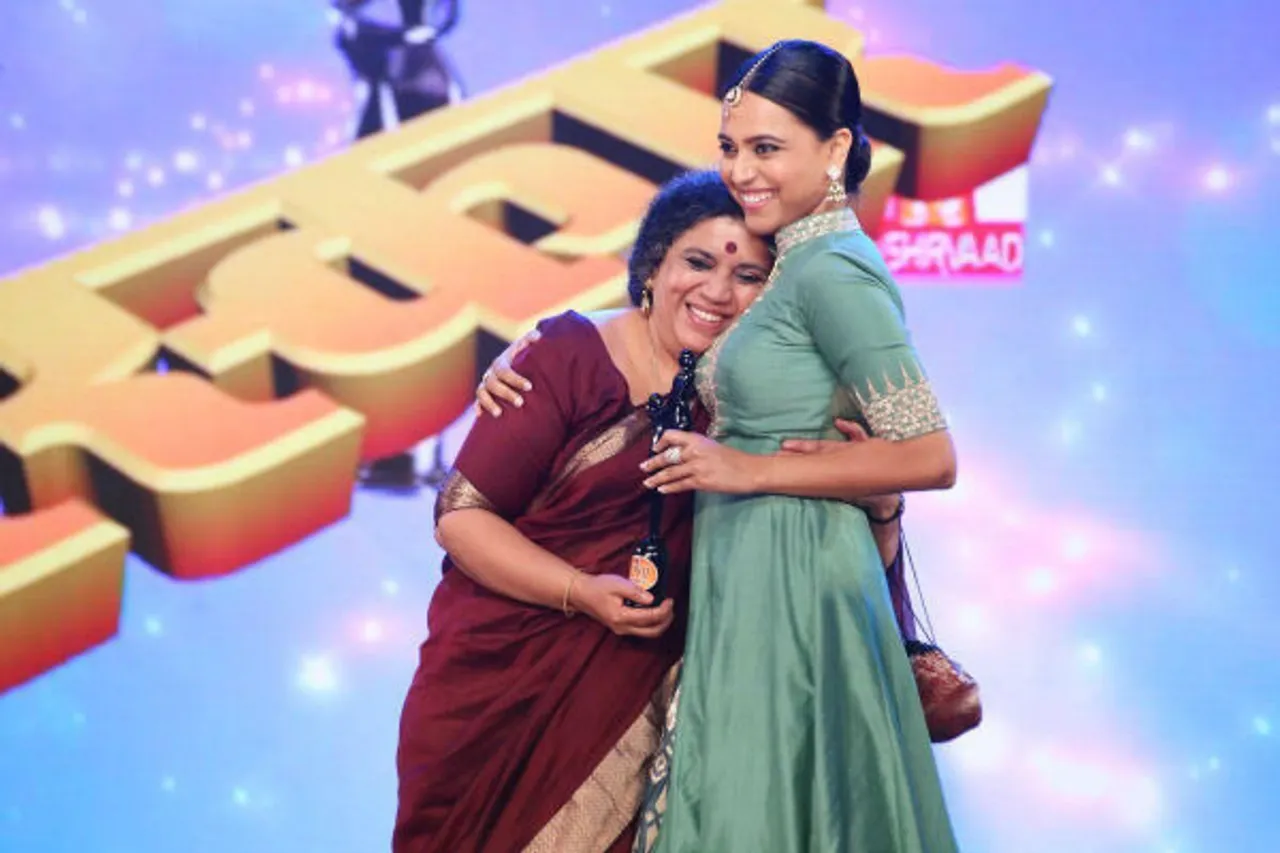 Mothers today know the importance of accepting female sexuality. Trolls, listen up! Since the film 'Veere Di Wedding' released weeks back, Swara Bhasker found herself facing trolls criticising the actress for her masturbation scene in the film. But criticism apart, Bhasker is being lauded for essaying such a bold character that isn't the "stereotypical" girl.
Amidst the online banter, Ira Bhasker, a film historian with a PhD from the Tisch School of Arts, who is also a professor of Cinema Studies at Jawaharlal Nehru University, embraced her daughter's courage to portray a bold character. She said she's Swara's proud mother.
Though Ira didn't specifically comment on the masturbation scene in VDW, she did speak up about female sexuality in general and more
In response to a question about her observation of female sexuality or pleasure being depicted on screen over the decades, she replied to TOI, "Let me begin by saying that sexuality per se in Indian cinema is not a subject that has been directly expressed. At the same time, historically, our cinema is unique in the sense that it has developed, over the years, a very complex and refined idiom on eroticism. And that idiom is the song."
READ: Women-Centric Bollywood Movies In 2017
She added, "A lot of things that can't be addressed directly can be addressed through the song. Be it the Hindi film song, or the Bengali film song. Malayalam or Tamil. You don't find this anywhere else—as a fundamental and defining feature of the form itself. A lot of the articulation was done through song. Emotional articulation. Articulation of what is tabooed. Sexuality and eroticism."
The film proved out to be an eye-opener in a male-centric industry, continuing to receive mixed reactions. In the film, Swara uses a vibrator to her pleasure. While many in the audience have loved the iconic scene and her performance throughout, a critical-minded section certainly saw it as "unacceptable" and "cheap".
READ: Will we Find a Perfect Film on Sisterhood in Veere Di Wedding?
Adding some examples to the conversation, Bhasker said, "Just think of 'Mughal-e-Azam': in that song 'Jogan Ban Chali', that word 'jogan' actually is Meera—the one who has renounced the world for her lover. So this completes dedication to the object of your passion. What is that but female desire? These films didn't have direct representation of sexual act or the act of lovemaking. Mahesh Bhatt has said that the most erotic sequence in Indian cinema is that of Dilip Kumar stroking Madhubala's face in close up in 'Mughal-e-Azam'."
This is the first time over a hundred years of the industry's existence that an orgasm scene has officially been displayed that boldly. There seems to be winds of change in Bollywood!
Feature Image Credit: Indiawest.com
READ:Women-Centric Bollywood Movies In 2017