Our first association with a saree is often linked with our mothers wearing them. And if you are a Bengali, a likely picture is that of your mother dressed up in a cotton saree, often tattered, rushing out of the kitchen to reprimand you for something and anything under the sun.
We met Dr Rima Ghose Chowdhaury to talk about her love for sarees.  Rima too recalls a similar image of her mother. She says, "Never did I see her in anything other than a sari, the ultimate Bengali obsession. It was not only a sari, it  was an amalgamation of an emotion called mother, with  tactile, visual, olfactory (the sarees would have a hint of  haldi / coloured spices due to the yummy dishes she would  enjoy cooking for long hours), all rolled into one. Maybe the initiation into the world of sarees was so inevitable, natural, that remembering that moment of 'love at first  sight', now, is impossible."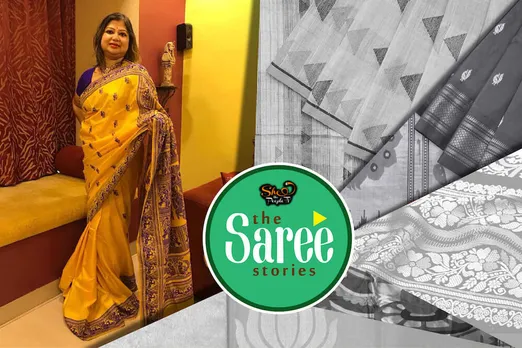 "I don't exactly remember when my love affair with the sari started. Maybe the soft rustle of the cottons my mother would wear at home or her school attire speaking volumes of her classy wardrobe every day or her elegance in those special drapes on special occasions. Somewhere in between probably the influence started in the subconscious. "
Rima said her attachment to the garment is both emotional and rational, and has been shaped by the different stages of womanhood and different highs of professional and personal life.
In her day job Dr Rima Ghose Chowdhaury is responsible for driving transformation in the area of People Development. However, she proudly calls herself a homemaker, mother to a 10-year old daughter.
The first brush with the sari
The first brush with the sari, though, is  clearly etched in the memory, since it was quite funny. I was 4-5 years old, up on the stage for a concert organized by my dance. The saree was draped in folds and pleats around me. Playing the role of a deer in the forest (we were enacting the episode in Ramayana related to Mareech, the deer who lures Sita out of the Lakshmanrekha). Along with the sari, I also had a headgear which was like a pair of  horns. Unable to decide which 'discomfort' I  should focus on more – the deer's attire or the horns, I chose to focus on dance instead. Phew! off came the horns within a minute of my stage entry. I continued undaunted, without the horns, much to the amusement of the  audience.
Pat came pleasantly the realization at an early age that sari definitely can be a trusted friend.
The first sari as a gift from my mother was a black Dhakai jamdani. Ma is no more but I still feel  her presence through such textile gems.
Also special is one gifted by my husband (not acquired that status then) for the  first time with his first earned salary. We were both fresh Engineering graduates. Back in 1997 my husband left  Kolkata for Ahmedabad to start his stint in the Corporate. It was a Baluchari, an amazing Bengal creation in yellow and  violet, depicting an epic on the  pallu. Obviously like the  Dhakai, this will also have a permanent place of honour in my wardrobe. And surely will be passed through generations for sure. Incidentally, Rima started off her work journey in shopfloor making chemical disinfectants.
A serious saree aficionado, Rima says, " My wardrobe with 200+ saris by now, boasts of all hues and shades. Regular cottons to the ones with unique creation value and lineage - arhi, kantha, ikkat, gadwal, banarasi, chiffons, kanchivarams, Bengal  handloom (Tant), tangail and so on. Much as I love my western outfits, I do believe that a woman looks most elegant in a saree. I have flaunted it even in meetings in other countries in multi-cultural settings. It has always drawn admiring glances and compliments and enhanced the mystic and exotic essence of our country."
When Rima is not donning her corporate hat, she is an avid traveller, with an overwhelming love for food and culture, discovering the joy of blogging and breaking stereotypes and prejudices as she goes along.
As a parting note Rima urges,"Go for Indian weaves and explore your elegant best."
SheThePeople.TV is meeting with women who love their sarees, and believe in the power of looms. Have a story? Share it with us – write a note in the comments, and we will be right in touch.