Climate Change, Food, Waste, Water, Wildlife are the topics covered in So You Want to Know About the Environment by Bijal Vachharajani.  Each section covers the subject matter, various fun facts, exercises and experiments/ projects to be done by the reader.  The subjects are dealt both in a macro and micro manner in terms of immediate and long-term impact. A simple question like what happens when you bin a tetra pak after drinking the juice? This is explained thoroughly explaining recycling, giving it a visual imagery. It follows up with action points one could take for recycling waste.
I loved the concept of encouraging children to eat a veggie for each season using a colourful calendar. Not only it encourages one to ingest nutrition, but also it saves transport costs if one is using local produce.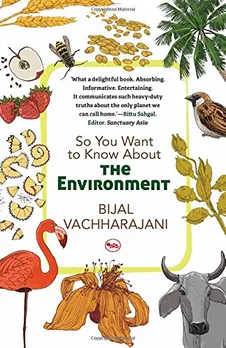 PC: Amazon.co.in
My Thoughts
My children have been reading about environment in both biology and chemistry. Between the two subjects they have dealt with air, water pollution, waste management and recycling and food chain and the importance of conserving and not wasting food and pollution. This book is a great way to reinforce and test their knowledge and in a way tell them that these concepts covered in subjects could be fun too.
My grouse with the education system is that they do not teach practical knowledge and this book is one way to expand their knowledge avenue.
Interesting aspect is that in the first chapter itself, the author has covered geography, chemistry, English (fog + smoke= smog) and mathematics (graph)l. What better way than this book to connect the dots of education system?
The format of the book is like the bullet journal or notes one makes in class several boxes/ clipped notes, space to take notes, facts, did you know, illustrations and experiments.
It is a thoroughly interactive book. It also gives pointers on what actions one could take and I think it is a great way to involve children in environment conservation.
Readometer
Lucid and interesting way to teach children about history of economics
Cover
 I loved the white background and the look and feel of the cover very elaborate and detailed
Interesting different illustrators for both books in the series have captured the theme of the cover.
Title - So You Want to Know About the Environment
Author - Bijal Vachharajani
Illustrator - Sayan Mukherjee
Price - Rs 195
Publisher - Rupa, Red Turtle
Children - 12-16 years

Ever wondered what it is like to live on a planet that's a few degrees warmer, or how wasting food is similar to flushing water down the drain? So You Want to Know About the Environment looks at climate change, food, waste, water and wildlife; explains scientific concepts and asks important questions. Packed with facts, jokes, activities and stories from people working in the field in different parts of the world, the book will make children analyze, explore, love and respect the environment.
Riti Prasad is the author of Double Trouble, Double Fun!: A Supermom's Guide to Raising Twins, Wicked Temptations and Mathematics Fun, Fact and Fiction. She works in the Fragrance Industry as Creation Head.
Also Read: Arthi Anand on Michaela DePrince's Memoir Taking Flight
Love books? Follow authors? Join the SheThePeople Book Club On Facebook. Click Here