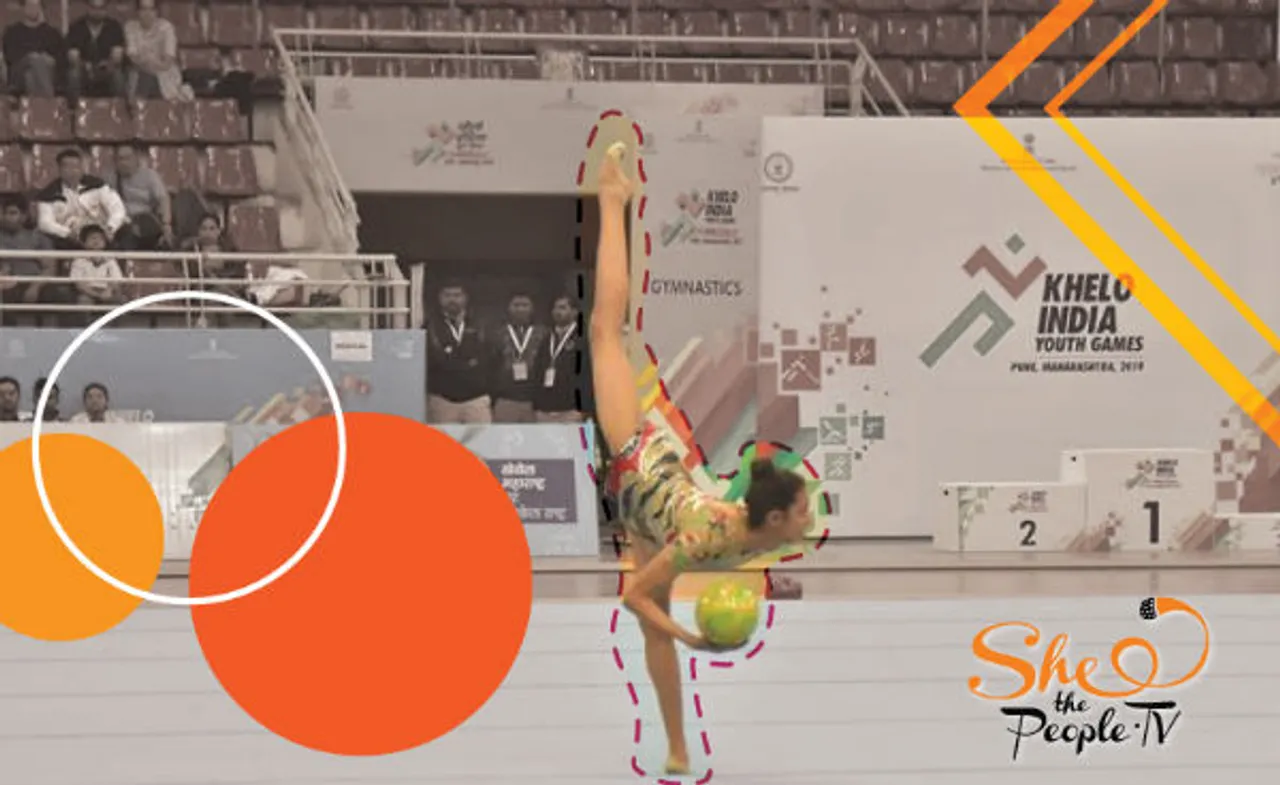 Budding gymnast Bavleen Kaur, who hails from Jammu and Kashmir, has won in every single category that she participated in at the Khelo India Youth Games this year. She won five medals overall – three gold and two silver, and was the star performer for her team. She became the face of the rhythmic gymnastics team with her wondrous performance in the ball, ribbon, clubs, and hoop events.
Bavleen had bagged four medals at the Khelo India School Games 2018.
Bavleen, who turned 16 this year, credits her success to her coaches Krupali Patel Singh and S P Singh. She is already making waves in the local gymnastics scene, as her gold medal in the all-rounder category came with a score of 43.40 where she left behind Maharashtra's Shreya Bhangale and Krisha Chheda. The young athlete says she wants to work harder now, to win a medal for the country in the 2022 Commonwealth Games.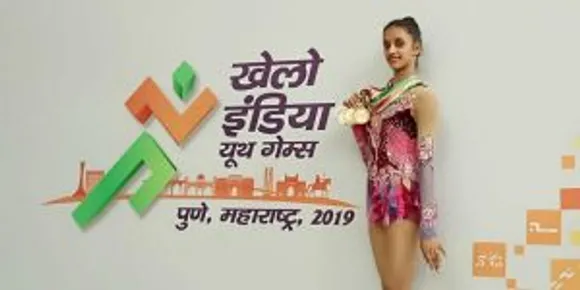 Rhythmic Gymnast Bavleen Kaur at Khelo India Youth games
Off balance, Bavleen talks to SheThePeople.TV about the details of her life, in and out of the gym, and much more. Excerpts of the interview
Tell us about your childhood and what personal inspiration led you to become a gymnast? 
When I was just 8 years old, one day my father took me to a stadium and asked me which sport I would like to play. At first, I was clueless, until I saw some girls doing beautiful moves with ribbon. It was actually the beauty of the sport which attracted me towards it and as a kid, I found it elegant. The girl stood there elegantly, and soon started performing rhythmically as the music starts. I couldn't stop admiring the gracefulness of the sport. So, I chose gymnastics, and immediately fell in love with it.
What were the challenges you overcame before making it to the Khelo India list?
I was highly ambitious from the very start. This special form of gymnastics has its own perks and struggles. A gymnast trains for several hours, months and years before making it to any competition and so did I.
Soon I was aware that the training period is not that easy . That it's not a sport. It's a culture. A lifestyle. It will take years of hardwork to be able to master its beauty.
It takes your heart and soul to train and pain comes as an added bonus. I never knew that I could do this but it was my coach who supported me and showed confidence in me. I was encouraged whenever I was losing confidence in myself and that's what you need, a constant lifeline to practice this elaborate routine.
How did the first gymnastic act feel like?
Rhythmic gymnastics has a lot of leaping and tossing. So obviously I was nervous but I told myself before going to the podium that I will make an effort no matter if I fail or fall. We gymnasts go through painful and exhausting strengthening exercises. And that all starts with hours and hours of training and practice. So when finally it's time to do perform I felt a certain comfort.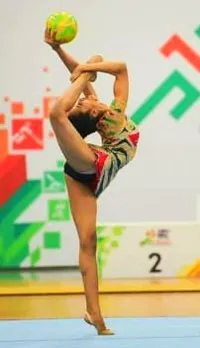 How did your life change with gymnastics?
Gymnastics has given me something which I never thought I could ever achieve It has changed my perception about life and it has given me confidence in myself. It is an art form, and the way one's body has to move in rhythm, it strengthens every muscle. It made me stronger, more flexible. The delicacy and grace gave me the power of controlling my mind in a stressful situation.
Gymnastics teaches you a way of life.  It teaches you patience. It teaches you how to express yourself. More importantly, it teaches you discipline.
How is the gymnastics scene in India for women? Why isn't it popular among women here?
Rhythmic gymnastics is a women-oriented sport though now in some countries like Russia it has started for men too. In India it is not so popular yet.
What makes this art even more special for me is that I feel like a warrior, even while practicing. It is an under-appreciated sport. In my case, my coaches helped me grow despite the lack of adequate training facilities and equipment back home. But that's not the case for all the gymnasts. I was ensured safety and had to focus solely on my game while they took care of the rest, but most girls in India lack such a backing. They are given virtually no respect or recognition. Because nobody is ready to sponsor an underrated sport.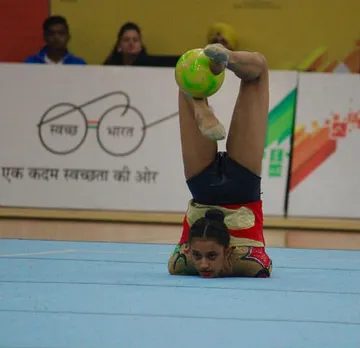 The stadium in Jammu, where I practice does not have the best of facilities for gymnasts to train regularly. Like most athletes, we practice on normal mats.
READ: 'My Story Had To Be Told To More People', Dipa Karmakar On Her Book
Any advice for young girls like you?
I just want to say to all those young girls from my state or others that you should keep going no matter what the society thinks or says about you. It's your life, your ambition and your dream, so you need to work hard on yourself.
Gymnastic is what I live and breathe, and I am aiming to represent India at the 2022 Commonwealth Games. 
What do you think before the performance?
Before the performance I just need to think that I am here to give my best and rest is in the hands of the all mighty.
What are the biggest challenges you face now?
Not just me but the biggest challenge faced by almost every sportsperson is the lack of facilities at the stadiums or academies. It takes a lot of pain, practice and patience to master acrobatics and gymnastic forms with balls, hoops, clubs, ropes, and ribbons. My life depends on it now.
Many times we need to go abroad for training but because of the lack of sponsors, it becomes tough to spend so much money all the times.
Another challenge is getting appreciation from the society. People often ask me questions like why go through all of the hard work if there's zero guarantee of success? How would you earn a paycheck? Everyone labels us as "ribbon dancers" and compared us to "circus" members, but Rhythmic gymnastics is way more empowering and a lot more elegant than people give credits to.
How do you balance life?
My parents are very supportive so I don't have much trouble handling all the things, but managing studies with sports becomes difficult at times.
What has been your most touching or amazing moment?
The most amazing moment of my life has to be counting each second before every performance, standing on the podium, before the actual performance starts. The unwavering gaze of the judges, I am about to perform a routine that could last over a minute, but feels like a lifetime.
What do you think India lacks in terms of appreciating all kinds of sports?
India lacks in terms of providing proper facilities and infrastructure but now things are improving slowly. Despite the talent and hard work, only a handful of rhythmic gymnasts get to live the Olympic dream. We need to have safe and secure facilities where we can put in hours of training and hone our skills. Otherwise, they are just wasted.
A rhythmic gymnast owns the floor, letting everyone believe that everything's going to be as systematic as she planned.
How sports, in general, has liberated women in the area? Do women now seek to take up Gymnastic professionally?
Yes, many gymnasts do take up this career professionally. And in general, not only gymnastics but all other sports give women a sense of freedom. I say it's very brave of us to stand up to the pressure, at this young age, full of doubts and fears. But in the end, I know that I have given my best under any stressful situation. And that puts a smile on my face. The confidence it provides me makes me indestructible, no matter what the result says.
Feature Image Credit: Bavleen Kaur