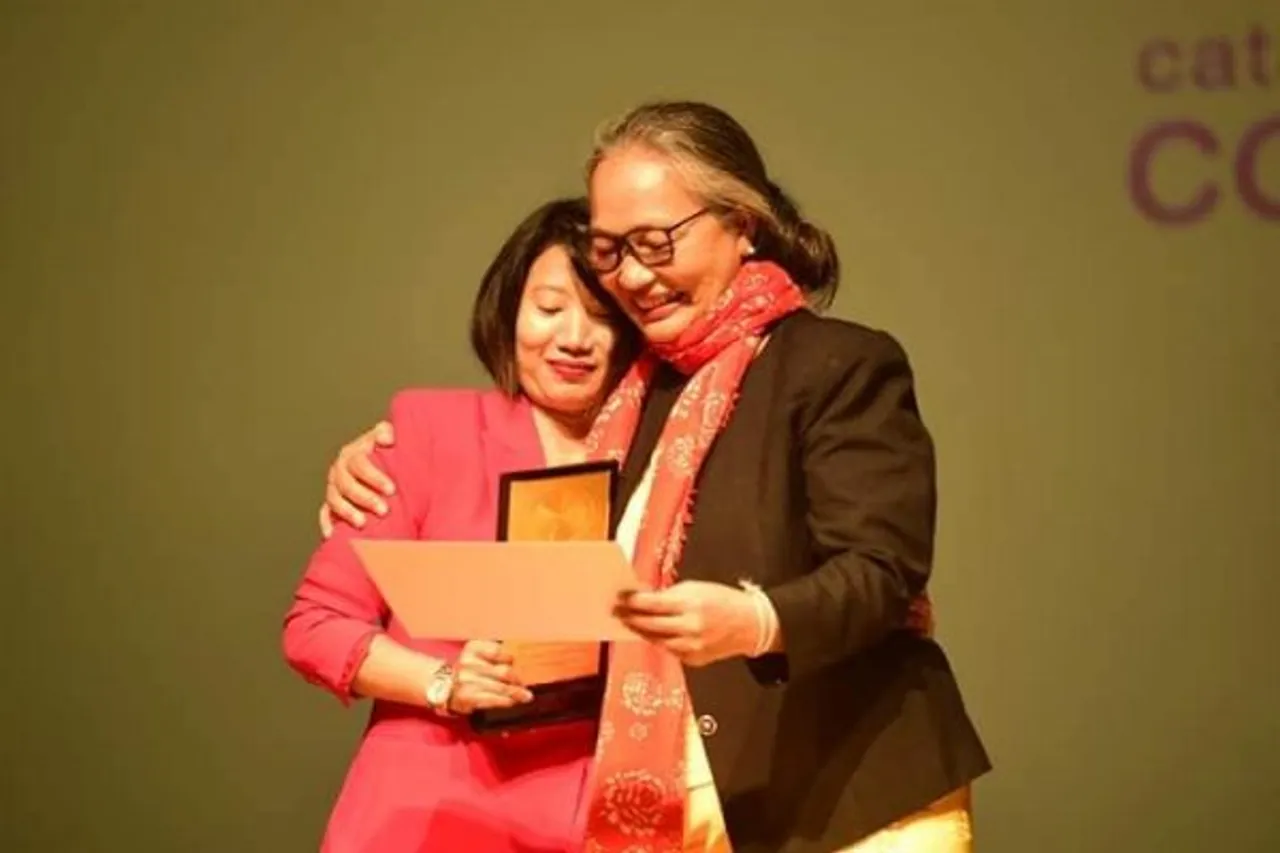 Ngurang sisters Meena and Reena, who come from Itanagar in Arunachal Pradesh, are championing empowerment, leading by example in a society that labels women as the weaker sex. At a recent event held in Itanagar, the duo projected an image of not being intimidated by the dominant policies and laws that provide women minimal opportunities in AP, with their fierce words.
Having lost their father, who was allegedly murdered in November 2017, every step the Ngurang sisters have taken since is aimed at seeking justice for their father. However, the sisters have also taken a stand against various social challenges in North-East India faced by tribal women. They founded Ngurang Learning Institute, a non-profit foundation, working towards creating a better world for the tribal women of Arunachal Pradesh, in the year 2014.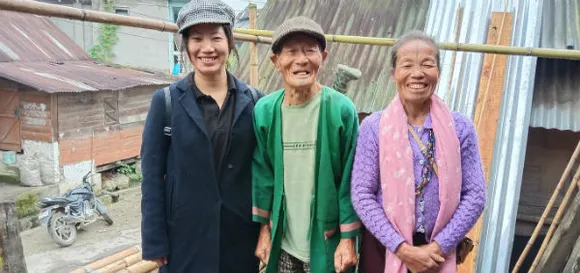 Ngurang Learning Institute is Discovering the Unsung Sheroes of Arunachal Pradesh
Ngurang Learning Institute organized the 2nd edition of 'Catalyst of Courage' on 23rd November. The event was a charity show held to celebrate womanhood and discover unsung sheroes of the society.
"The event is a brainchild of my father, late Ngurang Pinch, former MLA and Chairman of Arunachal Pradesh Agriculture Marketing Board, conceptualized in 2016 to celebrate motherhood. I am glad to be continuing his vision and mission to empower women in AP," said the founder of NLI, Ngurang Meena while addressing the audience. Talking about the discrimination and harassment faced by women in North-East, she added, "One day I found out that in a rural area nearby, labours go to work day and night without warm clothes in winter. I started collecting old clothes from my neighborhood while local kids engaged with me admiring my work. Suddenly, two women in the area asked me, hesitatingly, are you willing to teach us basic English? I asked then the reason so they said they want to help their school-going kids. Since they don't know how to read and write, the basic daily duties including dealing with bank affairs and meeting the teachers become a tad bit difficult. They thought it was necessary to have a basic education. As kids, these women were not allowed to go to school because of the social norms. They are victims of child marriage, polygamy, etc. Hence, the institute was established to help and empower those women who are underprivileged and a part of this society's injustice."
Also read: Challenging the system: Some gutsy women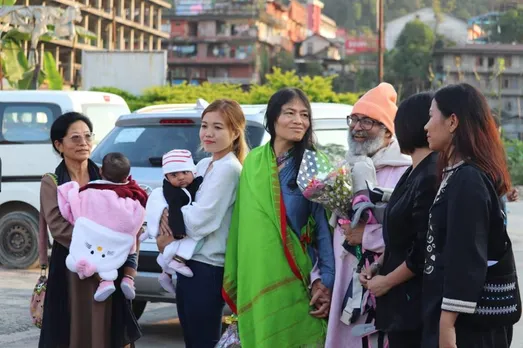 Irom Chanu Sharmila with family arrived at the event in Itanagar
"​How can we channelize the anger into one big movement? Ngurang sisters are showing us how. When it comes to support the fight for justice and women welfare, I always stand beside those who have been wronged," said activist-turned-politician from the state of Manipur, Irom Chanu Sharmila who was present at the event.
Very happy to announce that we have successfully completed our #Catalystsofcourage2 in #Arunachalpradesh with @Iromsharmila @Jarjum28 @HasinaKharbhih @jameswanglat @Ngurang_Reena @NatungMama #tribalwomen #tribalwomenstories #womenempowerment @hrw #iromsharmila #ironladyofindia pic.twitter.com/PvsIdaibTk

— Ngurang Learning Institute (@NgurangI) November 25, 2019
The event also held a discussion on Tribal Customary Law and Women's Rights in North-East in which women were educated on the laws that support them and the customary laws they deserve. Expressing concern over the patriarchy in AP, socio-political activist Jarjum Ete structured a conversation to help the attendees understand women's rights related to land, property, inheritance, and such. Human rights activist Hasina Kharbhih urged people to fight against polygamy and its implications on the tribal society.
Thank you @SheThePeople for being our digital media partner for our #catalystsofcourage2 in #ArunachalPradesh https://t.co/HugViX8ZXk

— Ngurang Learning Institute (@NgurangI) November 25, 2019
So, how can women empower themselves especially in a part of the state where their rights aren't considered important? "Women here are submissively underestimated and the shocking part is that they willingly participate in the injustice towards them and their children. We encourage them to stand up against the patriarchal society that is biased to men. However, losing a shelter, losing respect of loved ones and abandonment issues from society keep them in those societal evil cages. When we start talking about conservation, motivating girls from remote corners to pursue education and fight for their rights, they resist. Shockingly this revolution we started here branded us as anti-social but we could never stop doing what we do even when sometimes it's hard to keep up. There were times when we thought of giving up because it takes a toll on both of us, especially Meena who is my elder sister. She has faced worse, more than I can imagine and she is the pillar of my strength, and we gather the ultimate strength from our late father. We can't give up now because nobody else is going to come to fight for us," Ngurang Reena explained.
READ: Men See Northeastern Girls As Easy Women: Ngurang Reena, #Bold
When the constitution is equal for all in this country, are the legal rights balanced out equally? It's time that we have good practices of customary law. Women should be included in the decision-making, says @HasinaKharbhih, Human rights' activist @SheThePeople @NgurangI pic.twitter.com/lxLKcrhYqO

— Ria Das (@RiaDas3) November 23, 2019
We can't give up now because nobody else is going to come to fight for us. - Ngurang Reena
"We've covered and visited villages which are not in the media's radar. We try to spread the message of women empowerment. The work of activism is hard in the area since women activists aren't taken seriously here. But gradually, the girls are learning. Motivated from seeing us, we managed to bring in young volunteers. And, now when we visit remote places, we can spot the changes in their lives. It will take time and we are moving forward," added Ngurang Meena.
Ngurang Reena gracing the stage as always
"I always take pride in the fact that we sisters are the first generation women coming from the family and going to pursue higher education. As tribal women and young activists from AP, we have tonnes of responsibilities on our shoulders. Tribal women like us are stepping out to give life a chance to endeavour more, it's a very different kind of experience altogether. The world is unfamiliar, way developed than what we are brought up as. We go through everyday challenges and yet we discover ourselves," Reena added.
Also Read: Punish the customer, not the women: Activist Ruchira Gupta on human trafficking laws in India