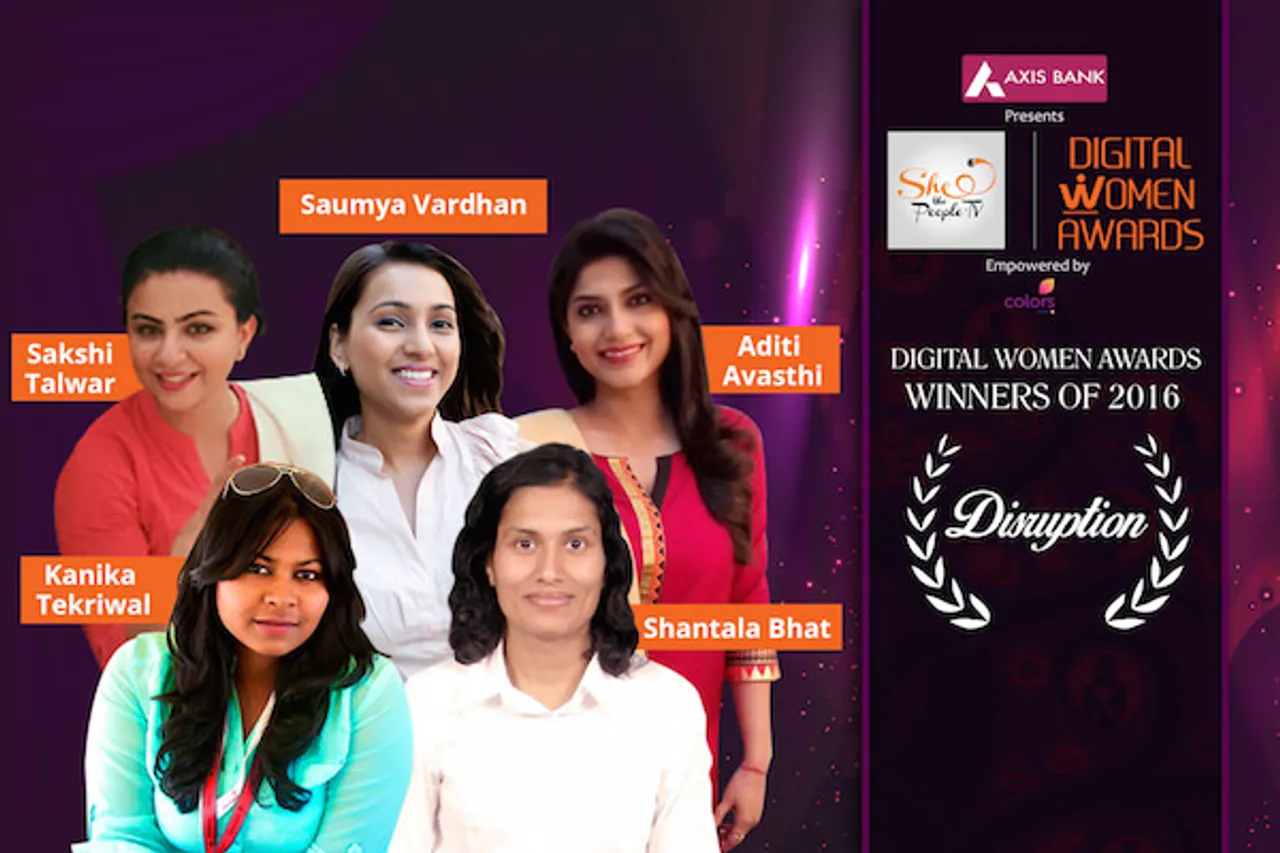 SheThePeople.TV hosted its annual Digital Women Awards on November 13. The Awards aim to put the spotlight on women who are leveraging the online world to create businesses with impact.
Jury members included Manipal Chairman Mohandas Pai, Managing Director of TPG Growth, Anjali Bansal, Akila Urankar from Business Standard,  Facebook India's Director of Public Policy, Ankhi Das, Lara Balsara of Madison Media and Shaili Chopra, Founder of SheThePeople.TV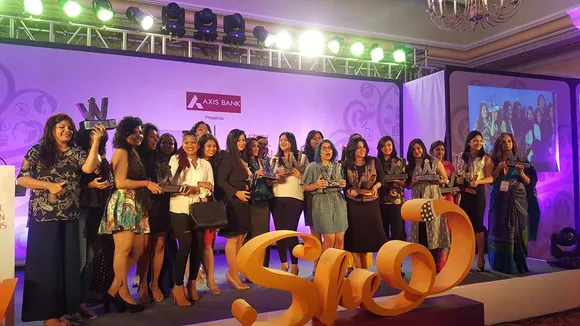 Digital Women Awards
Digital media has the power to disrupt old business models and create new areas of creating value. Here are the ladies who won this year's awards in the 'Disruptor' category.
1. Shantala Bhat - She won the award for Niche disruptor for founding Gamatics.in. Gamatics is a marketplace for high-end sports equipment. It also has an analytics platform, wherein coaches can measure athletes' performances.
2. Kanika Tekriwal - She is the founder of JetSetGo, India's first marketplace for hiring private jets and helicopters, and has won the Innovative Disruptor Award.
"The digital womon entrepreneur is going to change the way the world lives -- what we are witnessing is just the beginning," Kanika told SheThePeople.TV
3. Aditi Avasthi- Avasthi won the Disruptor award for Maximum Business Impact. Her company, Embibe, seeks to help coaching institutes prepare students for entrance exams such as the JEE, BIT SAT, NEET, AIMS.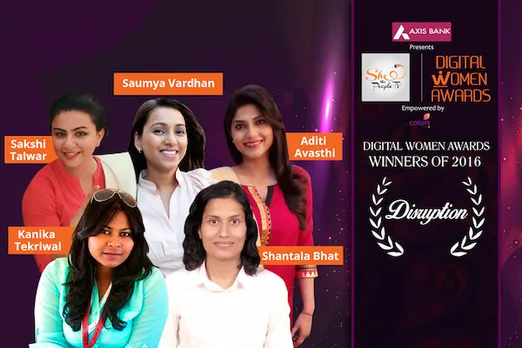 Winners of the Digital Women Awards
The company's analytics engine provides feedback on a host of factors—the average time a student spent on a question, what concepts were consistently answered wrong, etc. It can predict students' final scores, said Avasthi.
"Embibe has single-mindedly believed in the power of data science and tech to transform education," she told SheThePeople.TV
4. Saumya Vardhan-  Vardhan won the award for Best Service Disruptor. Her company, ShubhPuja aims to organize the unorganized religious services sector.
"Being a Digital woman entrepreneur has enabled me to break the norms by scientifically and technologically revolutionizing the traditional puja industry," Saumya told SheThePeople.TV
Her website makes finding pandits easier and also allows Hindus from around the world to schedule and participate in rituals customized via Skype, Facetime etc. According to the website, you can now 'connect to God in one click'.
5. Aditi Prasad - Prasad won the Tech Disruptor award for her company, Robotix. The company uses Robotics as a tool to develop STEM (science, technology, engineering and math) skills. They provide robotics education programmes in K-12 schools by combining a customized curriculum, integrated into the school's programmes, with innovative robotic technology from around the world. The USA division has a robotics product, PHIRO, for children between 4-18 to learn problem solving, coding, robotics and computational thinking.
6. Sakshi Talwar - Her company, Rugs and Beyond, aims to organize the fragmented carpet weaving industry in India. Talwar who won the Creative Disruptor Award started her e-commerce company so that she could connect local carper weavers to customers around the world.
"Rugs and Beyond truly supports local weavers and talented craftsmen in their endeavour to produce the finest handmade carpets in the world. It is so important to empower these weavers, especially women who put in their heart and soul to make these One-of-a-Kind Rugs" Sakshi told SheThePeople.TV.