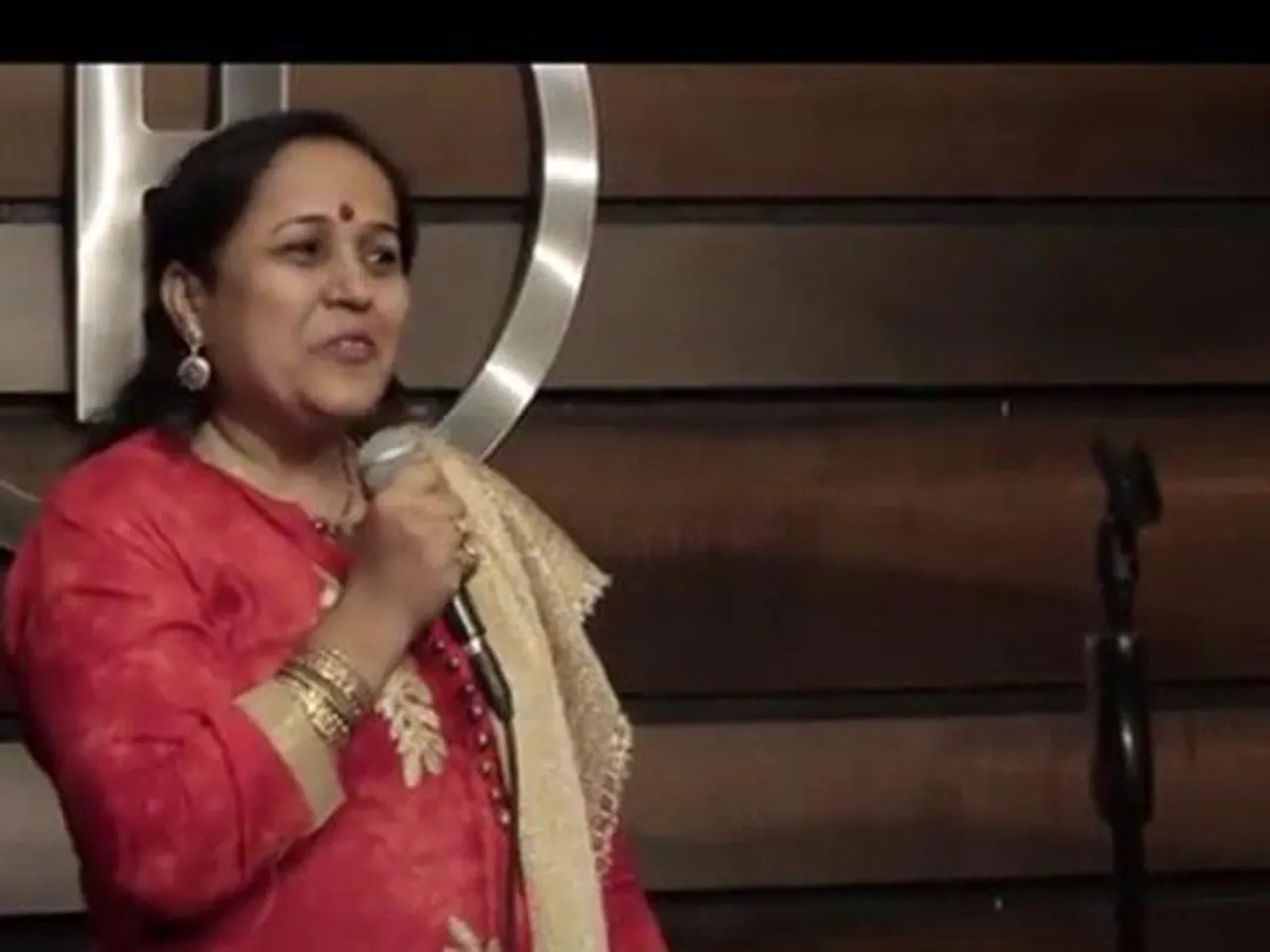 We often see comedians taking a dig at the antics by their household help. But in a volte-face, a domestic help is now spreading laughter from the other side of the mirror. Deepika Mhatre, a 44-year-old maid-turned-comedian, has become the latest comic sensation in Mumbai. Shethepeople.tv spoke to Mhatre to know more about her journey and struggles.
How Stand-up comedy happened
Mhatre, a mother of three daughters, shared her exceptional journey of transitioning from a house help to ruling the mics. She said, "My very first interaction with the mic happened last year on Women's Day. My employer, Sangeeta Vyas, for whom I worked as a maid, had organized a talent show for all domestic workers in the housing society. While some chose to sing and dance, I decided to exhibit my talent on the mic via comedy."
"When I performed at the talent-show, I was applauded by all. A journalist, who was present in the audience, was impressed by my talent and recommended that I should take this further. She then introduced me to Aditi Mittal. And since then I have started doing stand-up."
"After the talent-show, Aditiji came to meet me at Sangeeta madam's house. Initially, I had no clue about who she was. I was under the impression that she is Sangeeta madam's friend," recalls Deepika.
She added, "Aditiji then spoke to me about continuing comedy further and doing shows on stage. Initially I was reluctant, saying that I wasn't capable of it. Doing household chores is my strength and I'm comfortable with it. But, Aditiji was very positive that I have immense talent and can do well in the world of comedy. Sangeeta madam and Aditiji motivated me to grab the opportunity and give it a shot. They believed in me, which gave me to courage to try my hands at comedy."
Her first show
Talking about the experience of her first show she said, "Post my meeting with Aditiji at Sangeeta madam's house, I visited Aditiji at her place several times. We used to chit-chat and gossip a lot. We both are fun-loving and happy go lucky people, so this common bond added to our liking for each other. Since I had never done comedy professionally, I was completely naïve at it. Aditiji taught me how to properly write a script and practise before taking the stage."
She elaborates, "Many people ask me if I was nervous during my first stage performance. But, how can a woman who has always been around crowd, have nervousness or fear? I have been selling imitation jewellery in local trains for years, and being with dozens of people is quite normal for me. So, there was no such nervousness. All I believed in was doing things from the heart. This automatically gives confidence."
"When I used to visit Aditiji, we used to have so many things to talk about and share. Back home, I would tell my kids about meeting Aditiji. There were confused as to whom I was talking about. As mentioned before, when I met Aditiji, I was not aware that she is a celebrity comedian. So, one fine day, when I visited her, I recorded a short video and showed it to my kids. They were shocked and surprised that I'm hanging around with a celebrity. They showed me Aditi's YouTube channel and her followers. It is then that I understood who I was conversing with almost on a daily basis."
Her Daily Routine
Mhatre is an early riser. Her day starts as early as 4 am. She takes the 4:30 am local train from Nalasopara station to Churchgate. Besides being a maid, Mhatre sells imitation jewellery in train compartments. She would open her big bag to sell imitation jewellery to ladies travelling in the trains.
"I used to keep changing my trains, from one compartment to another. Till 7 am, I would finish my morning business and would board a train to Malad," she said.
Read Also: Tamil Nadu Govt Sets Minimum Wage For Maids
Sale of imitation jewellery brings her a paltry Rs 300-400 a day. This amount isn't enough to run her house. That's why Mhatre works as a domestic help.
By 7:30 am, she would reach Sangeetha Vihar Colony in Malad, and cook food at five houses. After finishing her work, she would rush back home to do her daily chores.
Explaining her financial condition, Mhatre said, "I have to look after my husband and three daughters. My husband is an asthma patient and is not keeping well for many years. He used to work initially. But after some years of our marriage, he started to fall ill frequently. So I decided to take charge and run the house. He needs proper rest."
She adds, "It is only three months back that I had to quit my cooking job, due to my health conditions. My routine is so hectic that I start at 4am in the morning and only get rest at 12 at night. I suffer from diabetes and constant ankle pain. Now, selling imitation jewellery in trains is my only source of income. I hope that times will change, I've faith in God."
On her unique content
Talking about her brand of comedy, Mhatre said, "My content is entirely based on real life events. Whatever I see around, I turn it into comedy. I talk about the disparities that a common person like me has to go through in society. Comedy has given me a way to vent out my feelings that arise from the biases. It has given me an expression to bring out the reality with a pinch of humour. I will continue to make content that reflects our day-to-day lives."
When asked if she would like to take a jibe at politics and the government, she said, "Why not? I am not afraid of anyone. I speak about the reality that exists. No one can scare me. If I could take digs at my employers without fearing the loss of job, I wouldn't shy away from any subject. I believe comedy is the best way to touch hearts and souls and I speak my mind."
In the video that went viral on social media, Mhatre is seen talking about her "madams". She talks about how they haggle for a few rupees but buy expensive items at the mall without question. She also throws light on the class barriers in the society. "I am very special to my employers, they give me royal treatment. They have a separate lift, plates and glasses for maids like me. However, the employers don't mind eating the rotis I make. Irony isn't it"
Happiness of Appreciation
"I feel extremely happy and privileged that finally I am being recognized for my talent. After the show, I see people coming up to me and talking to me. While some hug me and pat my back, others have tears in their eyes after they realize that they've been treating their help the wrong way. am overwhelmed by the response."
She added, "When I initially started, my husband and kids said I should stick to my work. But now their attitudes have changed completely. My kids are proud of me now. All in the family support me and motivate me to continue further."
Speaking about her future aspirations, Mhatre said, "I would definitely want to continue my stint in comedy. It gives me happiness and I like it when people recognize me more than a maid. I've been getting calls from media houses for interviews. Not only from the country but I have received calls from New Zealand and Japan also. It is great to see that people are supporting and helping me move forward and flourish in the field.
But, I still am not very sure about comedy. Comedy shows do give happiness, but I get no money for it. I still have to work on trains to earn pennies. However, I will not lose hope and keep on trying my best, as I believe hard-work pays. Till date, my hard-work and perseverance has rewarded me, so I will continue."
"I encourage everyone to take inspiration from me and move ahead in life. If a common woman like me can bring about a change so can you."
Picture Credit: OneIndia Malayalam
Read Also: Pak's Sindh Province Grants Hindu Women Right To Remarry
Megha Thadani is an Intern with Shethepeople.tv