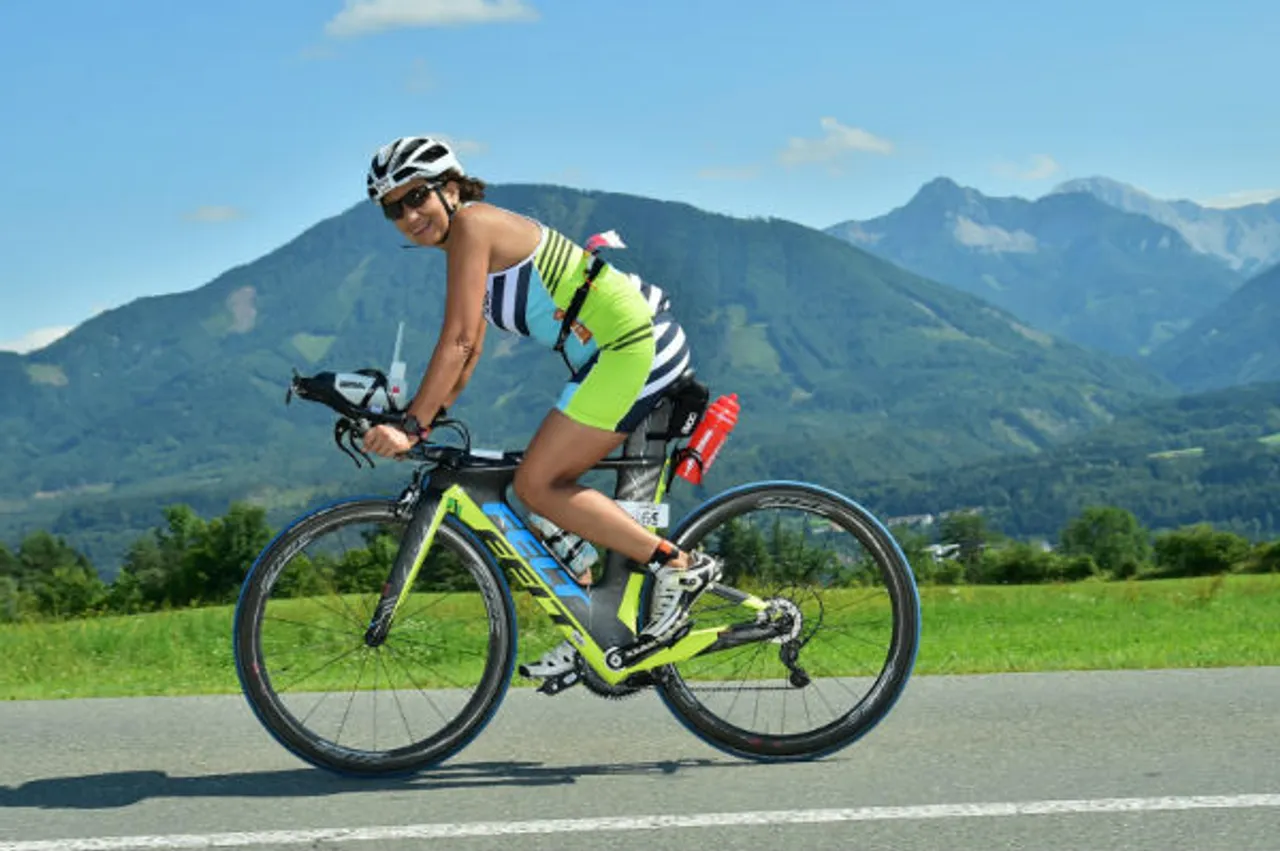 At 52, Anju Khosla participated in the 2018 edition of the Ironman Triathlon in Austria and became the oldest Indian woman to complete what is known to be the toughest one-day sporting event in the world. The event entails a 3.8 km swim, 180 km bike ride and a 42 km run. With 2761 registered athletes out of which 2312 crossed the finish line, Anju came 38th in her gender-age category.
 Anju Khosla successfully completed the Triathlon clocking a final timing of 15 hours 54 minutes.
Having worked in the family financing business all her life, Delhi-based Anju fell in love with athletic sport much later in life. Anju kept her days busy with a rigorous amount of training in the last couple years, for the big event. She dared what was termed almost impossible and completed the Half Ironman in Colombo this March to qualify for the full event in Austria.
Late last year, she also cycled on the Leh-Bilaspur stretch without oxygen support having crossed the maximum amount of high altitude passes through the journey.
SheThePeople.TV catches with Anju Khosla in a candid chat. Some edited excerpts:
What inspired you to compete in the Ironman Triathlon?
My inspiration came from a lone lady cyclist, whom I crossed on the Manali-Leh highway 10 years back. While my family and I were driving up in a car, complaining of the headaches and dizziness because of the harsh environment, there she was on a cycle, pedalling along laboriously, gulping in deep breaths. We stopped, offered her water and a seat in the car, but she carried on!
Next year, I was back on the same highway, this time on a cycle. And then it was one new challenge after another, building up to the Ironman race.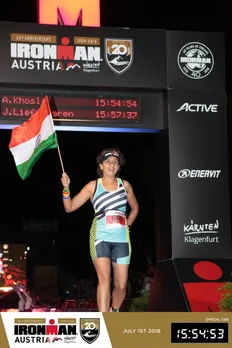 Oldest Indian Woman To Complete Ironman Austria 2018
 What were the biggest challenges that came in your way?
The biggest challenge that came my way was to put my head down and train each day of the nine months that led up to the race. At 52, one's body doesn't recover fast enough for the next day, after the morning training session. A scientific training plan, with cross training sessions, pre- and post-workout nutrition, learning to listen to one's own body - all were so essential to ensure, I continued injury free.
 Tackling the mind was the other issue - I had my share of mood swings and self-doubting moments.
In some ways, I guess I had to re-align my relationships and become the centre of my universe! From being a businesswoman, a mother, a wife, I had to accept being a woman on a mission!
READ: Pune Girl Eyes Solo Cycling Record Across World
Have you faced any constraints from the society?
I was lucky to have trained in Delhi - where there is a reasonable sports culture. But that didn't prevent the catcalls and curious onlookers, especially on my Lycra-clad long cycling rides on the expressways. My family was most supportive of my journey, which could, otherwise, have been a big constraint.
Share your strategies for the sport and insights.
The first thing I did after registering for the event was to enrol with an experienced coach - Kaustubh Radkar. For most budding triathletes, I would say this is imperative. Also, one must follow the training plan to the T. It's a long journey, spanning months only perseverance and dedication pays.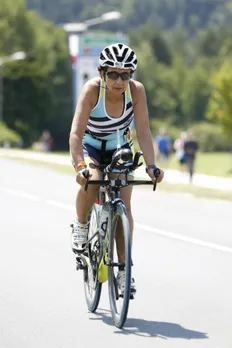 This is a three-sport combination - swimming, cycling, running. While one has to work on one's weakness, one must not focus disproportionately on any particular sport. Train on your strengths too, which in my case was cycling - and surprisingly, on race day, I found it to be the
biggest challenge
.
I am a breaststroke swimmer, which is very unconventional for this sport. But I believed I could turn that into a strength, which I did!
For race day, always have a Plan B. Things will not necessarily work out as planned. When faced with a negative situation, think of all the hard work that you have put in over the last year. Visualize yourself at the finish line!
You proved age is just a number. What keeps you chasing your passion even at this age?
One must have something to look forward to in life, a next goal to work towards. Else, life can be a trudge! I am rearing to take on my next challenge.