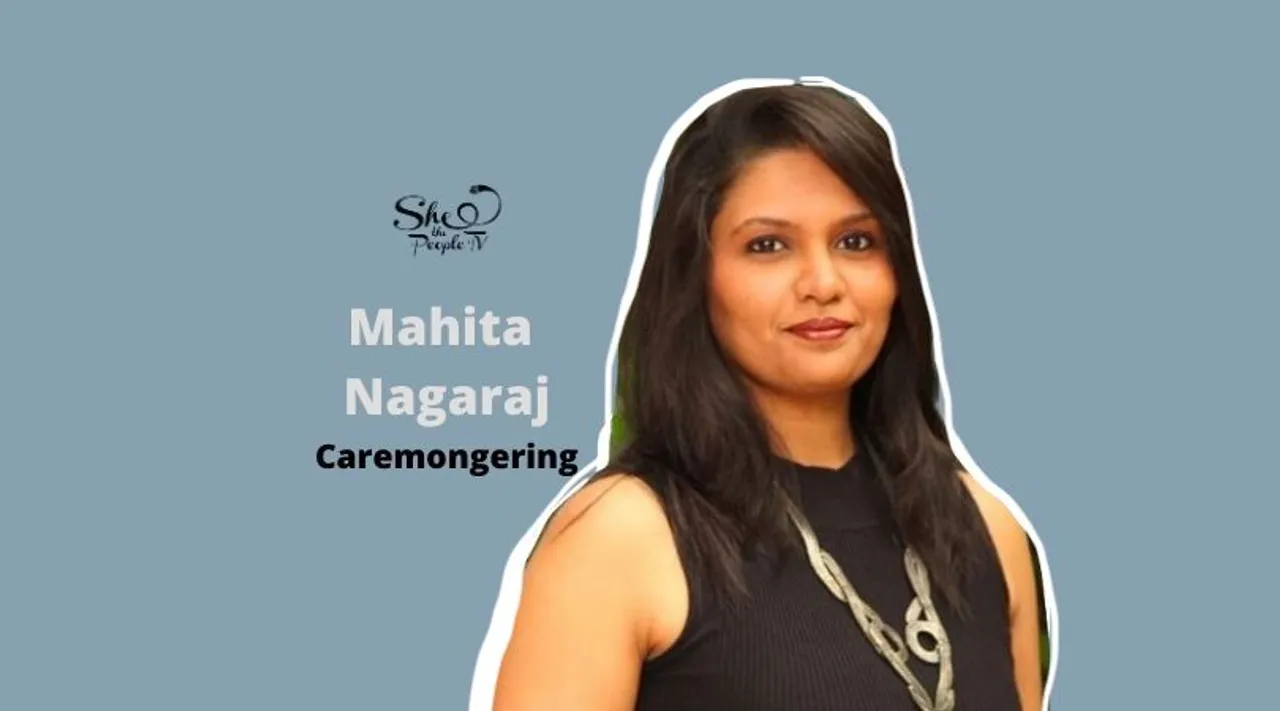 One woman in Bangalore in India has started Caremonger India, a group to provide support to those who are unable to care for themselves in times of COVID 19 breakout. These caregivers are young volunteers and mostly people who are seeking help are either old or have special needs. Mahita Nagaraj who is digital marketing professional from Shantinagar, goes out to organise, seek volunteers to get medicines and other essentials for senior citizens. In 48 hours of setting up their Facebook group, their members went from zero to 2000 and within 24 hours of setting up their phone helpline, they have got 400 calls.
Mahita Nagaraj, 38, started the group after a friend who lives overseas requested her to deliver some medicines to her parents in Bengaluru. At a time people are obsessing with concerns, unsubstantiated information and blindly forwarding stuff, one has to thank good Samaritans like Mahita to save the day. She wondered how so many senior citizens would get help when most services get forced to close like during a lockdown and the janata curfew. This is how her personal mission turned into a bigger cause - Caremongers India was born. The idea of caremongering is the opposite of scaremongering where people find solutions instead of causing further fear in complex and pandemic type situations.
"Ridiculously proud of Caremongers India and the movement we've started. It is so heartening to see people reaching out for help, and a ready network of people willing to help! The helpline has received 109 calls in just the last 90 minutes," she says. So, what is caremongers' motto? "No matter how big or small, please out to us and ask us for help."
We caught up with Mahita for a conversation.
Q. Why did you start this?
A. We started the helpline on 2oth March. We got 363 calls in the first day itself. Most people wanted to be sure this number of helpline was legit as we all have been getting all kind of spam via social media. 29 calls were requests for help, we tried to complete about 17 on day one and the rest were pushed to the next day.
Q. What kind of requests do you get? And who do you cater to?
A. We are catering to four types of categories. 1) Senior citizens 2) Physically challenged 3) Any one with infant under twelve months 4) People with pre existing medical conditions.
We verify that the person falls under the above categories, we also figure out whether their needs are genuine. We got a lot of calls from those who live in little homes outside the cities. If we accept the request, we put the request out to the volunteers in the now active Facebook group and we try and fulfil it. We currently have 2300 odd volunteers.
Q. How do you ensure delivery of help doesn't put volunteer health at risk?
A. We have zero physical content with thE requester of the help. The deliveries are done at condo gates or colony gates. Once the helpline went public, we did deliveries in Noida, Mohali, Delhi, Pune, Chennai, Bangalore, Hyd, Mysore, Mumbai, in Kerala it was Kochi, Trivandrum, Kolkata.
All payments are done by requesters before via UPI/PayTm and other digital methods. This is to ensure volunteers are secured too.
Q. How is this scaling up?
A. FB group is mainly of volunteers. We set up the helpline so people can maintain anonymity, as many don't want to seek help in public on social media. Volunteer group is expanding significantly. Now we have volunteers coming from different and smaller towns ad cities as well. We are glad we can offer help in smaller cities too.
Q. What's your inspiration to start this?
A. I didn't plan this. When social distancing began, I had couple of school friends who live overseas, asked me to run a few errands for their parents. I put out a single post on my Facebook, asking friends that if they have lonely and elderly family in the city that needed help, I would happy to help them. I started gettting requests from people from different parts of Bangalore who wanted to do this, and help out and that led us to a FB group.
Q. What's your journey like?
A. By profession, I am digital marketeer, and work with independent businesses. But I do undertake projects for social impact. A few years ago I ran a food program called Feed your Neighbour. It was successful. It was a program to encourage people to donate food from their home to feed others who were in need.
Single woman army
Mahita Nagaraj is a single mom, a one woman army connecting volunteers around the country and taking requests for help. Her 12 year old son pitches in too. "My son is a super participative in this effort. Even though he cant take calls, but he can support whatsapp messages, emails that need to seek basic information."
Mahita's selfless efforts are commendable. "I handle the helpline alone for the moment. We started just a few days ago, the word has spread so wide. I got a call from Sri Lanka and one from Moradabad to seek help too. So it's been that widespread. I have also used a lot of my known connections to seek help for this.
Gratitude
People are super thrilled after we reach out to help. This girl in Jangpura, who was in self quarantine, was expecting her period and didn't have sanitary stuff. Within a few hours our volunteers were able to organise her pads and medicine she needed.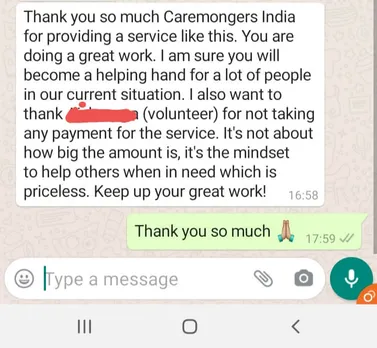 As she says, in such times we all must step out to help. "Everyone's sitting at home, if there's something you can to ease somebody's else life, the why not?"