Journalist Priyanka Pathak Narain's book Godman To Tycoon: The Untold Story Of Baba Ramdev is amidst plenty of controversy. It has received a court order which prohibits the publisher Juggernaut Books from publishing and selling copies of the book. As we are celebrating the 70 years of Independence, it is somewhat ironic that a work of journalism, which is based on extensive research and over 50 personal interviews conducted by the author, now stands a chance of not being read at all – lest it even remotely tarnishes the meticulously constructed image of Baba Ramdev in front of the Indian populace.
Meet Priyanka P Narain at The Women Writers Fest, Bangalore
In this interview, the alumnus of Columbia Journalism School discusses her experience while writing this book, how speaking to people who have worked with Ramdev has helped her make sense of the phenomenon that he has become, giving big FMCG giants a run for their money and how the court injunction was totally unexpected, giving the amount of effort she had made to write a fair and balanced account of the man.
What made you want to write a book on Baba Ramdev?
As a business of religion reporter at Mint, I began watching that intersection where business meets religion in our nation and was riveted by it. Naturally, India's fastest growing company with a sanyasi at the helm also sparked my curiosity and interest.
"He is on television every day; he is in the news every day and has been at the center of public gaze for over a decade and a half. It was important to tell the story from a new lens."
Why did you feel that instead of doing a straightforward memoir, speaking to the people who have worked with Ramdev will help you project a more authentic picture of the man, opinions are after all subjective?
Baba Ramdev already has three straightforward memoirs written on him. He is on television every day; he is in the news every day and has been at the center of public gaze for over a decade and a half. It was important to tell the story from a new lens.
JOIN The SheThePeople Book Club By Clicking Here
However, while the book is based on interviews with people who know Baba Ramdev or have worked with him, it is not based on their opinions of him. Rather it is based in memory of circumstances and events that occurred during their shared time, events that I would not know otherwise known about.
I offer no opinions on Baba Ramdev in the book. It is merely a chronicling of his life through multiple voices.
Take us through the research process. What were the challenges you faced while writing this book?
Every effort has been based to not rely on the memory of an interviewee alone. Rather, I have triangulated information about events that I was told about through other sources - other interviewees, public records, RTI's and government documents.
Tracking down the people who were witnesses to events was a challenge and it sometimes took months to find the right voice. But they were all willing to talk about events they remembered.
I have corroborated their statements as far as I could. Where it was not possible to do so, I have clearly highlighted this too.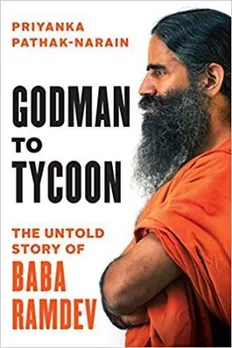 Book Cover of Godman to Tycoon: The Untold Story of Baba Ramdev
What do you think is the key reason for Ramdev's astronomical success in the FMCG industry when his products are not as authentic as he claims them to be?
The book deals with this in great detail and is difficult to tackle all the factors in just a few words. I will however point out that I have not said at any point that all his products are not authentic.
I've merely relied on credible sources and public record to point out the times when Patanjali products did run afoul of regulations.
For someone like Baba Ramdev, who is so keen on projecting his personality and opinions in a very specific way, considering the book was vetted by a law professional, did you ever anticipate that the book would still get a restraining order?
Given the effort made to write a balanced, fair and nuanced account, I did not expect it.
What do you think is the road ahead from here? Do you feel because the book is in the news, more people would be inclined to get a copy? And do you feel disappointed that people in our country take offence to things rather easily?
The book is a work of journalism, an effort to illuminate the life and times of a man who dominates our public lives but is not very well understood. As a journalist, I wanted to help readers to know Baba Ramdev's life to be able to form their own opinions about India's fastest growing FMCG company.
It was not our intention to give any offense. We made every effort to present as granular, balanced and even-handed an account as could. For me, this work on his life is neither personal, nor political, nor religious agenda. It is dispassionate journalism.
However, I welcome the chance to defend the book.
Now that the book is published, do you think you might have missed out on something, which you might want to take a jab at later?
There of writing, but I don't think that I will do so.
"It was intimidating as a journalist because he is also such a polarizing figure in our society."
Is it intimidating writing a book on someone as influential and well-connected as Ramdev? What are the kinds of responses you have been getting, and have you heard from him personally at all?
It was a little daunting, mostly because he was such a complex public figure and so much was already known about his life. It was intimidating as a journalist because he is also such a polarizing figure in our society. I hoped to be able to navigate between the two camps to draw out his humanity in a cohesive manner and write a compelling narrative that (I hoped) would help both sides see the other's point of view.
I'm delighted that the readers have also been able to see the genuine curiosity behind a nuanced narrative and recognize that this is neither personal nor political. That makes all the difference.
Baba Ramdev has not contacted me at all throughout the writing of the book or after its publication.
What do you want readers to take away from this book?
After writing a book that offers no personal opinion, I would not offer any prescriptions. I hope my readers take whatever they please from the book. I only care that by the end, they feel empowered enough with relevant facts to be able to draw their own conclusions.