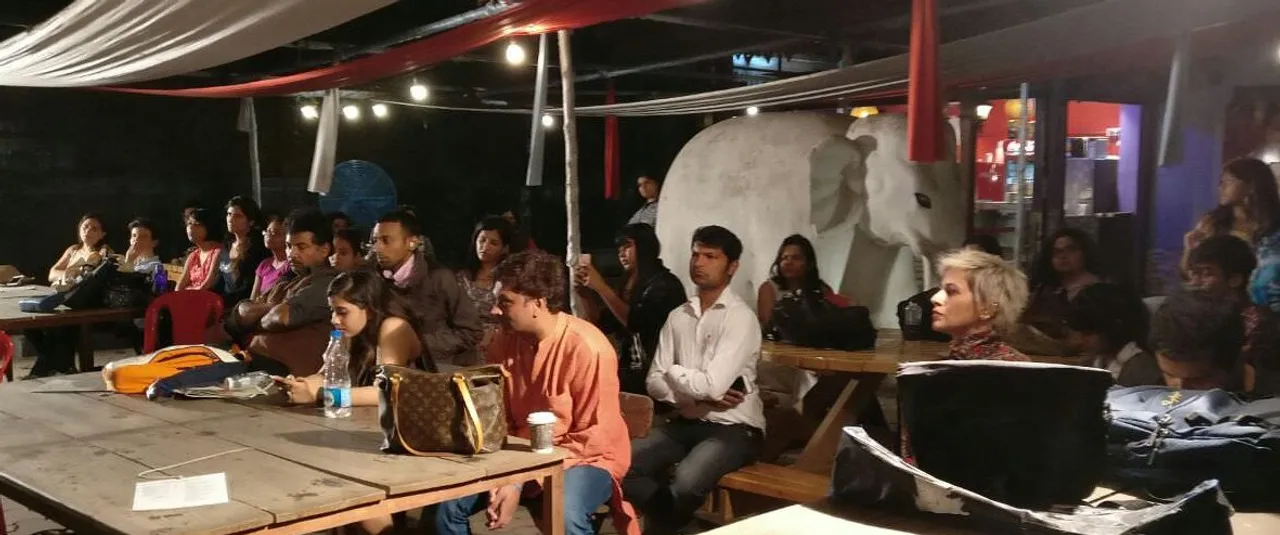 We kick-started Feminist Rani with a bang this year. After the ghastly incidents of sexual molestation, eve-teasing and rape of women in Bangalore, Bihar and across India, we decided to address the issue of women in public spaces with a stellar line-up of speakers.
Women's safety is a major concern among many other issues in almost every big and small city in India. Sexual violence in India has become something of an epidemic. Every 20 minutes in our country, a woman is raped. 10% of rape victims are under the age of 14. 33% are under 18 years of age. Despite these horrific numbers, sexual assault and molestation are still among the most under-reported crimes in India. Even in cases of reported crimes, state machinery has been unable to punish most rapists and perpetrators. This impunity has left most of India's daughters and mothers vulnerable and unsafe. In this grim scenario, we have a really special Feminist Rani lined up to kick start the year to talk about this issue
We want to ask how long would we'll have to wait till we women can walk freely on the streets, any time of the day, without 'asking for it' or being eve-teased. That we can go to office, go to school and college, as well as commute in buses, trains, autos, without the fear of being touched inappropriately? How can we women progress if we are unsafe in our own city, in our own neighborhoods, in our own society? I am a woman and I have an equal right to public spaces. I have to own my public agency. And I will go out!
Elsa D'Silva is one of the founders of Safecity, a platform that crowdsources personal experiences of sexual violence and abuse in public spaces. She urged men who were not perpetrators of crimes, to at least not standby as passive bystanders.
Aarefa Johari  is a journalist and feminist. She belongs to the Dawood Bohra community and has been speaking out against female genital cutting, known as khatna in her community. She told the audience that at the age of 7 she was taken to an aunty's place where her clitoris was cut off by a blade. She said the excuses used to justify this inhumane practice ranges from hygiene to 'it subdues sexual promiscuity' to the opposite of 'it enhances sexual pleasure'. She urged mothers to not think of khatna as a social norm that they'd fail their daughters if it's not exercised.
"Mard nahi mardangi ke khilaaf hoon main," @hiyer composes a #poem in solidarity of #IWillGoOut. #FeministRani pic.twitter.com/EZgDDVfaIy

— SheThePeople (@SheThePeople) January 20, 2017
Harrish Iyer is an equal rights activist and is known for his campaigns for the rights of the LGBT community, children, women, animals and survivors of Child Sexual Abuse. He is also one of the most vocal opponents of the criminalization of homosexuality in India. Harrish was sexually abused by his uncle from the age of 7 to 18, and when he finally told his father the rebuttal he got was "why were you quiet all these years? Did you enjoy it?" He shared that many of his friends assume he is gay because a man abused him. In that Harrish added that men and women are both 'children of patriarchy' and till some of us are unsafe, all of us are unsafe.
Sharin Bhatti is a journalist who's turned entrepreneur who spoke about her journey as a small-town girl, where stalking was mistaken for love, to a big city like Mumbai where she expected safety but faced the same rigmarole of eve-teasing and catcalls. She said she dealt with it by saying it's happened before me, it will happen after me, after time and after matter. Sadly, this is the reality of our times.
.@sharinbhatti on finding her safe space and the normalization of #sexualabuse - the 'yeh toh hota hai' attitude. #FeministRani pic.twitter.com/CyvrZISb9o

— SheThePeople (@SheThePeople) January 20, 2017
Dan Husain is a multi-talented poet, actor, storyteller, writer and theatre director. Dan spoke about male privilege. He said when men dress in the morning they don't think about whether their clothes will get them touched or groped, unlike women for whom this is a real problem, a heightened reality.
Sapna Bhavnani is a celebrity hairstylist and a survivor of a reality show, crazy love, sexual violence and name-calling. Sapna said that she never celebrated Women's Day because, according to her, every single day must belong to a woman. She ended the event with an evocative poem titled 'Erase' that addressed the fluidity of a woman's identity and self-actualisation.
We had a great turnout and a fantastic event, and we hope it inspired women who have been eve-teased, molested and violated, to reclaim the public spaces that should not remain a male domain.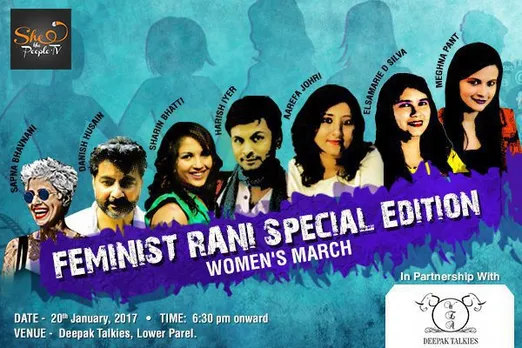 Feminist Rani Special Edition