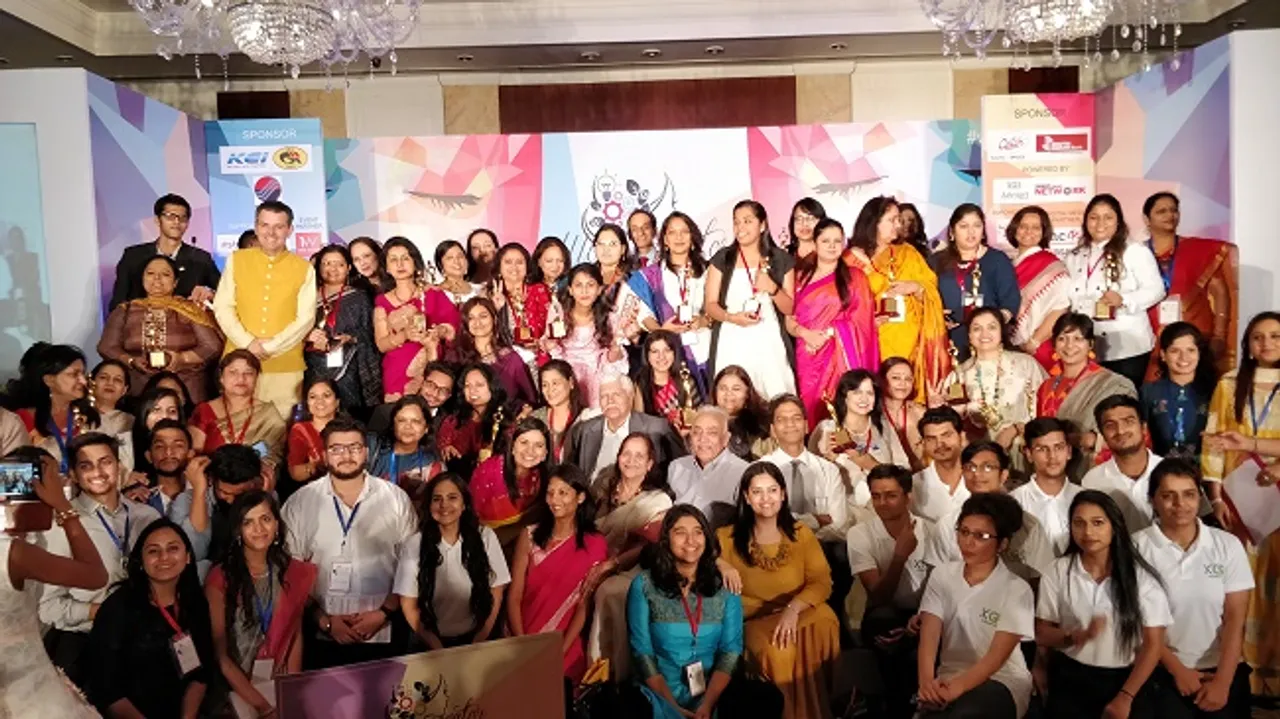 Women across the board are doing some tremendous work today. They are breaking glass ceiling and smashing patriarchy as they go about launching start-ups, working in male-dominated industries and innovating in technology. But what is most important is that these women are recognised so more women and young girls feel motivated. To do this, Womennovator in association with COWE powered by KGS Advisors (www.kgsadvisors.com) and KEI Industries launched an effort to select 100 inspirational women and cover their stories of triumph, trials, and tribulations from various states across the country and felicitated them on April 30.
The day was marked with more than 100 Women Elevator pitches. With the "maximum women changemakers giving elevator pitches", the event made it to the "Asia Book of Records".
Through the initiative, the organisation will send stories of women achievers to ministries, PSUs, corporates, financial institutions, banks, varied embassies and international organizations. This will be in the form of a management planner documenting 103 inspiring women and 31 women influencers across India and abroad.
Founding President, COWE India- Delhi Chapter,  CEO -  KGS Advisors and Co-founder of Womennovator, Tripti Shinghal stated that the whole concept of launching these 100 women faces is not just to bring them recognition and award them, but also to ensure their empowerment by connecting them to relevant fellow Womennovators, mentors, financial advisors, various media platforms, crowdfunding, Government schemes.
Shout out to #COWE for the #100Faces campaign, kudos to the winners and congrats @shailichopra on receiving special mention and recognition pic.twitter.com/v4sxiYmJjc

— SheThePeople (@SheThePeopleTV) April 30, 2018
Womennovator, founded by Shruti Jagetia, has chosen a few mentors and influencers who will guide the 100 women get to the funding level and help them scale their businesses. Jagetia said during the event informative panel discussion by Ministries, Department and financial institutions also took place which had representatives from MSME, MSDE, DIPP (Invest India and Startup India), Financial Institutions, Niti Aayog, SIDBI which highlighted Government schemes exclusively for Women entrepreneurs across central and other states.
ALSO READ: 100 Women Faces inspiring us through their work and brilliance
One of the mentors, Archana Gupta of KEI Industries, told SheThePeople.TV: "Women need to grab the opportunities they get. Many times we miss the opportunities because of various reasons but what I believe in is, everything will fall into place if you take that one step forward to reach to your dream."
Renowned fashion designer, Rina Dhaka, who was also present at the '100 Women Faces' event, said that gender does not matter when it comes to entrepreneurship. "In the longer run, these platforms create a sense of awareness of women entrepreneurship which helps the atmosphere, put pressure on government support schemes and as they get recognition, women together as a body can also prosper and take advantage of that unity."
A jury of Babul Supriyo, Minister of State for Heavy Industries and Public Enterprise, actor Avijit Dutt, Naina Lal Kidwai, Chairman of the India Advisory Board of Advent International Private Equity, cricketer Suresh Raina, actor Paresh Rawal, journalist and news anchor Shereen Bhan, Blossom Kochhar, Founder of Aroma Magic range of products, Arunachalam Muruganantham, Founder and CEO at Jayashree Industries, and Sonam Wangchuk, Founding-director of the Students' Educational and Cultural Movement of Ladakh (SECMOL) selected the 100 inspirational women.
The chief guest of the event included Manoj Tiwari and guests of honors were Sonam Wangchuk, Naina Lal Kidwai, Blossom Kochhar, Avijit Dutt, Sudhanshu Mittal, Shazia Ilmi, Shahnaz Husain among many other.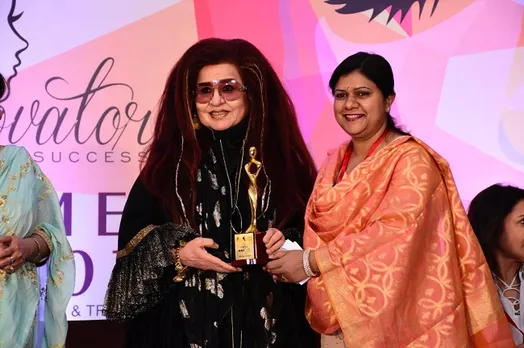 Shahnaz Hussain gives award to Anjali Gupta of Jute Artisans
Here's the list of the 103 women who are making a difference to society and the environment around:
Ajanta Chandan, Founder of Ithiha
Anjali Singh, Secretary of JUTE ARTISANS GUILD ASSOCIATION
Anjaly Maheshwari, President of Sanatan Seva Mission Trust 2016 (Work for unprivileged children's education)
Anju Arora, Founder of Naari, Women Wellness Initiative
Anuradha Chadha, founder and MD of 3A CLOTHING COMPANY
Aparna Mishra, Founder Director of Radiance Corporate Solutions Pvt. Ltd
Aparnaa Laxmi Singh, Founder Secretary of EcoLibFoundation
Bhavna Bajaj, Founder of Social Umbrella Legal advisers and consultancy
Bina Ramani, Director of LADY MALABAR INDIA PVT LTD
Chandni Khan, Co-founder of VOICE OF SLUM
Charushilla Narula Bajpai, Founder Director of EduShilla University Connection Private Limited
Chetna Sinha, Founder/ Chairperson of Mann Deshi Foundation / Mann Deshi Bank
Chitrankshi Suneja, Co-founder of Campusvibes
Devika Gurung, Founder of Fidgety Fingers
Dolly Jai, Founder of M/s Pink Lemon
Binal Doshi, Co-founder of PlexusMD
Rita Bakshi, Chairperson of International Fertility Centre
Ritu Kela, Dean of College of Applied education and health sciences
Gagandeep Kaur Gulati, Educationist, IITM, NEW DELHI
Elsa Marie D'silva, Founder of Red Dot Foundation (Safecity)
Garvita Gulhati, Founder of Why Waste?, Ecotonix, Chronicles of Change, The Changemakers Society
Gauri Durga Chakraborty, Jt Acting Head and Associate Professor of AMITY SCHOOL OF COMMUNICATION, AMITY UNIVERSITY, NOIDA
Geetanjali Kasliwal, MD of ANANTAYA RETAILS PVT LTD
Harini Madhira, Founder of Cisne For Arts
Harpreet Ahluwalia, CEO of Earthly Creations
Indrani Mukherjiee, MD and CEO of BAMBOOOZ & FURN BAMBU PVT LTD
Jinal Ajmera, Co-founder and COO of FinPlus Business Solutions LLP
Kanika Pal, Co-founder of SoCHE Foundation
Kavana Mayur, Mattress Lounge & Rainbow Careers India
Kopal Maheshwari, Chairperson of Little Einsteins
Kirstin Kagetsu, Co-founder and CEO of Saathi Eco Innovations
Madhavi Shree, Founder of WORLD OF POSITIVE NEWS
Madhavi Jadhav, CEO of ThatMate
Mamta Saikia, CEO of BHARTI FOUNDATION
Manju Rathi, HOD of IDEA, WOW(women of wonderland), shree acedemy, my adventures, nabh-nir camps
Mansi Mehta, Founder of KISHORI FOUNDATION
Mayuri Misra, Founder and CEO of SHAKTISHI
Meenakshi M Singh, Founder of ShetheShakti, AuthorsPress India
Meenu Maggon, MD and CEO of Kaunsiurge
Megha M, Co-founder of Project DEFY, MUSEInc
Monalisa Sagar, Director of Dezine Display Solutions
Jigna Shah Samir, CEO of REVE' Fashions
Namita Banka, CMD of Banka bioloo limited
Nandini Diwakar, Founder of D'WALKERS KITCHEN
Neeru Bhushan Principal Scientist and Incharge at ICAR- IARI
Neeta Bhatia, Founder of Fantasia
Nmami Agarwal, Founder and CEO of Nmami Life
Payal Agarwal, Founder of Tranquilitea
Pinky Maheshwari, Founder Director at Surprise Someone
Prarthna Gupta, Chairperson and MD at CACHE TECHNOLOGIES
Preeti Monga, CEO of Silver Linings
Priyanka Kaul, Chief Revenue & Marketing Officer, NDTV and COO, Special Projects & Events at NDTV
Pushpanjali Chawla, Founder of Pivotul Consulting
Radhika Bajaj, founder of Rootsaps
Ranju Minhas, Founder of SHIELD-Citizen's Initiative
Ranu Jain Gupta, VP at My Sanika Cancer Care Society
Reema Sathe, Founder of Happy Roots
Reety Wadhwa, Founder of The RW Corporation
Renu Bajpai, President of UMA SHANKAR DIXIT'S CONSORTIUM OF SKILL DEVELOPMENT, TRAINING AND WOMEN EMPOWERMENT
Rita Arora, Home Chef
Ritika Kothari, Founder of Casa Quirky
Ruchi Rastogi, Founder Director of Hunar Foundation
Ruchika Beri, Co-founder of Jewelove
Rupali Ambegaownkar, Founder of TCW tea Pvt Ltd
Sabita Mahato, Mountaineer
Sarita Sharma, Founding member of TheTeacherApp
Shabri Prasad, Author
Shagun Singh, Founder of Geeli Mitti Farms LLP
Shalini Diwan, Founder of Global Fighters
Sharmin Ali, Co-founder of Instoried Research Labs Pvt Ltd
Sheetal Gupta, VP of Universal Health Foundation
Shiksha Oberoi, co-founder Impact Media 360 and Indi.com
Shilpi Datta Som, Founder Many Frocks &
Shital Somani, Co-founder of S4S Technologies
Shriti Chajed, Founder of BookEventz
Shutapa Paul, Founder of NewCrop and Dharma Media Consultants
Shweta Shalini, Chief Evanglist, The Billennium Divas
Smriti Chabra, Founder of Gurgaon Community Circle
Sneha Routray, President- Grameen Sneh Foundation.
Sonal Jindal, Founder and Director of MEDUSA
Sonali Thapar, Director of Thapar Investments
Soumya Dabriwal, Founder of Project Baala
Sreeraja Rajeshwari, Yellapragada, Founder of SIDHI CREATIONS
Sridevi Nallamilli, MD of Green Leaf Solutions
Priti Shah - CEO Payswiff Solutions Pvt Ltd
Sujata Parashar, Author/Social Activist
Supriya Paul, Co-founder of Josh Talks
Supriya Rathi Bagri, Founder and CEO of RoboVR
Suvarna Raj, Program Director of Association for Disabled People
Sweta Joshi, CEO of Algaari Ventures
Vandana Mishra, Founder of Travandyz (opc) Pvt Ltd
Vinita Bhatia, National Head- Media and Sports of Times of India
Sarika Mehta, Founder of Sarika mehta cooking classes
Deepali Tyagi, Artist at Fine Art institute
Kanika Tekriwal, CEO of JetSetGo Aviation Pvt. Ltd.
Geetangali Chopra, Founder and Director at Wishes and Blessings (NGO)
Prerna Bhatia, Founder President of Nurturing Dreams TRUST
Japna Pradhan, Pradhan of Panchayati Raj
Sonal Verma, Director of Hill Foundation Group Of Education, Dehradun
Prachi Kaushik, MANAGING DIRECTOR & FOUNDER of Vyomini
Kanika Shori, COO of Square Yards
Diba Naizia, Social Activist, WZYF
Rachana Jain, Founder of World of Winners Ltd & Devine Messages Ltd