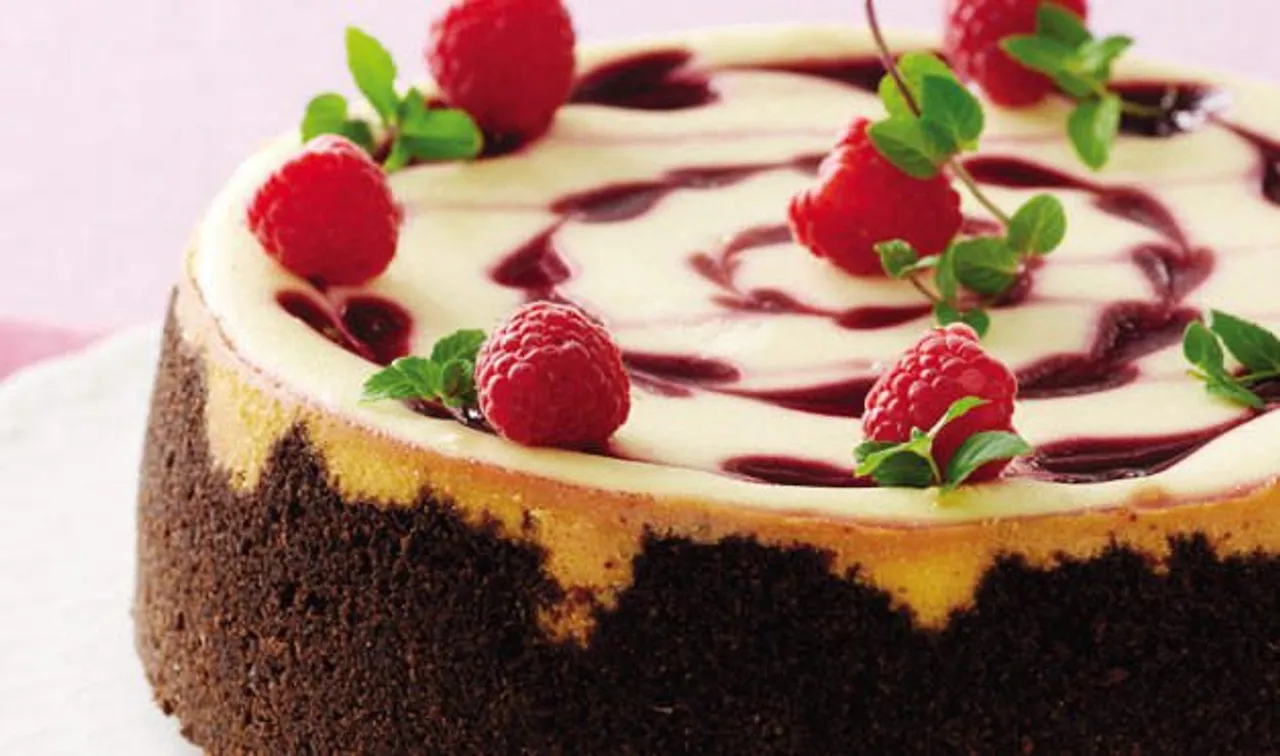 What do you do when you have a craving for a delectable pastry or a fluffy cupcake? Make a beeline for the nearest bakery in town? Well, there are a few who actually get their hands dirty in the dough, and create what they crave. And in the process, become expert bakers. We dug around and found a few of the best pastry chefs in the country. So sit back and read, and well, the next time you have a sweet craving, you will know which direction to head in!
Kishi Arora: Founder of Foodaholics
Kishi Arora: Founder of Foodaholics
A graduate from The Culinary Institute of America (a Harvard/Stanford equivalent for food institutes), Kishi is a foodie to the core. Little wonder then that her brand name is 'Foodaholics'. Based in Delhi, this is one of the most popular haunts for those with a sweet tooth. What's more she also blogs...about food, what else! Her 'Ask Kishi' column regularly appears in the Indian version of Good Housekeeping magazine.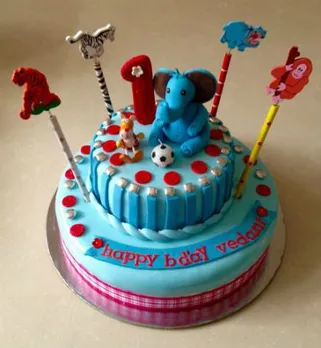 A tasty treat from Foodaholics
"It was my long term plan. I wanted to be a chef, not a pastry chef specifically. It was ironic because my family didn't want me to become a chef. I went to CIA with a passion to become one though, that's all. When I was there, I witnessed loads of butchery and meat scenes, and I'm a pure vegetarian! That's when the shift happened. I was self-confident that I'm not coming back, and having said that when I couldn't butcher animals, baking seemed to be a viable option. After so many years, I have no regret about it, rather I enjoy baking so much.!"
Foodaholics
Foodaholics has a range of services, – a technical food consulting team with a trained chef on board, and perfectly executed desserts from various countries. Kishi designs a range of cakes, desserts in exotic flavours including Blueberry, Orange Chocolate, Bavarian-Vanilla and many more – all ready to be ordered, fresh and delivered to your doorstep.
Pooja Dhingra: Founder of Le15 Patisserie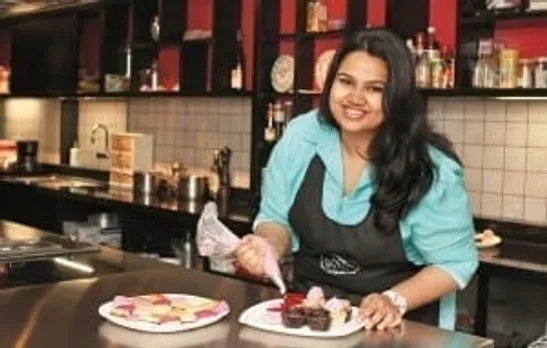 Pooja Dhingra, founder of le 15 patisserie ( Picture Credit: uppercrustindia.com)
A degree holder from Le Cordon Bleu in Paris, Pooja dreamt of giving Mumbaikars the taste of the classic French patisserie. and with that in mind, she started Le15 Patisserie when she was 23.  Le15 Patisserie today offers delicious macaroons, cupcakes, choux pastries, tarts, and cakes, all under one roof to those who relish desserts.
  A professional baker, Pooja made it to the Forbes magazine's list of India's prestigious 30 under 30 list in 2014. And what's more, she has also dabbled in writing with her first cookbook 'The Big book of Treats.'
Also read: Beyond family fortunes: Four industrialist daughters carving their niche
Sanjana Patel: Founder of La Folie Patisserie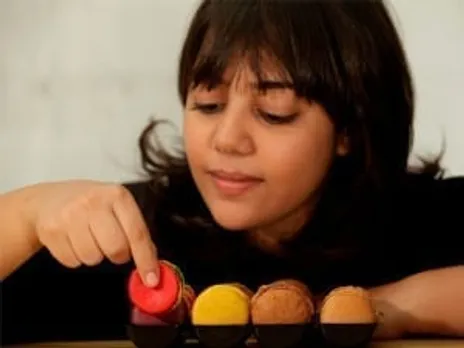 Sanjana Patel, owner la folie (Picture Credit: idiva.com)
Trained at The Le Cordon Bleu in Paris, Sanjana Patel, brings the taste of the French pastry to dessert lovers at la folie in Kala Ghoda Mumbai. Known as the first Indian Pastry Queen,  she was nominated by the chef fraternity for the Pastry Queen India challenge organised by the Academy of Pastry Arts India in Gurgaon in 2015, and she ended up winning that one. She then went on to represent India at the world Pastry Queen Championship in January 2016. The specialty of la folie lies in it's sumptuous Cakes, Truffles, Pralines, Macarons as well as Wedding cakes.
Shivali Prakash: Founder of Pop'z Kitchen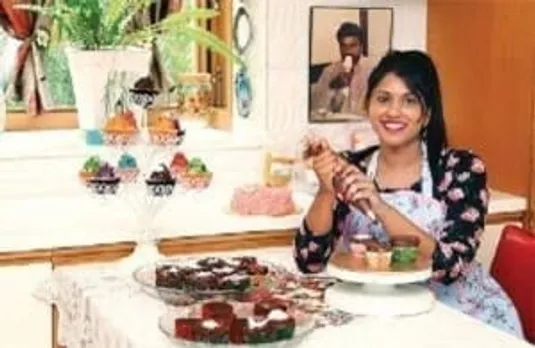 Shivali Prakash, founder, Popz Kitchen ( Picture Credit: bangaloremirror)
Shivali started out her career in the marketing and communications team at Accenture. But entrepreneurial bug had bitten her, inspired by her father who was pioneered a sanitary retail outlet 30 years ago. A passion for food led her to baking for family and friends on various occasions. One thing led to another, and before she knew it, she baked and delivered a cake for Vivek Oberoi's newborn daughter. That was her entry into the big league, and today Pop'z Kitchen delivers cupcakes to stars like Hrithik Roshan.
Pop'z Kitchen specialises in desserts and savouries, with the Choco lava pizza being it's most wanted dessert. From customized cakes, cupcakes for birthdays, anniversaries, baby showers, engagements, weddings, and other such occasions, you name it and Shivali has it!
Neha Sethi: Founder of Sweetish House Mafia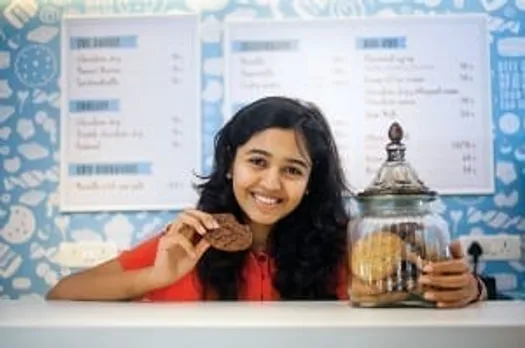 Neha Sethi: Creator, Sweetish House mafia ( Picture Credit: Forbes India)
Someone who took to baking at a very young age, Neha Sethi started off Sweetish House Mafia in 2013 with a home kitchen and a Tata Nano. And what the streets of Mumbai got was a cute little white Nano selling sweet cookies and desserts at different locations. A heavy buzz on buzz on social media as well as publicity in print, television and radio speeded up sales, and before she knew it, Sweetish House mafia was a brand to reckon with. It brings to customers some mouth watering treats like  the chocolate chip pound cake, red velvet cupcakes, smores cookies, Nutella 'Inner Circle' biscuits.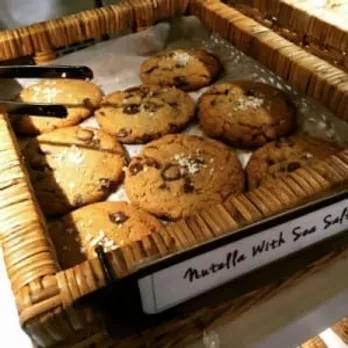 Baked delights at Sweetish House Mafia
"I used to bake when I was young so I became good at it and I have a massive sweet tooth. These are the two primary reasons I ventured into this field. I don't have any professional experience but my love for all things sweet and passion for baking reflected in the products I sold and people took a liking to it. They made Sweetish House Mafia what it is." says Neha.
Also read: Five women entrepreneurs with breakthrough ideas in healthcare
Mandakini Gupta, Founder of Smitten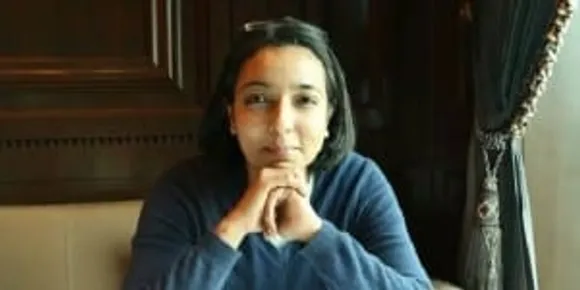 Mandakini Gupta, 'Smitten' with desserts (Picture Credit: liveinstyle.com)
A trained chef at the French Culinary Institute of America, New York, work experience in the pastry kitchens of Indigo in Mumbai, L'Opera in Delhi, and the Michelin starred WD50 in New York are perfect credentials to start-up. And that's exactly what Mandakani Gupta did. She confesses she harboured the dream of baking since she was five, inspired by her mother. Smitten today runs out of a home kitchen in New Delhi and specialises in delicious salted caramel chocolate tarts, dark chocolate sea-salt cookies, lemon poppy seed cakes.
Jeneva Talwar, Founder of LA. DI. DA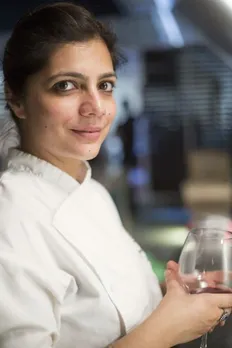 Jeneva Talwar, Founder of LA. DI. DA
A Filmmaker, an actress and now chef, Jeneva Talwar trained from the renowned culinary school ENSP in France. After working at Patisseries in Bordeaux and Lyon, she returned to India and began working at the ITC Maurya Delhi. One day she decided to start her own brand of exclusive French cakes  and thus was born LA DI DA, her mastermind combination of flavours that compliment both Indian and French sensibilities. LA DI DA's specials include some delicious creamy desserts like Cupid's Carrot, Coco Chanel and the Lemon Meringue Cloud.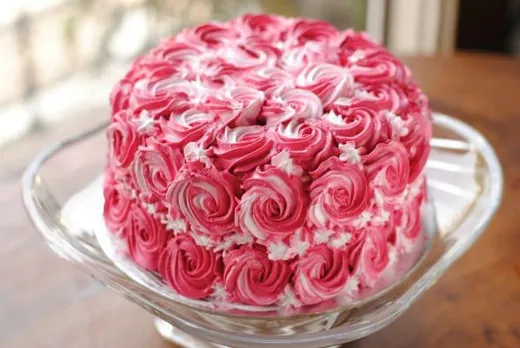 Creating some fine desserts at LA. DI. DA
"The struggle was to shift a career, to make my brand. It was harder than I thought it would be. So what made me want to be a pastry chef, I could give a standard answer - passion, love for food. But as Jeneva Talwar, I would say, everybody can get into this career. But how to survive, last longer in a cut-throat world, made for men - dominated by television chefs in general? Because the real world is very cruel, as much as it is rewarding. Pastry is the perfect medium that combines art and science. Once you start the baking process, you need to have the perfect ingredients with the perfect amount. I love that process and the facts that it takes 100% of your effort. You just cannot be satisfied with 99%. It's not other cooking process that you can put on hold in middle of cooking or can have a little break and come back and restart. It takes the full you."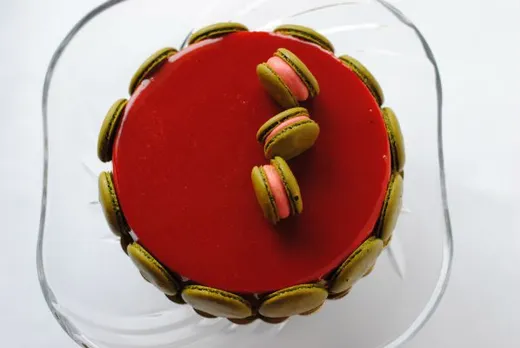 The art of baking at LA. DI. DA
So there you have it. If you are in the cities where these ladies are located, might be worth your while to pay them a visit!
Feature Image Credit: havasucityguide.com