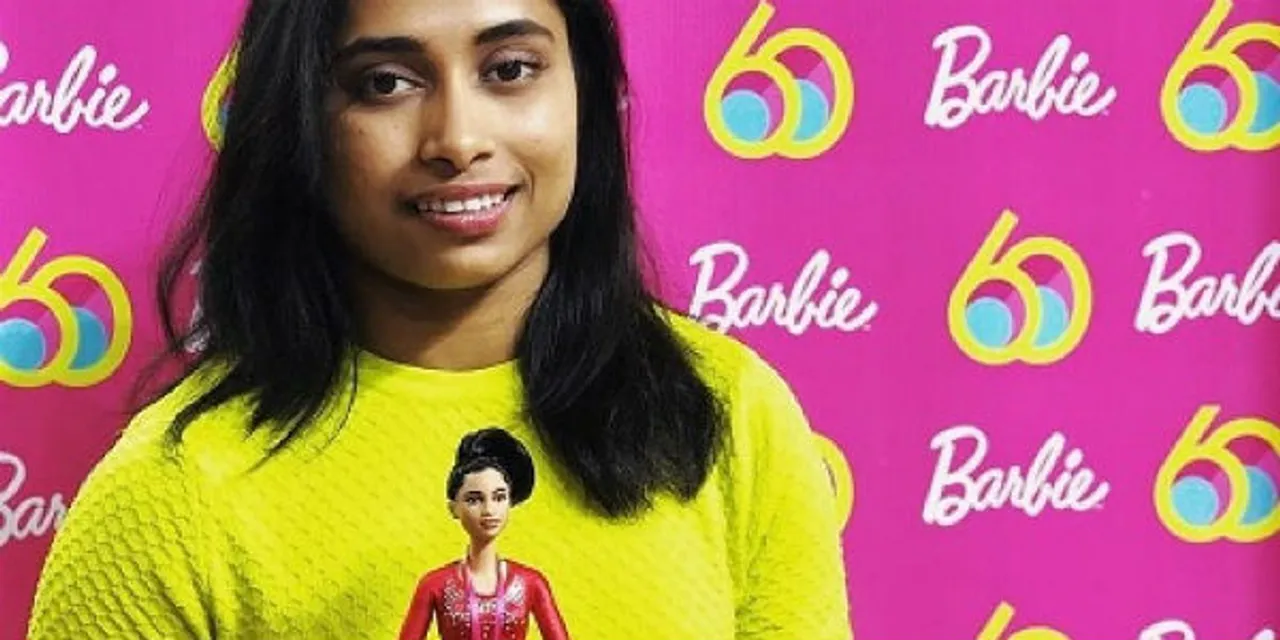 One of our favourite childhood toys is redecorated and how! On the 60th anniversary of Barbie, the makers released a new line of dolls to honour female role models globally, and Dipa Karmakar is on that list too!
Barbie has always shown girls that they can be anything!! On the occasion of her 60th anniversary, I am honoured to be selected as a Barbie Role Model to help inspire the next generation of girls!#Barbie60 #YouCanBeAnything pic.twitter.com/6cnAWtLvDs

— Dipa Karmakar (@DipaKarmakar) March 9, 2019
The others who have got their own face modelled as a Barbie doll include names like Naomi Osaka, Yara Shahidi, Adwoa Aboah and more.
In celebration of our 60th anniversary and #InternationalWomensDay, we proudly honor #MoreRoleModels than ever before from around the world in an effort to inspire the next generation of girls. #Barbie60 🌍 pic.twitter.com/8bte7gcNSO

— Barbie (@Barbie) March 7, 2019
Karmakar who is prepping to participate in the upcoming World Cups at Baku and Doha, is the latest addition to Mattel's Barbie Doll collection.
Praising her performance, Mattel Barbie honoured Dipa Karmakar on their website. They wrote:
"Dipa started practicing gymnastics at the age of 6. When she began gymnastics, Dipa had flat feet, an undesirable physical trait in a gymnast as it affects their performance. Through extensive training, she was able to develop an arch in her foot. In 2008, she won the Junior Nationals in Jalpaiguri. Since then, Dipa has won 77 medals, including 67 gold, in state, national, and international championships. She first gained attention when she won a bronze medal at the 2014 Commonwealth Games in Glasgow, becoming the first Indian female gymnast to do so in the history of the Games. She continued her good form at the 2014 Asian Games, where she finished fourth in the vault final. She became the first Indian gymnast to qualify for a final stage at the World Artistic Gymnastics Championships, where she secured a fifth-place finish in the vault final.
At the Rio 2016 Games, Dipa created history by becoming India's first female gymnast to qualify for the final vault event. She missed out on bronze by a narrow margin, finishing fourth in the event. Dipa is one of only five women who have successfully landed the Produnova or handspring double front, the most difficult vault currently performed in women's gymnastics. For her remarkable achievements, Dipa was honored with the Arjuna Award in 2015 and Rajiv Gandhi Khel Ratna Award, the highest sporting honor of the Republic of India, in 2016. In 2017, she was honored with the Padma Shri award, the fourth highest civilian award in the Republic of India. She has defied all odds and has inspired a generation of young girls to take up the sport of gymnastics".
Since then, netizens started swooning over Dipa's feat, calling her 'a true role model.'
The female role models we need. ❤️ https://t.co/xutgt7v5Tr

— smyltr (@smyltr) March 9, 2019
Congratulations @DipaKarmakar The nation is proud of you 😊#sheroes #Barbie60 https://t.co/aU60uaWmSK

— Sachin Kushwaha (@1sachin0) March 10, 2019
Congratulations 👏👏 You're inspiring👏👏 https://t.co/Oe5T4vwcv2

— Yamini Sharma (@Yaanooshh) March 9, 2019
You can be cool but you can't be Dipa Karmakar having one of a kind Barbie doll cool! #worklife #Barbie60 https://t.co/ezJrFPDXsv

— sharba tasneem (@sharba15) March 9, 2019
Wow!! This is an amazing news. @DipaKarmakar - you truly are an inspiration & a role model to young girls across the world and especially in India. That's one Barbie I'd like to gift all my nieces and hope they become like you. #ProudIndian https://t.co/eg6MVICgyQ

— Rachna Lather (@rachnalather) March 9, 2019
Also Read: Dipa Karmakar, Sakshi Malik And Alia Bhatt In Forbes' Under-30 Achievers' List
The 24-year-old is the daughter of a weightlifting coach, and has been practising  gymnastics from the age of six. Born with a flat foot, a barrier for her to go ahead in the sport, the determined sportswoman trained and fought to overcome the challenge.
Dipa, who finished fourth at the Rio Olympics, had clinched the bronze medal at World Cup at Cottbus, Germany last year. Dipa underwent a knee surgery in April 2017. After a long lay-off of nearly two years due to injury, Dipa clinched the gold medal in the vault event of FIG Artistic Gymnastics World Challenge Cup at Mersin, Turkey last year. Dipa won accolades at Rio for performing the 'vault of death' — the Produnova. The category is indeed a challenging one in which the landing is risky and uncertain.
Feature Image Credit: Northeast Now