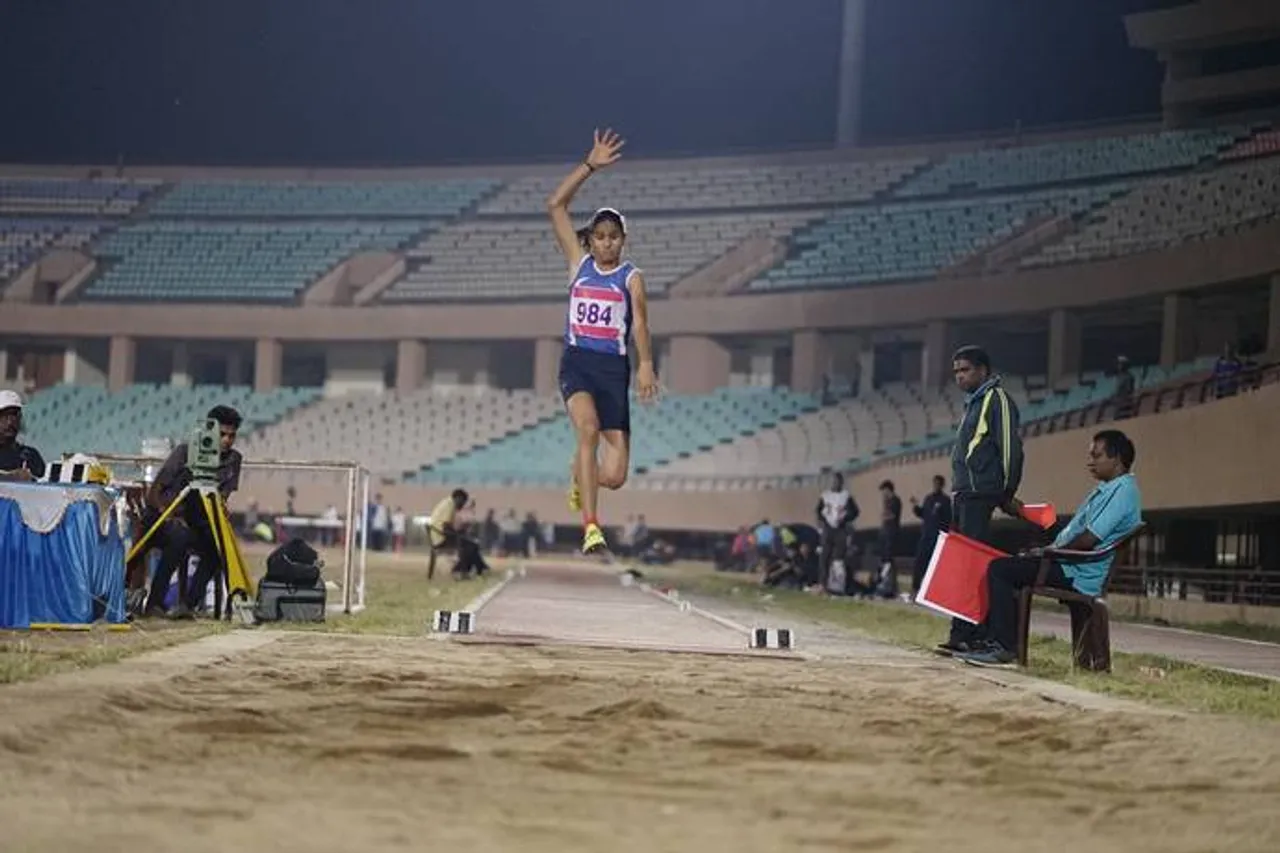 Karnataka-based Shaili Singh set a new national record in both girls under-16 and under-18 age group long jump at the 35th National Junior Athletics Meet at the Acharya Nagarjuna University campus in Guntur on Sunday. She qualifies for the World Junior Athletics Championships in 2020.
Long jumper #ShailiSingh trained at #SAI Bangalore under Anju Bobby George, created a new national record in both u-16 and u-18 age group at the Nat'l Jr. Athletics C'ships in Guntur. She qualifies for the World Jr. Athletics C'ships in 2020. Many congratulations#KheloIndia pic.twitter.com/k7U1K3NMJv

— SAIMedia (@Media_SAI) November 3, 2019
Shaili bettered her own national and meet record in girls' under-16 long jump to 6.15 metre. She held the previous record of 5.14 metre, which she created at the same competition last year in Ranchi. Shaili bettered her own National record with a 6.01m effort (OR 5.94m) in the qualification round. With an effort of 5.94m, she created national record and won gold medal in girls U16 category at 34th National Jr. Athletics Championships 2018.
Congratulate #ShailiSingh (Long Jump) for creating a new national record in both u-16 & 18 age group. She has qualified for the World Junior Athletics Championships '2020. She is a trainee of @anjubobbygeorg1

She is an inspiration for #FitIndiaMovement pic.twitter.com/4Fb3SqiVNh

— Fit India (@FIFPLtd) November 4, 2019
The long jumper trains at the Sports Authority of India's (SAI) Bangalore under India's one of the greatest athletes Anju Bobby George. "When we see an athlete, we sort of know how she could develop," explains coach Anju before junior national camp began, The Hindu reported. "And when I saw Shaili, her muscle formation, her explosiveness, her aggressiveness during the competition, I felt she had all the qualities to be a top jumper," said the proud coach who was the country's lone senior World Championships medallist (long jump bronze, Paris 2003).
Long jumper #ShailiSingh who is being trained at #SAI Bangalore under Anju Bobby George Foundation created a national record in both U-16 & U-18 age group at Guntur. After Anju Bobby George, she is a potential medalist in the World Athletics Championship. My best wishes to her! pic.twitter.com/q2JzZf1OMJ

— Kiren Rijiju (@KirenRijiju) November 5, 2019
Shaili's mother Vinitha, is a tailor in Jhansi. "The advantage when it came to Shaili was that she hadn't received any formal long jump coaching. She was also just 14 when she moved to Bangalore in February last year. So we could start from scratch, which was good because there was no 'bad technique' which I had to change. Moreover, she was a keen learner who is extremely dedicated. She wants to be the best," coach Bobby George said to The Indian Express.
"She has just turned 15 so she has a lot of time on her hands. Our aim is to target the 2024 Olympics," Bobby assured.
There are always a potential in Shaili and coach Bobby knew it. She grabbed spotlight when broke the under-16 National Record with a very impressive 5.94m effort at the junior Nationals in Ranchi last year. "This girl is made for the long jump," said an elated Bobby after the big leap. "The interesting thing is, she is just 14, she started serious sport less than 17 months ago and now she is close to six metres. This is world-class performance for her age, and if you compare her with Anju at 14, Shaili is in fact 50 to 60 centimetres ahead."
READ:What Makes Mary Kom's Life So Inspirational, Every Single Day
Talking about Shaili's potential to bring the country the elusive Olympic medal, Anju claimed, "Yes, I think so and that's my dream. I have high hopes for Deepanshi Singh too. And I hope one of my girls breaks my National Record (6.83m)."
"I think Shaili has the capacity to go as far as Anju," says Bobby.
"We have six trainees in our centre, and Shaili is the most talented of the lot and Deepanshi is very hard working. But to do well at the international level, it may take five to six years of continuous training," Bobby said.
So, who encouraged Shaili to give athletics a shot? "My mother read in the newspaper that a selection trial was being held and told me to participate if I was keen. She knew that I was interested in sports, so she always backed me. I first appeared for a selection trial in Jhansi and then at the KD Singh Babu Stadium in Lucknow. I was selected to be part of the Lucknow sports hostel where I spent about five months before I moved to Bangalore. It is at the national camp that I was taught about long jump technique, the importance of diet and rest and recovery. I have been able to improve my personal best by a metre since moving to Bangalore," Shaili explained.
Congratulations Shaili and we hope that from here onwards you only go from strength to strength!
READ: Why Don't We Celebrate Our International Para-Athlete Champions?
Feature Image Credit: Sportstar