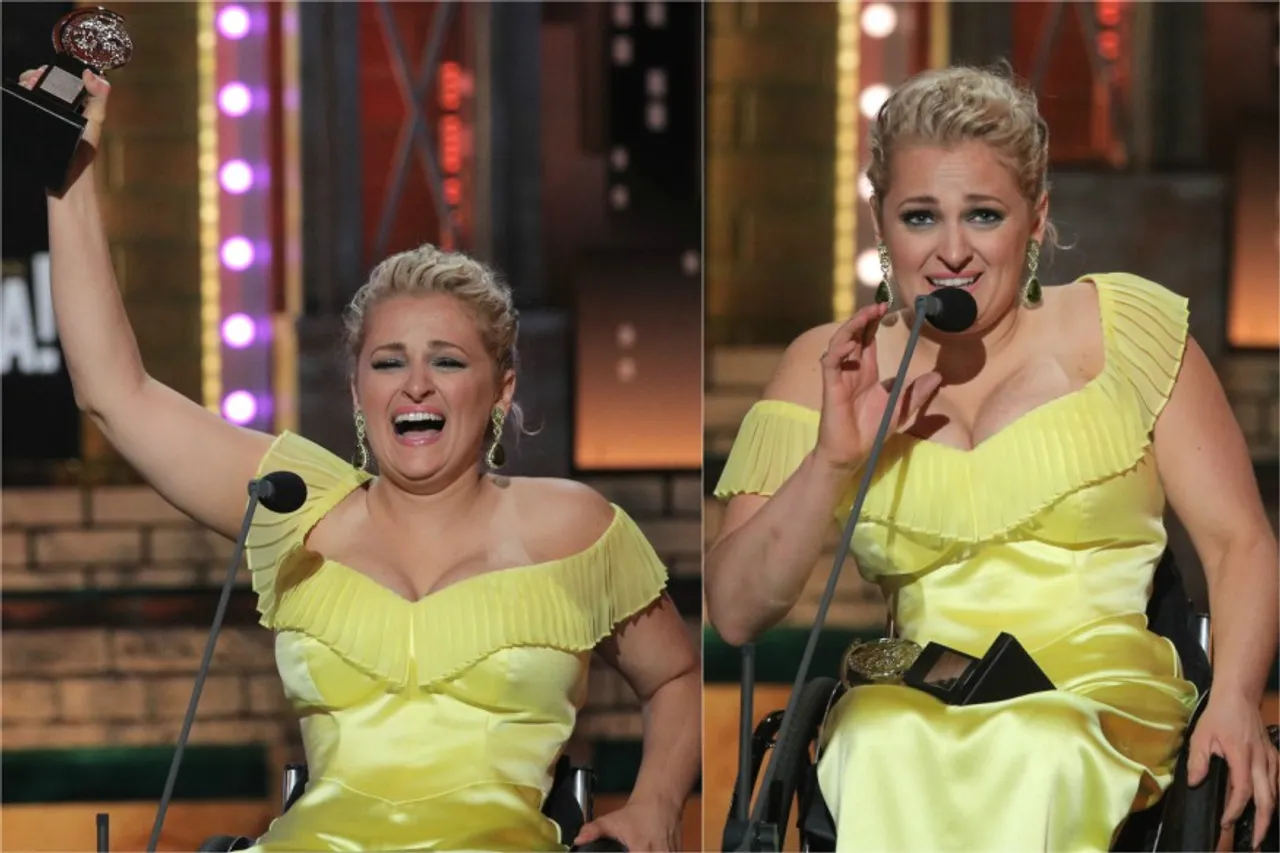 In a landmark for actors with disabilities, actress and singer Ali Stroker performed and made history as the first actor in a wheelchair to win a Tony Award on Sunday for her brilliant portrayal of Ado Annie in Daniel Fish's dark revisionist revival of the Rodgers and Hammerstein classic Oklahoma!
"This award is for every kid who is watching tonight who has a disability, who has a limitation or a challenge, who has been waiting to see themselves represented in this arena," an elated Stroker advocated after receiving the award for best featured actress in a musical, said on stage. "You are."
Actor Ali Stroker made Tony history by becoming the first wheelchair user to be nominated for and win the prestigious award. pic.twitter.com/rILZ28xVKy

— HuffPost (@HuffPost) June 10, 2019
The New Jersey native Stroker was speaking with The Associated Press on the red carpet before the ceremony that her Oklahoma! part is "just a dream come true," adding, "I've been singing since I was 7 years old and for me singing is where I have no limitations. It is where I feel most powerful, and my voice and the ability to create music has, I think, really brought me out of all of the hardship that I've been through, and it's brought me here today into my most powerful self."
Stroker, who was the first person in a wheelchair to appear on Broadway back in 2015 in Spring Awakening, also noted one in five Americans lives with a disability.
Talking about how important this win is for artists with disabilities, DJ Kurs, artistic director of Deaf West Theatre, the L.A.-based company said to Variety, "As a child I was told repeatedly that it would be nearly impossible to have a career in the arts." His revival of Spring Awakening provided Stroker with her Broadway debut, added, "A voice like Ali's last night was unquestionably a huge moment in the development of the hopes and aspirations of thousands of children. In fact, I look forward to the moment when the Alis of the world are not regarded as trailblazers anymore."
"Broadway theaters all made accessible to patrons, but the backstage areas are not," Stroker said soon after her win on Tony night. "So I would ask theater owners and producers to really look into how they can begin to make the backstage accessible so that performers with disabilities can get around."
READ: Five Web Series Characters Who Overturn The Feminine Trope
"I always felt like a sexual person - I just didn't know how to always portray that, and I never really was sure, as a kid, if being in a wheelchair could be sexy. So, to arrive at this point is so exciting - more than exciting, it's like a relief in many ways. Because finally we get to see someone who is so real." Stroker told Vulture.
Speaking at the awards, Stroker shared the disappointment of having a lack of disabled role models on stage when she was growing up. "I know exactly what it's like to be looking for someone who looks like me. It makes me feel amazing to be able to be that for them," Stroker said, "because I didn't have that as an 11-year-old girl pursuing this dream."
The 31-year-old Stroker, who first rose to prominence in The Glee Project in 2012, was paralysed from the chest down due to a car crash when she was two.
Feature Image Credit: Reuters